Vinci Offers $6.1 Billion for Spanish ACS's Industrial Unit
(Bloomberg) -- French builder and toll-road giant Vinci SA is in talks to acquire the industrial division of Spain's Actividades de Construccion y Servicios for about 5.2 billion euros ($6.1 billion) in a move to bolster its energy and utility-services business.
The Madrid-based company received a non-binding offer from Vinci for the unit that operates eight concessions and develops renewable-energy projects, according to an ACS filing Friday. Vinci confirmed the offer in a separate statement and said the Spanish company's board is "open to negotiations."
Shares in ACS, whose chairman Florentino Perez also heads the Real Madrid soccer club, surged by an intraday record 21%, while Vinci rose as much as 4.1% in Paris.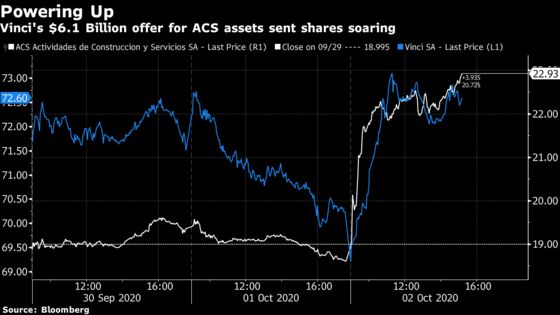 Keen to tap demand for power-saving projects, Vinci is stepping up deal-making after a series of smaller transactions to expand in energy work. The ACS unit also maintains gas, water and rail networks. The acquisition would be its most significant deal since agreeing to acquire a majority stake in Gatwick Airport in 2018.
If Vinci succeeds in clinching the deal, the assets "would offer some diversification away from the Covid-19 related volume impact across its transport infrastructure networks," Citigroup analysts wrote in a note, citing the expected slow recovery in the airline sector.
The sprawling French company manages about 45 airports worldwide and operates major highway concessions in its home country. The pandemic has sent air travel into a deep slump, while road traffic suffered during lockdown measures. Vinci's toll road operation is the second-largest in Europe after Italy's Atlantia SpA.
Vinci would pay at least 2.8 billion euros in cash and the rest either in cash or shares for ACS Servicios Comunicaciones y Energia SA. Due diligence will be carried out in coming months. ACS is also carving out other assets not part of the Vinci transaction, including renewable-energy unit Zero-E and 15 other concessions, according to the companies.
Vinci and ACS declined to comment on the talks.
Vinci's construction business has helped develop projects like the high-speed TGV train between Paris and Bordeaux, while the energy division handles maintenance, refurbishment, engineering and installations in buildings.
ACS's profit plunged 31% in the first half, and it paused a planned initial public offering of its renewable-energy business Zero-E.