Bill Ackman Says He's Built a Stake in Domino's Pizza, Owns Roughly 6%
(Bloomberg) -- Bill Ackman has taken a stake worth almost $1 billion in Domino's Pizza Inc., adding another big-name consumer company to his portfolio, and said his blank-check firm is nearing a separate deal to take an "iconic" brand public in the coming weeks.
Ackman's Pershing Square Capital Management owns a little under 6% of the pizza chain's shares, he said Wednesday at a conference. He said he bought into Domino's when the shares dipped to roughly $330, and after selling out of Starbucks Corp. following a run-up in the coffee company's stock.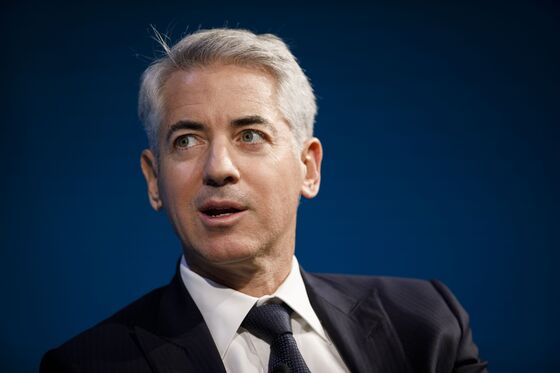 Domino's becomes the latest restaurant chain that Pershing Square has invested in, following stakes in such names as Chipotle Mexican Grill Inc., McDonald's Corp. and Burger King-owner Restaurant Brands International Inc.
"We like the restaurant industry. Interestingly, we've never lost money investing in a restaurant company," Ackman said during the Wall Street Journal's Future of Everything conference. "I think we've never not made a lot of money."
Pizza restaurants have largely benefited over the past year during Covid-19 lockdowns as consumers flocked to delivery and takeout meals. Ackman said he was drawn to Domino's in particular because the company owns its own delivery infrastructure, which means it doesn't need to rely on services like DoorDash Inc. or Uber Eats.
"That is an important competitive advantage in a world where you want to deliver pizza for $7.99. It's hard to do that with a delivery service taking a massive cut of the proceeds," Ackman said. Domino's was "first and best in terms of delivery technology."
The billionaire investor, who is known for waging high-profile boardroom battles at companies like Canadian Pacific Railway Ltd. and Automatic Data Processing Inc., said the chances of him doing the same at Domino's -- or anywhere else -- are very low.
"We welcome investment in Domino's, and appreciate the confidence and support expressed for our company and our brand," the company said in an emailed statement.
Domino's shares rose as much as 6% before paring the gains. They were trading at $429.33 as of 2:35 p.m. in New York, up 1.7%, giving the company a market value of $16.7 billion. Domino's rose 31% last year, beating the S&P 500 Index's gain.
As dine-in restrictions start to ease across the country, delivery-heavy chains like pizzerias had largely been expected to see their strong sales start to taper off. But that hasn't happened yet. Domino's revenue of $983.7 million last quarter was up 13% from a year prior, even when lapping last year's early pandemic bump.
Ackman acknowledged the bear case for Domino's is that it has benefited from the restriction placed on restaurants for dine-in service, and that there's more competition for delivery. He said he didn't believe that was the case.
"Ultimately, our view was actually a lot of negative during the Covid environment. There weren't football games where you invited over 12 of your buddies and ordered Domino's. There weren't college campuses in session," he said. "Our view is there will be continued growth in that business."
Ackman also said he was "cautiously optimistic" his blank-check company, Pershing Square Tontine Holdings Ltd., could be close to announcing a deal to take a company public in the coming weeks. He said he has been in "deep discussions" since early November with a potential target, and while he hoped to have announced a deal by the end of the first quarter, he said he was getting close.
He said he hoped to have an announcement in weeks, without disclosing any other details, but if he didn't, he would be moving on to another target.
"It was sufficiently attractive and interesting that it was worth devoting six months of our energy to," Ackman said.