Accor Drops Plan to Buy Minority Stake in Air France-KLM
(Bloomberg) -- Accor SA dropped a plan to acquire a minority stake in struggling French carrier Air France-KLM, saying the conditions haven't been met for a deal.
The French operator of Raffles, Sofitel and Mercure hotels didn't give details in its statement Thursday, and a spokeswoman didn't immediately reply to a request for comment.
There were hurdles to any tie up. Accor's biggest shareholders are Chinese and Middle Eastern, which could contravene European rules on airline ownership. Also, Accor was considering buying the state's 14.3 percent holding in Air France-KLM, which provoked the ire of some unions representing staff at the airline. Labor action by pilots and crew led to costly strikes since the start of the year and the resignation of its former CEO.
French Finance Minister Bruno Le Maire has said Air France workers' demands are unjustified and has warned taxpayers won't bail out the company.
The decision removes a potential deep-pocketed investor for the Paris-based carrier, which is searching for a new CEO and has been trying to contain a bitter and costly conflict with unions over pay. Accor first raised the possibility of an investment in Air France-KLM last month, with Chief Executive Officer Sebastien Bazin saying he wanted to deepen relations with the carrier, especially for online marketing and loyalty programs.
"The group remains convinced that a strengthened partnership between hotel companies and airlines offers significant value-creation potential," Accor said Thursday. Given that required conditions for the acquisition "have not been met at this stage, AccorHotels has decided not to further pursue this opportunity." Air France declined to comment.
Relations between Accor and Air France-KLM were further clouded after the former frontrunner to become the carrier's new CEO accused the hotel operator of barring his path as Accor sought to gain creeping control of the airline.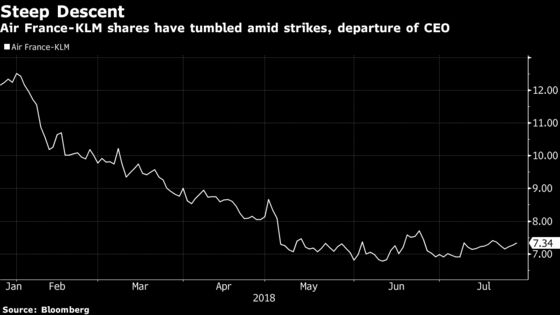 Accor shares fell 2.4 percent to 42.82 euros at 10:55 a.m. in Paris while Air France-KLM gained 1.6 percent to 7.39 euros. The airline's stock has slumped 46 percent this year.
Accor reported earnings before interest, taxes, depreciation and amortization increased 4.2 percent on a comparable basis to 291 million euros and said the full-year target was for Ebitda of between 690 million euros and 720 million euros.