Abubakar Plans to Oust Nigerian Central Bank Boss If Elected
(Bloomberg) -- Nigeria's main opposition candidate, Atiku Abubakar, said he would name a new central bank governor, float the naira and sell stakes in the state company that runs Africa's biggest oil industry if he wins next month's election.
"I don't think he's pursued the right policies," Abubakar, 72, said of Governor Godwin Emefiele on Wednesday in an interview in Nigeria's commercial capital, Lagos. "We have to have the right people in there." He said he'd make the change when Emefiele's first term ends in June.
Under Emefiele, who was appointed in 2014, Nigeria has tightened capital controls and closely managed the naira's value. The governor has consistently said this is the best way to curb inflation and boost manufacturing by discouraging imports. The country now has a system of multiple exchange rates, which several foreign investors have criticized.
Isaac Okorafor, a spokesman for the central bank in Abuja, the capital, declined to comment.
The monetary policy committee has kept the key rate at a record high 14 percent since 2016. Even so, inflation accelerated to a seven-month high of 11.4 percent in December.
A former vice president and wealthy businessman with 26 children and four wives, Abubakar touted a pro-market approach that includes selling most of the state oil company, Nigerian National Petroleum Corp. He insisted he could overcome resistance from NNPC staff and vested interests to that policy.
"There is really a mafia in there, people who benefit personally at the expense of the country," he said. "But I have the political will and courage to do it. We don't intend to privatize the whole of NNPC, but reduce the government's interest to a minority and allow the private sector to drive the oil and gas industry."
A spokesman for NNPC couldn't be reached for comment.
Abubakar said that a press release from his party in November stating it would reduce gasoline prices -- Nigeria's are already among the lowest in the world and subsidized -- was a "mistake" by an aide. It's better to let market forces determine pump prices, and Nigeria needs to sell its four loss-making state oil refineries, he said.
He accused President Muhammadu Buhari, a 76-year-old ex-military ruler, of planning to rig the Feb. 16 vote.
"Fears of rigging are credible," said Abubakar. "I have never seen, since 1999, a government so repressive and anti-democratic."
He also said the president, who has been dogged by questions about his health since spending more than five months in London being treated for an undisclosed illness in 2017, was incompetent when it came to running Africa's biggest oil producer.
"The president doesn't even know what's going on around him," Abubakar said. "He's aloof. You can see that he's clueless in the way the country's been governed since he came to office."
Abubakar is the candidate of the People's Democratic Party, which was in power for 16 years after Nigeria ended military rule in 1999. It lost the last vote in 2015 as Buhari of the All Progressives Congress became the first opposition figure to win office since independence from Britain in 1960. Abubakar served as former President Olusegun Obasanjo's deputy between 1999 and 2007.
The campaign has been a tense affair fought on the themes of Buhari's failure to revive an economy that's been anemic since oil prices crashed in 2014 and accusations by the president's camp that Abubakar acquired his wealth corruptly.
"I'm not a rent-seeking politician," Abubakar said. "That's absolutely incorrect. Anyone who has evidence of corruption against me, let him come out."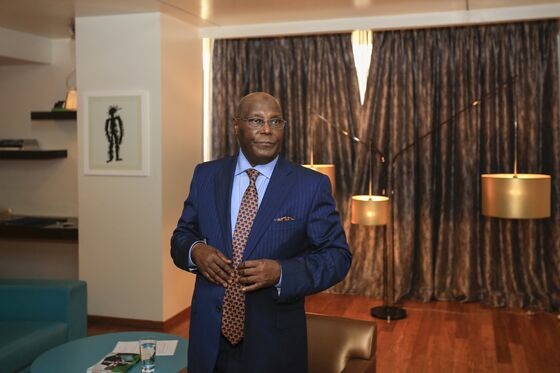 Abubakar is seeking to win votes in Buhari's northern base, while claiming parts of the south and center where the president is less popular. Both men are northern Muslims in a nation roughly equally divided between Christianity and Islam.
Whoever is elected must with to provide jobs in a country with an unemployment rate of 23 percent and in which citizens complain about poor government services. The West African nation's education and health systems have been gutted by corruption, a lack of investment that leaves children without books and the flight of doctors abroad.
Abubakar said he enjoyed reading about politics and economics in his spare time and watching Arsenal, the London soccer club he's supported for 25 years.
While he described himself as a centrist who admires politicians on the left and right, he looks up to former U.K. Prime Minister Margaret Thatcher.
"She was a great prime minister, an architect of the reform of the U.K.'s economy and privatization, which I strongly believe in," he said.