Abu Dhabi in Talks to Create Two Banks in Three-Way Merger
(Bloomberg) -- Abu Dhabi's merger of three state-linked banks is set to create two new lenders, according to people with knowledge of the matter.
Under plans being discussed, Abu Dhabi Commercial Bank PJSC would acquire Union National Bank PJSC to form a conventional lender, the people said, asking not to be identified because the talks are private. The Islamic divisions of ADCB and UNB would merge and then take over privately-held Al Hilal Bank, they said.
The emirate, which combined two of its largest banks last year to create the Middle East's second-biggest lender, plans to set up a holding company to manage the new entities, which would operate under separate banking licenses, the people said.
Consolidation among Abu Dhabi institutions has been picking up following the slump in crude prices. National Bank of Abu Dhabi and First Gulf Bank merged last year to create First Abu Dhabi Bank PJSC. A tie-up between Mubadala and the Abu Dhabi Investment Council in March created a sovereign wealth fund with about $220 billion of assets.
"While three-way mergers are generally complicated to execute, such a scenario possibly irons out the formalities in a properly coerced manner, and enables a shorter completion time," said Aarthi Chandrasekaran, vice president at Shuaa Capital in Dubai. "The would-be merged entity of ADCB and UNB will possibly be required to shore up the capital of the new Islamic bank."
UNB rose 2.9 percent as of 11:57 a.m. in Abu Dhabi, with trading volumes near three times higher than its 30-day average for the period. ADCB fell 1.7 percent and is set to end a winning streak of five sessions.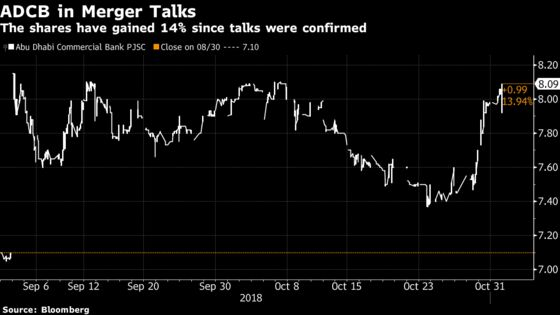 The United Arab Emirates is home to more than 9 million people and has almost 50 banks, including the local units of Citigroup Inc. and HSBC Holdings Plc.
Mubadala Investment Co., which holds a 62.5 percent stake in ADCB and 50 percent of UNB through Abu Dhabi Investment Council, ADCB and UNB declined to comment. Al Hilal Bank didn't immediately respond to requests for comment. Abu Dhabi Investment Council fully owns Al Hilal Bank.