UAE Phone Operators Surge on Plan to Raise Foreign Ownership
(Bloomberg) -- The two main phone operators in the United Arab Emirates surged after saying they may raise limits on foreign ownership, joining others in the region seeking to attract more overseas investment.
Etisalat and Du both rose as much as 15% shortly after the open in Dubai and Abu Dhabi, the maximum allowed by the exchanges. Etisalat climbed to a record high, while Du traded at the highest level since 2016. The shares trimmed gains to 11% as of 11:15 a.m. in the UAE.
A higher cap on foreign ownership will allow index providers such as MSCI Inc. and FTSE Russell to consider an increase of the stock's weight in emerging-market equities benchmarks, triggering passive inflows.
Etisalat could lure total inflows of about $634 million from a higher weight in the MSCI and FTSE indexes, if the limit is increased to 40%, according to estimates by Noaman Khalid, associate director of indices macroeconomics and strategy at Arqaam Capital. For Du, inflows could take longer to materialize due to liquidity issues, he said.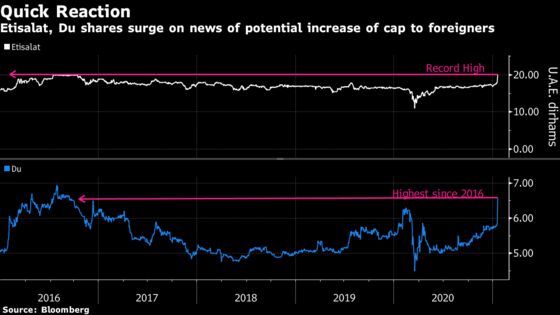 The boards of both companies will meet on Jan. 20, according to regulatory filings. While the companies didn't give a reason for the move, the UAE has accelerated efforts to attract investment into an economy reeling from the coronavirus and a decline in oil prices.
Etisalat, the UAE's biggest phone operator, first opened up to foreign ownership in 2015 with a 20% limit. Foreigners currently own 4.8% of Etisalat's shares and only 0.48% of Du, according to information on Dubai and Abu Dhabi stock exchange websites.
The UAE said in 2019 it will allow foreigners to own 100% of businesses across industries. Companies such as Abu Dhabi National Energy Co., First Abu Dhabi Bank and Emirates NBD have raised limits in the recent past.