ABN Amro Traders Catch Market Off Guard on Air France-KLM Stake
(Bloomberg) -- The Netherlands amassed 680 million euros ($775 million) of Air France-KLM shares in five trading sessions, without anyone noticing there was a big mystery buyer in the market.
An average of 15.7 million shares of Air France-KLM changed hands daily as the Dutch state was buying, according to data compiled by Bloomberg. That's more than five times the daily average in the three months before the purchases. The share price jumped 23 percent over that period.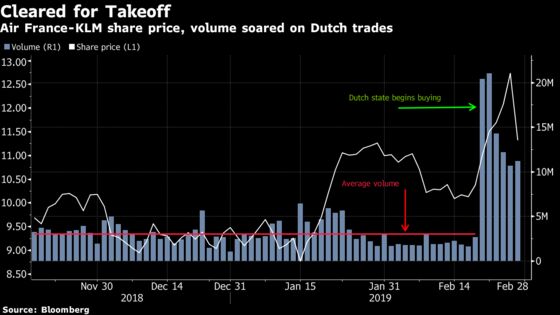 Speed was key in getting the trades done before anyone noticed. ABN Amro Group NV, a bank that's been state-controlled since it was bailed out in the financial crisis, started the buying spree on behalf of the government on Feb. 20 through open-market purchases and via private transactions, Finance Minister Wopke Hoekstra wrote in a letter to Parliament.
"Given the extremely price-sensitive nature of this transaction, for the company itself and for the shareholders, and the desire of the government to build the desired interest in a short time, it was not possible to share the exact time of purchase," he wrote. "The public pre-announcement of such a transaction would make it difficult to quickly build up a shareholding."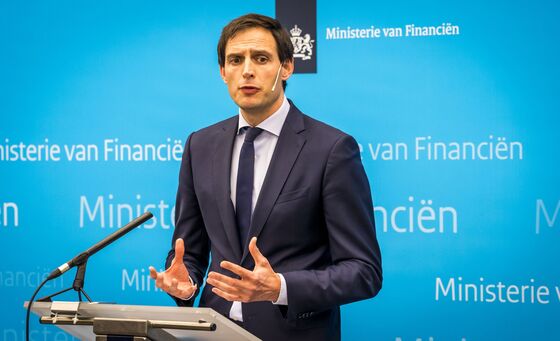 The purchases complied with French and Dutch market regulations, he said. There's a duty to disclose in two weeks when amassing a 0.5 percent stake or larger, and to report in four days when a holding exceeds 5 percent, he said. An ABN Amro spokesman declined to comment on the trades.
The purchases will give the Dutch state needed influence in the future of the company's Dutch arm, KLM, Hoekstra said. France owns 14 percent of Air France-KLM. French President Emmanuel Macron and his government were notified just before the Netherlands announced the purchase at a Tuesday evening news conference, the finance minister said.
"I don't want to make any further comments about the conversations we had because I don't think that's decent," Hoekstra said.
One reason the volume and price surge may not have triggered speculation about a big buyer in the market: They came amid a flurry of good news for the Paris-based company, the kinds of developments that would encourage such buying.
Air France-KLM Chief Executive Officer Ben Smith had just calmed unrest at the company's Dutch arm. Smith, who's been in the job five months, also had managed to secure key pay deals with ground crew, flight attendants and the carrier's powerful French pilots.