ABN Amro's Frankfurt Office Raided Over Cum-Ex Tax Scandal
(Bloomberg) -- ABN Amro NV became the latest bank to have its offices raided by German authorities over a widening tax scandal, adding to the lender's woes after it was recently the subject of a money-laundering probe in the Netherlands.
ABN Amro's Frankfurt unit was searched Tuesday by about 25 German law enforcement officials, according to a spokesman for the bank. The search was part of a wider raid. In total, roughly 100 German officers searched more than a dozen private homes and offices in Germany along with a home in the Netherlands, Frankfurt prosecutors said.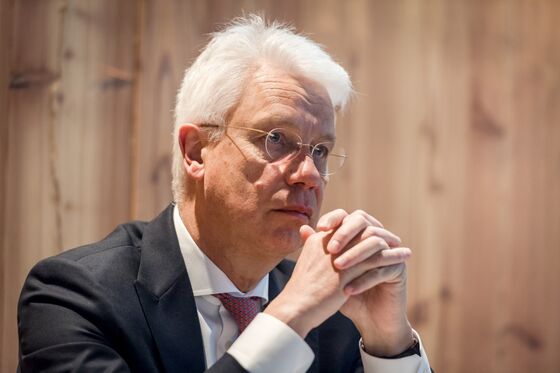 ABN Amro joins a long list of companies whose offices have been raided over the scandal including BlackRock Inc, Commerzbank AG, Deutsche Bank AG, Deutsche Boerse AG, M.M. Warburg and the law firm Freshfields. The tax probe focuses on a strategy known as "Cum-Ex" has ensnared dozens of banks and financiers.
"The German authorities have been investigating stock transactions of a large number of financial institutions for several years. These transactions were carried out before 2012," ABN Amro said on its web site. "The legal predecessor of ABN AMRO, Fortis Bank (the Netherlands) N.V., ABN AMRO and some former subsidiaries have been directly or indirectly involved in a number of these transactions."
Running until 2011, the banks involved in offering the controversial strategy helped investors exploit a loophole on dividend payments, allowing multiple parties to claim the same tax refund, according to authorities. Lawmakers say the deals eventually cost the government 10 billion euros in lost revenue.
ABN Amro's share price dropped as much 1.2% after the news and declined 1.1% at 4:54 pm local time. The lender's stock has fallen 21% this year, making it the third-worst performer in the Euro Stoxx Banks index.
German Finance Minister Olaf Scholz is now setting up a task force fighting tax fraud in response to the scandal. The unit's main responsibilities will be to help local authorities coordinate federal efforts and help agencies with open cases such as the Cum-Ex probes.
ABN Amro in September disclosed a criminal probe by Dutch prosecutors over alleged failures to check on clients and report suspicious transactions, prompting shares of the state-controlled bank to slump the most on the day since its 2015 initial public offering.