ABN Amro CEO Counting On Dutch Government to Cut Stake This Year
(Bloomberg) -- ABN Amro Group NV's chief executive officer is counting on the Dutch government to further sell down its majority stake this year, after a yearlong halt to the process and troubles surrounding the Amsterdam-based bank.
"I have expressed confidence that this year we expect a new chance, and that we are counting on it, actually, that there will be a further sale," Chief Executive Kees van Dijkhuizen told anchor Rick Nieman on his WNL op Zondag talk show Sunday.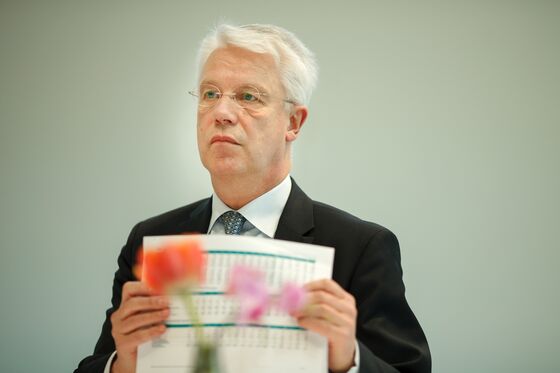 Three years ago, the bank returned to the market for the first time since the government bailed it out in the throes of the 2008 global financial crisis. The government kept a 77 percent stake, and promised to further reduce its holdings, Van Dijkhuizen said. It last sold shares in the bank in December 2017, and now holds about 56 percent, according to data compiled by Bloomberg.
Van Dijkhuizen told De Telegraaf newspaper last month that a halt of the sale process would be very damaging.
The bank's upper echelons have been in turmoil over the past year, with a cull of senior management and the departure in February of its chairwoman, Olga Zoutendijk. Rumblings of discontent have continued, with some employees appealing to the bank's state owners to step in and give firmer leadership.
"There has been some ferment at the bank," making for some "not ideal" sell-down moments, Van Dijkhuizen said.
The bank didn't inspire confidence in November at its first investor day since its 2015 initial public offering after it declined to tell shareholders how much they might receive in extra dividends and only slightly increased a profitability target.