Abiomed May Reclaim Title as S&P 500's Top Stock After Earnings
(Bloomberg) -- Abiomed Inc. could leap-frog the S&P 500's current top performer in 2018, Fortinet Inc., if fiscal second-quarter results Thursday show continued progress and help to put its recent sell-off to rest.
Investors in the options market are positioning for a larger-than-usual move after the maker of the world's smallest heart pump reports earnings tomorrow morning. Options contracts imply a 13 percent one-day change, which could be enough to push Abiomed to No. 1 in the S&P. Shares of the medical device maker have moved on average 6.4 percent after results over the last eight quarters, with the last share reaction above 15 percent coming back in October 2015. Fortinet was up 88 percent this year through 1:49 p.m. Wednesday in New York, while Abiomed had gained 87 percent.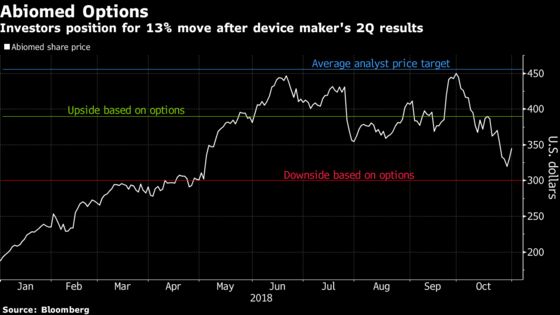 "Investors want to see continued progress and whether that's beating and raising or showing better numbers than we've modeled is debatable," Jefferies analyst Raj Denhoy said by telephone. "In these prints we want to see the story showing the company's technology is gaining adoption and that the markets are as big as we think they are."
Shares of the Danvers, Massachusetts-based firm have come under pressure in the last month as investors fled from high-flying medical device makers whose gains put their ballooning valuations under the microscope. Abiomed reached its lowest levels since May after the maker of Invisalign, Align Technology Inc., was punished in the market for a weak fourth-quarter outlook.
Another major catalyst for Abiomed is just over the horizon, on Nov. 11, when it will present highly anticipated results from a 50-patient "STEMI Door to Unloading" safety and feasibility study at the American Heart Association in Chicago.
"If the data are as encouraging as we think they could be, that's an interesting set-up," said Denhoy, who rates the company a buy. "You've got this pretty important event in two weeks, so do you really not want to own the stock for that?"
2Q revenue estimate $175.5 million (range $172.0 million to $179.0 million)
2Q adjusted EPS estimate 75c (range 68c to 81c)
FY revenue estimate $770.5 million (range $764.0 million to $780.0 million)

Guidance (July 26): $755 million to $770 million
9 buys, 2 holds, 0 sells; average price target $456 (implying about 30% upside)
Shares up 86% year-to-date vs S&P 500 Index up 7.8%