Abbott Says Study Data Shows High Accuracy for Covid-19 Test
(Bloomberg) -- Abbott Laboratories said an ongoing study showed that its ID NOW Covid-19 test had a high rate of accuracy, as the company attempts to counter a claim by outside doctors that the test may return too many false negatives.
Partial data from the company-funded study showed that it accurately detected the virus 94.7% of the time, and correctly gave negative results 98.6% of the time, Abbott said in a statement. The study, which is ongoing, analyzed samples from 256 patients and compared the results to a test developed by the U.S. Centers for Disease Control.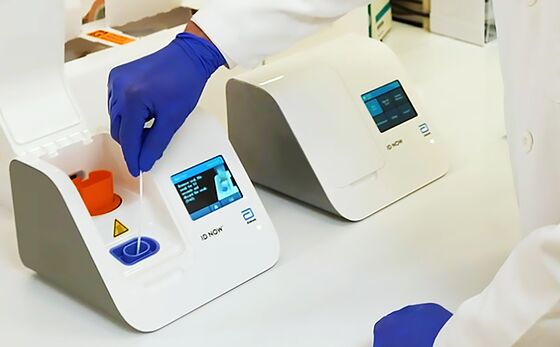 Abbott rose 0.8% after the market closed in New York. The shares fell last week after researchers at New York University said their independent study had shown that Abbott's desktop-printer-sized machine may miss as many as half of positive cases. The Food and Drug Administration said on May 15 that it was looking into the reports and issued an alert.
Abbott has criticized the NYU study, saying the researchers didn't use the ID NOW machine as intended and that results can be affected by how samples from patients are handled and stored. The machine, which is in use at the White House, can take a sample from a nasal swab and diagnose a coronavirus infection in less than 15 minutes. Such rapid tests are considered crucial for quickly diagnosing patients at a doctor's office or other testing site.
In the Abbott-sponsored study released Thursday, patients were tested at a mean of 4.1 days after beginning to show symptoms. The test is the most accurate when it's run early after symptoms emerge, often the time when patients are most likely to seek medical attention, the company said.