Abbott Labs Rallies to Record Despite Strong Dollar
(Bloomberg) -- A strong U.S. dollar was no match for Abbott Laboratories.
Shares of the medical device maker shrugged off concerns over the strengthening currency and reached a record after the company announced second-quarter earnings that beat analyst expectations.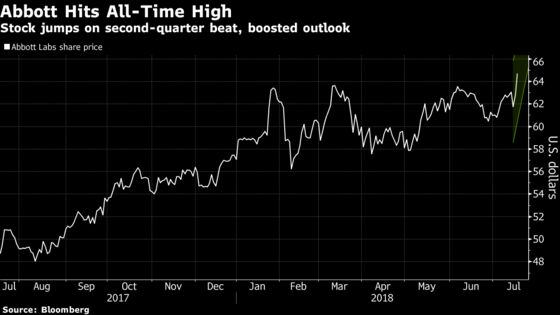 Management also boosted its outlook for the remainder of the year, even with some two-thirds of revenue coming from outside the U.S.
"We forecast continued strong performance and are raising our full-year outlook despite recent currency shifts," Chief Executive Officer Miles White said in a statement. "All four of our businesses exceeded expectations and contributed to strong growth overall."
Analysts rushed to applaud the health care company's organic revenue beat, despite concerns that foreign exchange could wreak havoc. For a company that hasn't missed its earnings expectations in more than ten years, the continued portfolio-wide strength came as a welcome sign for investors that the end of the year may be even better.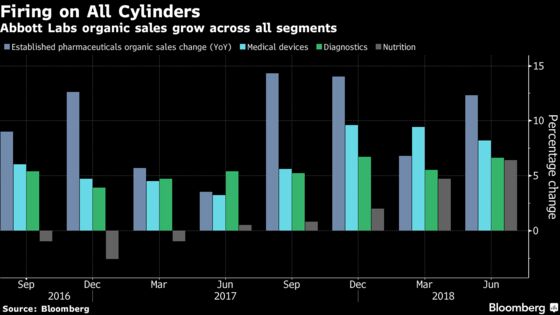 The company's continued strong results handily exceeded expectations and suggest that momentum is clearly building for the second half of the year, Leerink analyst Danielle Antalffy wrote in a note to clients. "This quarter's performance admittedly seems to
be a positive data point supporting the view that Abbott can successfully execute," she said.
Management's headstrong expectations for improved earnings through the end of the year despite an accelerating dollar may be a signal of what lies ahead for medical-device making peers that have grossly outperformed the broader market so far in 2018. A basket of equipment makers that are notably dependent on sales outside the U.S. hit yet another record high as companies including Danaher Corp. and Intuitive Surgical Inc. gear up for results on Thursday.