ABB's Potential Breakup Heralds Robots, Windfall for Swiss Giant
(Bloomberg) -- ABB Ltd. Chief Executive Officer Ulrich Spiesshofer may be out to prove once again that patience is a virtue.
It was just after the financial crisis in 2009 that Spiesshofer, then the Swiss engineering company's head of corporate development, was given the task of turning around the ailing robotics business. The activity had fallen on hard times amid what ABB called "the worst market conditions ever."
Today, the unit is the company's most profitable and is vying to become the largest supplier of factory automation in the world amid surging demand. It could also become the centerpiece of a reconfigured ABB.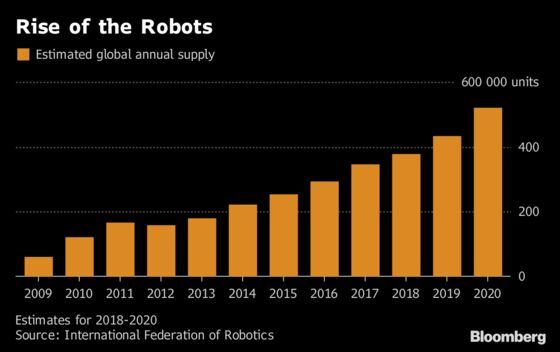 In a more recent example of playing for time, Spiesshofer is considering putting another division -- power grids -- on the block, Bloomberg News reported on Aug. 23. It would come two years after he defied a campaign by an activist shareholder to do just that. In the meantime, he has said, the unit's valuation has jumped. A spokesman declined to comment.
Power grids and robotics are two of four divisions within ABB, a sprawling manufacturer that traces its roots to a pair of Swiss and Swedish companies that began operations in the late 19th century. That Spiesshofer is said to be considering the firm's breakup is testimony to the pressure on industrial companies like General Electric Co. and Siemens AG to modernize their offerings and move away from conglomerate-like structures.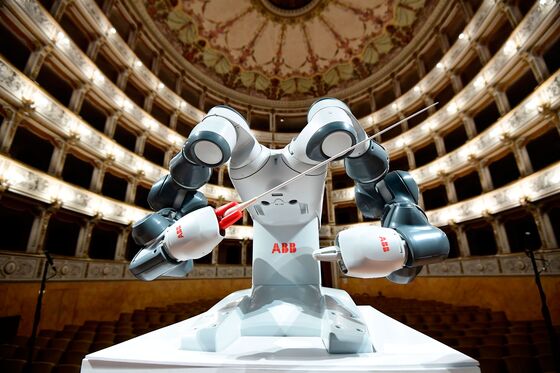 "An exit from power grids would radically improve the group's profile," Deutsche Bank analyst Gael de Bray wrote in a report. It could add as much as 27 percent to the shares, he said.
The move would also turn the spotlight on robotics at a time when ABB is aiming to prevail over rivals like Kuka AG, Fanuc Corp. and Yaskawa Electric Corp. Its equipment includes the single-arm YuMi robot that can fit on electronics production lines and work with humans to assemble small parts. The 900-kilogram IRB 6620 model is among the biggest in the world and is typically used for welding at car plants.
The sale of ABB's power grids unit would shrink the Swiss industrial giant by more than a fourth. It would also vindicate activist Cevian Capital, which has been pushing for the move for years.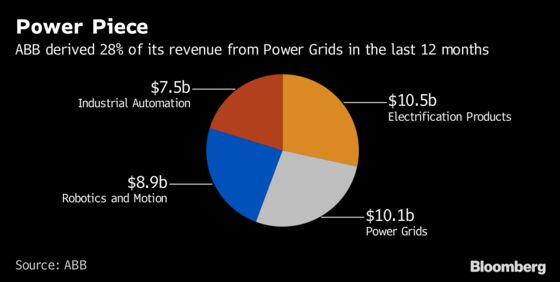 Spiesshofer defied Cevian in 2016 by hanging on to the laggard unit, valued at an estimated $10 billion, that makes power transformers, long distance electricity-transmission systems and energy storage units.
A separation of power grids would have been "very dangerous," the CEO warned at the time. Spiesshofer's tune changed in July, when he told analysts ABB's portfolio isn't "cast in stone" and the value of the business after a turnaround is "much, much more" than a $4 billion to $5 billion estimate of two years ago.
"Everything is about timing and price," said Handelsbanken analyst Hampus Engellau. "The CEO has delivered well in power grids but he's not really been paid for the work in the share price."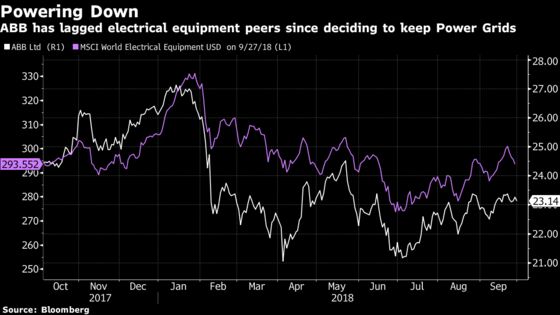 A disposal at this point would likely be claimed as a victory by both Spiesshofer and Cevian co-founder Christer Gardell, who reignited their battle last month by accusing the CEO of losing touch with reality.
In addition to robots, ABB's industrial automation arm, which rivals companies such as Honeywell International Inc., Siemens AG and Yokogawa Electric Corp., could also benefit from increased investment should power grids be sold. It designs control systems for industries like oil, gas, mining and petrochemicals. The company's other unit makes electrification products.
"A sale of power grids would free some resources for remaining parts of ABB," Engellau said. "My guess is that ABB would try and use that money to grow in Robotics & Motion and Industrial Automation. But there are opportunities to grow through acquisitions in all three units."