Aas Lost Millions Trading Power, But Others Had Similar Bets
(Bloomberg) -- Einar Aas's shadow is looming large over the Nordic power market.
His portfolio was sold to one of the biggest traders. But with the buyer's identity kept secret, the uncertainty over what has happened to the positions is stifling activity on Nasdaq Inc.'s $33 billion market. Other traders with similar bets have been forced to sell as the difference between Nordic and German prices jumped to the most in more than nine years.
Aas was declared in default in the morning of Sept. 11 after the spread between the two markets surged. He couldn't make good on losses after a huge bet that price differences would move the opposite way. And while nobody has owned up to buying in the auction the following night those trades that Aas accumulated, Societe Generale SA said that unwinding his positions have "distorted" Nordic prices to unsustainable levels.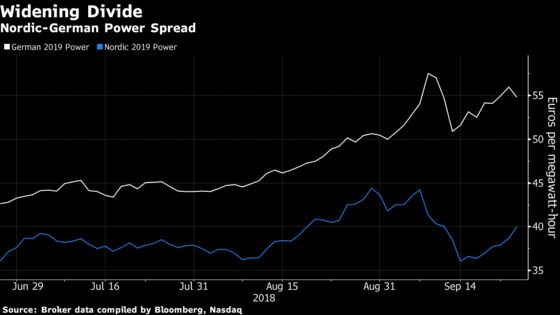 "Einar Aas was not the only trader with a Nordic-German spread-position," said Arne Osterlind, a portfolio manager at Shepherd Energy AB in Stockholm, who's been in the market for more than two decades. "Many participants had one, and some have been forced to take stop losses as the spread increased even further."
Aas was widely considered by his competitors as the biggest, and for more than a decade also the best, trader in the region. His exit couldn't come at a worse time for the community of hundreds of professionals using the Nasdaq exchange. Even before Aas's default, activity on what was once the largest European power market was languishing at levels not seen since 1999.
While power prices will eventually recover, the impact on trading volume is the biggest worry for John Brottemsmo, a senior market analyst at broker Kinect Energy in Bergen, Norway.
"Liquidity will go down because of all this," he said. "We will just have to see if other participants will step in to make sure we have enough."
So far, volumes have been little changed this month, a Nasdaq spokesman said.
The exchange invited four of its biggest members to bid for the portfolio in the auction. Uniper SE, Statkraft AS and Fortum Oyj have all denied they bought the positions. Vattenfall AB declined to comment on its trading positions because they are commercially sensitive.
It's not even certain the volumes will be actively traded on the exchange. If the buyer chooses to hold their position, they will instead be financially settled against the relevant Nordic or German day-ahead price during the delivery period, Nasdaq said by email.
And the amount of contracts Aas held in the end was huge, amounting to more than 5 percent of the Nordic region's annual demand, according to the exchange.
While Aas's transactions are being scrutinized, Norwegian Petroleum and Energy Minister Kjell-Borge Freiberg said it's important to note that the nation's power supply was never impacted. "Nasdaq's view is that this all arose in a very particular market situation but was within its current rules," he said in an interview in Hamburg.
But more and more Nordic power traders are are seeking legal advice on how to recoup funds they paid into the exchange's Default Fund, a lobby group for market participants said on Tuesday. They have all been forced to help replenish the fund after 107 million euros ($126 million) were used to shore up the market after Aas's losses.
Unusually, Aas ran his trading operations in his own name. Nasdaq said on Friday that it had reached an agreement with the trader and his lawyer to liquidate his assets. Aas didn't respond to requests for a comment and his lawyer declined to comment by email on Tuesday.
While the personal fate of Aas remains unknown, the market is, at least in the short term, bound to his legacy positions.
"With all this insecurity it is going to take quite a while before we return to a fundamentally traded market again," said Arne Bergvik, head of analysis at Swedish utility Jamtkraft AB. "If the position is being undone it's going to put a lot of pressure on the sell-side. That is putting a wet blanket over Nordic prices right now."