A Walk Through the Mind of a Bullish Fund Manager: Taking Stock
(Bloomberg) -- Despite the aftershocks of the fourth-quarter meltdown still percolating and the feeling that we may be approaching a near-term trading top (futures are down ~22 handles after the cash index closed just below the anxiety-ridden resistance at ~2,600), many Wall Streeters continue to hold on to their bullish views in the long term.
Our most recent rundown of equity strategists's targets for the S&P 500 in 2019 shows that 23 of 24 expect the year to finish higher than Friday's close -- Cantor Fitzgerald's Peter Cecchini is the lone dissenter at 2,390.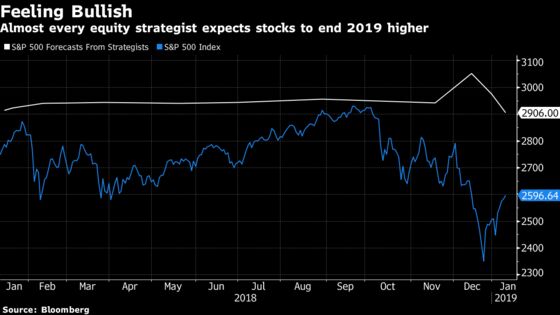 In addition, some vocal bears have noticeably shifted their view on the basis of valuation, sentiment, and a number of negative catalysts having come to fruition, among other reasons.
We discussed the changed tunes of some recent naysayers last week, like Guggenheim CIO Scott Minerd suddenly expecting a bottom in stocks or Morgan Stanley chief U.S. equity strategist Michael Wilson, a rolling bear market prognosticator who said he's "definitely more constructive" now than he's been in over a year -- in a followup note this morning, Wilson says investors should load up on cyclicals the second the SPX has a proper retest of the December lows.
Since then, we've seen Ned Davis calling for a potential reversal of his previous bearish stance (he downgraded U.S. stocks in October) after some warnings came true and KKR, who's predicted a notable slowdown in global growth for 2019, upgrading equities to an overweight rating.
Late Friday, Goldman's David Kostin released his "Where to Invest Now" chartpack and, unsurprisingly, it reads quite bullish: Base case S&P 500 target of 3,000 (implies ~16% upside from the last close), talk of how past sharp drawdowns of ~20% in a quarter are usually followed by quick rebounds with the caveat being that a recession isn't around the corner, and recommendations to buy stocks (favors tech, communication services, and utilities), sell bonds, and raise cash: "Equity holdings at 61st percentile vs. history while Cash at just the 6th percentile." See the graphic below for Kostin's 2019 scenarios.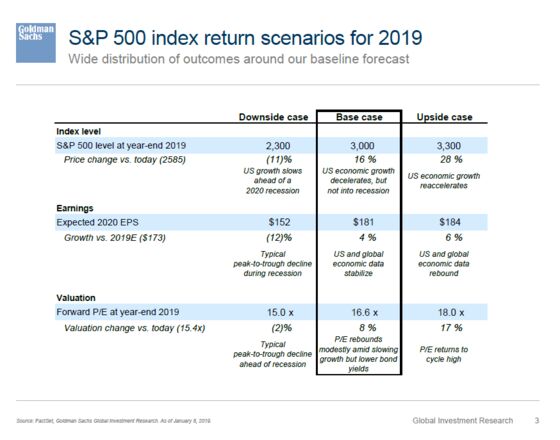 Over the weekend, Barron's published its yearly roundtable, where the general consensus of the ten Wall Street panelists was that the U.S. economy will keep growing (no recession in 2019), the Fed will apply a "light touch to monetary policy in the months ahead," and the U.S. will strike a trade deal with China. Here are some snippets from each participant's outlook:
Parnassus CIO Todd Ahlsten: Expects the first half to be tougher for the markets, "after which we see a little lift" as demand growth potentially returns; calls the semiconductor business a canary in the coal mine, with 1-2 more quarters left of significant inventory and demand adjustments, and "then the rubber hits the road"
Ariel Investments CIO Rupal Bhansali: Bullish on stocks and on "active management making a comeback while passive investing gets its comeuppance"; favors net-cash companies, which are a "thing to bet on in coming years," and finds it ironic that indebted companies don't trade at a discount; negative on emerging markets; negative on China from macro view, though top pick is China Mobile ("it is the cheapest stock in the world")
Delphi Management founder Scott Black: If the U.S. and China sign a trade deal before the March 1 deadline, the stock market "could explode upward," but if not, then expect stocks to "languish and decline"
Goldman Sachs's strategist Abby Joseph Cohen: December selloff wasn't based on a sudden sharp drop in fundamentals, but rather a belated recognition of issues ignored throughout the year; "Volatility was increased when investors who wanted to raise cash at year end sold their winners, and securities that are liquid. This will sort itself out."
T. Rowe Price portfolio manager Henry Ellenbogen: The market will be good as long as GDP growth stabilizes above 1% and then accelerates in the second half
Gamco Investors CEO Mario Gabelli: Sees the stock market up by the end of the year, citing valuation ("I'm able to buy companies again at six times Ebitda"), corporate tax cuts, and the impact of infrastructure spending on the second half of 2019 and into 2020; says markets for the BRICs are oversold
DoubleLine Capital CEO Jeff Gundlach: "I'm looking for a terrible economy, but an artificially strong one, due to stimulus spending"; stocks may be weak early in 2019 and stronger later in the year; emerging markets and gold are both going to go up because the dollar is going down
Epoch Investment CEO William Priest: Stock market will likely remain volatile with the potential to finish the year lower than where it is today
Eagle Capital general partner Meryl Witmer: Doesn't give a call on the direction of the market, but sees positives (retail investor has dry powder to invest) and negatives ("it is pretty rare now to find a company trading below 10 times Ebita")
Rivulet Capital chairman Oscar Schafer: Growth will slow in the first half and accelerate in the second half; "the financial markets will do less well than the economy in the first half, and better in the second half"; says gold is underowned
Bank stocks with Citi kicking off earnings season later this morning; JPMorgan and Wells Fargo report Tuesday while Goldman and Bank of America release results Wednesday
Autos as the Detroit Auto Show gets underway in addition to two sell-side conferences, both of which commence tomorrow; see our industry state-of-affairs piece from the weekend titled, "The Next American Car Recession Has Already Started"
Retail could get a little bit of relief after last week's carnage, with $17.5 billion market cap athleisure maker Lululemon catching a bid on a boosted forecast
Gold equities may get a bid after Newmont said it will buy Goldcorp for $10 billion, which comes 3 months after Barrick agreed to acquire Randgold for $5.4 billion
Semis are likely to be weak despite the well-received revenue update for Dialog Semi thanks to the early pressure on tech stocks broadly, a couple of downgrades at Evercore ISI (Western Digital to underperform, Teradyne to in line), and Morgan Stanley continuing to slam the space ("we would use the recent bounce to lighten up on stocks")
Here's some stuff you might have missed since Friday's close:
Trump called Jeff Bezos "Jeff Bozo" and said hopefully the Amazon Washington Post will soon be in "better & more responsible hands!"; Trump reportedly went to great lengths to hide details of his discussions with Putin; the WSJ said Trump's national security team asked the Pentagon for "options to strike Iran"; Barron's listed its best equity funds for risky markets, with a list that includes the $7.3 billion AMG Yacktman fund, the $15 billion Parnassus Core Equity fund (CIO Todd Ahlsten was a part of the roundtable dissected above), and the $9.3 billion Neuberger Berman Genesis fund; WSJ had a feature on how the once-revolutionary smartphone "is losing its power to amaze - and maybe its singular hold on our lives"; the Journal also had a piece on how tens of millions of dollars of sales may be lost across the craft beer industry because of the government shutdown; Warren Buffett's eldest son, Howard Buffett, has been "waging his own border war" in Cochise County, Arizona, for the past several years, according to a Phoenix New Times profile; the NYT published a lengthy "Who Is MacKenzie Bezos?" article that focuses on her early literary ambitions; Costco reportedly sold out of its $89.99 27-pound 180-serving mac-and-cheese tub that has a 20-year shelf life; the Mooch, alongside Ryan Lochte, ex-NFL player Ricky Williams, and Lindsay Lohan's mom, will compete on "Big Brother: Celebrity Edition"; Eddie Murphy is reportedly on board for the Coming to America sequel; a picture of a brown egg has beat out Kylie Jenner's photo of her baby as the most-liked Instagram post ever; and lines for next week's playoff games are Saints -3.5 over the Rams and Chiefs favored by a field goal over the Pats.
William Blair says the end of apocalypse scenarios for outperform-rated GE is "now at hand." Analyst Nicholas Heymann sees rising odds that GE may accelerate the timing and size of its original plans for a GE Healthcare IPO, that prospects for GECAS to be sold at or above book value are rising, and that noncore 20% of GE Digital recast into a separate business may lead it to being monetized. He also expects the company to complete the exit of GE Capital by the end of 2020.
Citi upgrades Snap to a neutral on valuation, recent acceleration in advertising ARPU, and expectations for the new version of its Android app to improve user and engagement growth. In a broader Internet outlook note, the analysts call out Amazon as their top pick followed by Netflix, adding that this is the first time in six years they've had buy ratings on all four FANG stocks.
Wedbush's Dan Ives says outperform-rated Apple needs to aggressively cut prices in China on the iPhone XR as well as consider significant content acquisitions to drive services over the coming years. High probability M&A targets are A24, Lionsgate, and Sony Pictures, medium probability are Viacom/CBS and MGM Studios, while low odds are Netflix, Disney, and gaming platform/video game publishers.
Wolfe Research's Steve Fleishman said PG&E, which is plunging ~50% on an expected bankruptcy filing, said the stock is unlikely to go to zero in a bankruptcy scenario; "If just the utility, we think it falls to the $10 area. If the parent files too, then it likely comes out of indices which could add more downside pressure (over 20% of stock is owned by indexers)."
Tick-by-Tick Guide to Today's Actionable Events
Today -- Detroit Auto Show kicks off
Today -- FDA briefing documents for AMGN/UCB's romosozumab
Today -- Pdufa for EXEL/Ipsen's Cabometyx sNDA
Today -- IPO lockup expiry: CRNX, RUBY, CCB
8:00am -- C earnings
8:00am -- CHS at ICR conference
8:30am -- Former Fed Chair Yellen at NRF retail conference
8:30am -- F CEO Jim Hackett on Bloomberg TV
8:50am -- Toyota of North America CEO Jim Lentz on Bloomberg TV
9:00am -- TGT at NRF retail conference
9:45am -- CEVA investor day
10:00am -- C earnings call
10:00am -- FTK call on sale of Florida Chemical
10:30am -- FIVE, WING at ICR conference
11:40am -- Trump speaks at American Farm Bureau Federation convention
12:45pm -- PAG CEO Roger Penske on Bloomberg TV
1:00pm -- YETI, GPC, TXRH at ICR conference
3:00pm -- GES at ICR conference
3:30pm -- LOW at NRF retail conference