A Texas-Sized Punch in the Gut Keeps Buyers at Bay: Taking Stock
(Bloomberg) -- Something has to be said for the SPX's impressive 50-handle turnaround off of Tuesday's morning low.
It was especially notable given the surplus of reasons why we should have been plumbing those lows all session long, like the whiplash reversal in the Chinese stock market, a string of industrial bellwether earnings-related sell-offs (Caterpillar and 3M) in conjunction with a flurry of whiffs in Europe (ams AG, Atos, Saab, Renault), the general jitters over tepid-to-negative reactions to earnings beats, the added rush of rates volatility (10-year yield sank nearly 10 bps only to pare more than half of the drop), a leg up in the market's fear gauge (VIX popped close to 25 intraday), and the reports of decreased odds of a Trump-Xi meeting to defuse the trade war.
But we bounced, and we bounced hard to the point that it's probably safe to start letting the charts do the talking to give us an idea of where the scores of bids and asks are lined up. The 2,700-2,710 range, or between the whole number and the Oct. 11 intraday low, can now be considered near-term support for the S&P 500 while the much wider ~2,768-2,800, or between the 200-day moving average and the whole number on the upside, looks to be current resistance.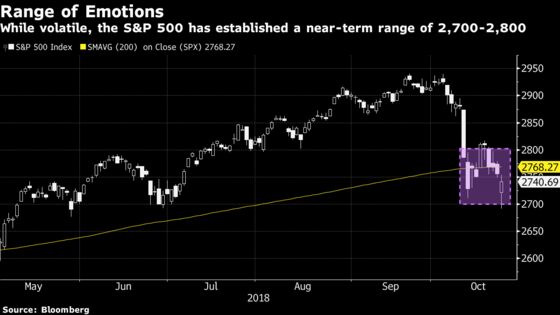 The "new tech"-ish part of the recently revamped Communication Services group gave an oomph to the bounce (FAANG members Netflix, a relative bright spot for this earnings season so far, and Alphabet both ended in the green) while two of the core "sicklical" groups caught a much-needed relief rally, from the homebuilders -- the XHB ETF had its third green day in 25 sessions on a better-than-feared, though not wholly inspiring, print from PulteGroup -- to the autos and auto parts stocks.
Texas-Sized Punch in the Gut
But it's the "old tech" part of the market that could stall any further recovery in the tape. The S&P futures are already down ~15 handles, despite some decent prints out of Europe (Barclays up 3%, apparel large-cap Kering surging as much as 13%, E&C stock Vinci up ~6%, aerospace/defense name Safran up more than 4%) and I'd even call Deutsche Bank's 3% drop as a semi-win for the bulls given the lack of any sort of surprise blowup.
But you can blame Texas Instruments for deflating some of the good vibes from Tuesday's bounce. Shares of the Dallas-based semiconductor titan, which is the fourth biggest member of the SOX by weight percentage are getting whacked by more than 6% and are poised to open smack dab at the 52-week low.
This after the company recorded its first revenue miss since the fourth quarter of 2015, gave a disappointing sales forecast, said it will reduce wafer starts, mentioned an uptick in cancellations, and gave this comment from the call that won't be easily forgotten: "Demand for our products slowed across most markets during the quarter."
Bulls will point to a cut that was mostly expected by the Street, a limited hit from the tariffs, less-draconian-than-expected results in auto and industrial ("a far cry from a meaningful inflection lower in business," as Evercore ISI argues), and a company that's able to manage through a correction, no matter how deep ("TXN (as they typically do) should come out stronger than before," Bernstein says).
The hold and/or sell crowd will point to the weak guidance and cautious comments as proof that things will get worse before they get better ("signaling the beginning of a correction," as Keybanc bluntly puts it) as well as extrapolating what it all means for the rest of the group -- pre-market trading so far does not bode well for the broad-based chips stocks, with both the VanEck Vectors Semiconductor ETF SMH and iShares PHLX Semi ETF SOXX indicated well below the prior close.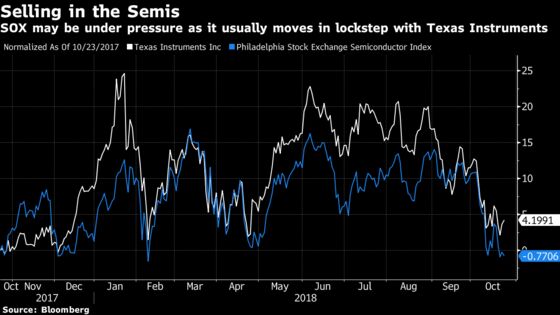 Susquehanna's Christopher Rolland, who has an equivalent buy rating on Texas Instruments and a whole swath of the chips space, sees the dismal guidance and the comments about higher cancellations ("a rare confession in semis") as a rough read-across for the group, "particularly as their low lead-times and consignment programs were supposed to make them more cycle resistant than most. We worry for lesser operators," specifically calling out names like Maxim Integrated, ON Semi, NXP Semi, Cypress Semi, Knowles, and Microchip.
Semis likely move lower with $97 billion market cap giant Texas Instruments (down more than 6%) and MKS Instruments (down ~10%) more so than Teradyne (up ~5%)
Building materials with Owens Corning sales coming in below the Street's lowest estimate while Carlisle slipped more than 8% on weaker than expected September sales
Transports, especially freight names like FedEx, after UPS downticks in the pre-market after results
Online travel names, like Expedia, TripAdvisor, and Booking Holdings, after Trivago is looking like it'll have a big day in the green after boosting its Ebitda forecast
Telecom after an EPS miss from AT&T, which could revert some of the gains in the group after yesterday's Verizon print
Med techs after Boston Scientific drops a few percentage points after cutting its full-year revenue forecast
Restaurants with smallcap Noodles & Co. tumbling 14% last night after an earnings forecast disappointment
Chinese gaming-related companies, like NetEase and Bilibili, may be volatile after China will reportedly halt the special approval process for new games
Sectors that may move ahead of earnings later this morning include aerospace & defense (Boeing and General Dynamics), machinery (Illinois Tool Works), rails (Norfolk Southern), copper (Freeport-McMoRan), exchanges (Nasdaq), and telecom/wireless (AT&T)
Sectors that may move ahead of earnings tonight include large-cap tech (Microsoft), semis (AMD and Xilinx), cloud (ServiceNow), networking/cybersecurity (F5 Networks), credit cards (Visa), autos (Ford and Tesla), auto parts retail (O'Reilly), truckers (Knight-Swift and Landstar), furniture (Ethan Allen), appliances (Whirlpool), golf (Callaway), dental (Align), packagers (Packaging Corp.), subsea (TechnipFMC), and gold (Barrick, Goldcorp and Agnico Eagle)
Notes From the Sell Side
There aren't a ton of major calls out overnight, which I assume is a result of subsequent all-nighters pulled by analysts and junior analysts to get out earnings previews and recaps at a respectable time, but here's the biggest ones that have come across my screen so far:
Goldman upgraded Lockheed Martin to a buy given outgrowth in the favored defense market and also reinstated Conagra with a buy on synergy-fueled margin gains. Both stocks were added to the firms conviction list, while Bombardier was removed.
Within the banks, Deutsche Bank says the group is oversold given historically low valuations, slower revenue growth priced in, and no recession expected over the next six months; they are most positive on the brokers (Goldman and Morgan Stanley) and several regionals (notably Citizens and PNC). Meanwhile, Wells Fargo's Mike Mayo upgraded Morgan Stanley to an outperform as he is now "all-in" on the group and now recommends five out of five of the U.S. global banks.
And BofAML upgrades a pair of reeling auto retailers in AutoNation and Lithia Motors (both down ~15% since the beginning of August) on valuation. Lithia just now reported what looks like a top- and bottom-line beat, and shares are currently indicated up.
Tick-by-Tick Guide to Today's Actionable Events
Today -- IPO lockup expiry: Goosehead Insurance (GSHD), DocuSign (DOCU), Smartsheet (SMAR)
7:00am -- MBA Mortgage Applications
7:00am -- UPS, T, SIRI, TRVG, NDAQ, TUP, SLGN earnings
7:05am -- SLAB earnings
7:30am -- BA, GD earnings
8:00am -- FCX, NSC, ITW, NDAQ earnings
8:00am -- BSX, SIRI earnings call
8:30am -- UPS, T, CHKP earnings call
8:45am -- NSC earnings call
9:00am -- FHFA House Price Index
9:30am -- IPOs to start trading after the open: Alzheon (ALZH)
9:45am -- Markit PMIs
10:00am -- New Home Sales
10:00am -- Bank of Canada rate decision
10:00am -- TER, FCX, ITW, HLT earnings call
10:00am -- LIQT investor update call (announced last night)
10:10am -- UPS CFO Rich Peretz, NDAQ CEO Adena Friedman on Bloomberg TV
10:30am -- DoE oil inventories
10:30am -- BA earnings call
10:40am -- CRON CEO Michael Gorenstein on Bloomberg TV
12:00pm -- ZSAN investor meeting
1:00pm -- Fed's Bostic speaks at energy summit
1:10pm -- Fed's Mester speaks at Forecasters Club
1:30pm -- MDSO investor day
2:00pm -- Fed Beige Book
2:00pm --Invest for Kids conference in Chicago begins; speakers include Citadel's Ken Griffin, Equity Group's Sam Zell, Artisan's Daniel O'Keefe, Partner Fund's Christopher James, and others
4:00pm -- FFIV, ALGN earnings
4:01pm -- VRTX, SRPT, PTC (roughly) earnings
4:05pm -- MSFT (roughly), V, CTXS, AZPN, ETH (roughly) earnings
4:10pm -- TSLA (roughly), NOW, KNX earnings
4:15pm -- AMD (roughly), F, LSTR, LM, FTI earnings
4:15pm -- Ford CFO Bob Shanks on Bloomberg TV
4:20pm -- XLNX, ELY earnings
4:30pm -- WHR, ORLY earnings
4:35pm -- Bridgewater's Bob Prince at Capitalize for Kids conference in Toronto
4:40pm -- Starboard Value CEO/co-founder Jeff Smith on Bloomberg TV
5:00pm -- ABX (roughly), GG (roughly), AEM earnings
5:30pm -- PKG earnings (roughly)
5:30pm -- MSFT, AMD, F earnings call
6:00pm -- Starboard's Jeff Smith at Capitalize for Kids conference
6:30pm -- TSLA earnings call
7:00pm -- Fed's Brainard speaks at event on economic/financial literacy
8:09pm -- World Series Game 2: Dodgers at Red Sox
Tonight -- IPOs to price: YETI (YETI)