A Supply-Demand Measure for the Global Oil Market Is Weakening
(Bloomberg) -- A closely watched gauge of tightness in the crude market is weakening on concern about Indian consumption due to the coronavirus, as well as expectations for more cargoes in Europe.
Brent crude for July, the most-immediate futures contract, is fetching smaller and smaller premiums relative to August barrels, according to ICE Futures Europe data. On Tuesday the price gap, or backwardation, between the two contracts fell to 19 cents a barrel, its smallest since late March. That indicates a less-bullish reading of the market among traders.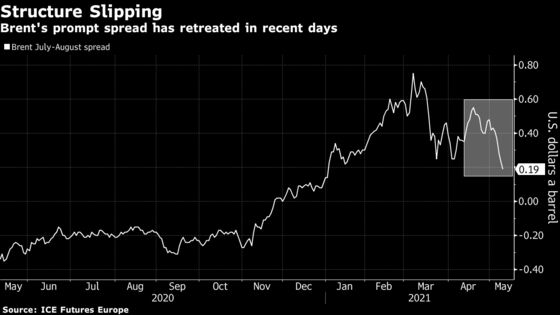 While India may not be a big buyer of North Sea oil, it does lift from other locations including West Africa and the U.S. Gulf. Shipments from both those locations toward Europe accelerated in April. Nigerian producers have increasingly been discounting their cargoes and often clearing them to Europe because of the weaker demand from India, according to traders.
There's also the prospect of returning local supplies from July, the most immediate Brent futures contract month. A period of heavy North Sea maintenance ends late next month, which will boost regional output. That work had helped drive up premiums for Brent, luring barrels to Europe from across the Atlantic basin.
"The market is now looking beyond the tight June loading schedule in the North Sea," said James Davis, director of the short-term global oil service at consultant FGE. "At the same time West African and U.S. crudes will be struggling given India is now considering run cuts as it wrestles with growing product stocks."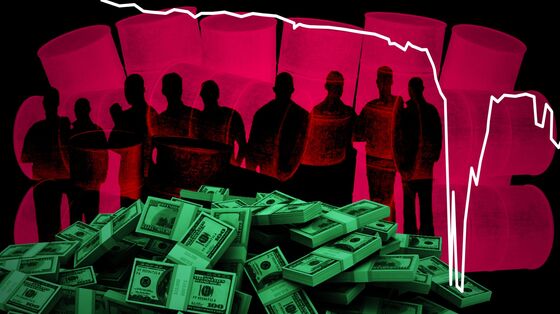 The sliding backwardation is notable because the last time nearby Brent spreads retreated sharply -- in March -- headline crude prices subsequently lost several dollars. This time around a sharp recovery in end-user oil demand, particularly in Europe and the U.S., gives cause to be less bearish.