A Stock That Rides Every China Bubble Returns Stronger Than Ever
(Bloomberg) -- A little-known maker of fire-truck engines that rides every melt up in China's equity market is at it again.
After doing next to nothing for months, Anhui Quanchai Engine Co. has surged 169 percent this year on record volume, beating all but two of the other 1,500 companies on the Shanghai Composite Index, which has rallied 19 percent. The stock's average daily turnover for 2019 is almost 50 percent higher than that of oil giant PetroChina Co., a company about $200 billion more valuable.
It's deja vu for a tiny stock that's not followed by a single analyst. Anhui Quanchai's shares jumped some 90 percent and 300 percent during China's 2015 and 2007 bubbles, only to come crashing down once they burst. While this year's rebound in the Shanghai index pales in comparison, it's yet another sign of how speculative trading is returning to the world's second-largest equity market.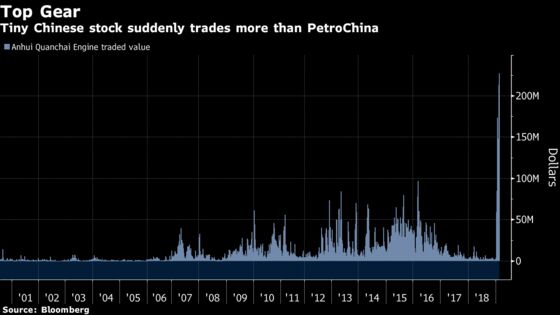 The company is a state-backed enterprise created in 1998 as a subsidiary of QuanChai Group, which was founded in eastern China about 70 years ago, according to its website. It makes diesel engines used in water pumps, forklifts, and agricultural equipment, with clients in China, Southeast Asia and Europe, the website says.
Speculators are most likely behind Anhui Quanchai's rally, local media said last month, noting that the largest transactions were placed through the same brokerages' branches multiple times. Punters typically have a favorite branch they use over and over for the same stock, the report said.
The Shanghai Exchange has issued three high-margin trading warnings for Anhui Quanchai stock in the past two months. Xu Mingyu, the company's investor-relations secretary, said by phone that he has no comment on the share-price moves.
Mainland shares have added $1.4 trillion in value since Jan. 3, a rebound so fast that it's triggered signs of overheating just about everywhere. Three major benchmarks have entered bull markets, while daily turnover across exchanges exceeded 1 trillion yuan ($150 billion) twice this week, a level not breached since 2015. Almost all members of the Shanghai Composite traded above their 50-day moving average Monday, the broadest rally since mid-2015.
The Shanghai Composite rose 0.9 percent as of 9:51 a.m. Wednesday, while the ChiNext Index slipped 0.1 percent, its first decline in six days. The small-cap gauge -- typically the most speculative part of the market -- has rallied 26 percent this month. Anhui Quanchai fell 7 percent following a 10 percent drop Tuesday, the maximum daily amount allowed by the exchange. It rose by the 10 percent limit in five of the previous eight trading days.
China is no stranger to huge rallies in some of its stocks, and the frenzy often reflects crowds chasing the latest hot trade. Take this year's rally in 5G related stocks, firms linked to foldable phones or brokerages with the word "securities" in their name.
Still, Anhui Quanchai stands out because it's trouncing all its listed peers by a huge margin. Shanghai Diesel Engine Co. is up 28 percent in 2019, while Chongqing Zongshen Power Machinery Co. Ltd. has gained 34 percent. Weichai Heavy Machinery Co. Ltd. has added 17 percent.
The higher it climbs, the more painful the drop. Anhui Quanchai tumbled more than 60 percent after the bubble burst in 2015, and almost 80 percent in the 2008 crash.