A Pile of Gold Is Enough. Unless You're Swatch
(Bloomberg Opinion) -- Swatch Group AG has called time on the downturn in the Swiss watch industry.
Group net sales increased by 14.7 percent at current exchange rates in the first half of its financial year, the company said Wednesday. Swatch's operational gearing is high – unlike rival Cie Financiere Richemont SA, it maintained its production capacity throughout some recent tough years for Swiss watch makers. While that took its toll on the operating margin, this is now rebounding, from 10 percent to 14.7 percent in the first half.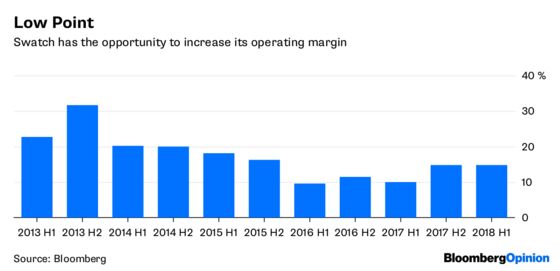 Swatch has been helped by its exposure to China, and its increasing focus on more expensive models, where its recovery has been the strongest. But it has also benefited from the recent return of sales growth at cheaper price points, where it appears to have been keeping the smartwatch at bay.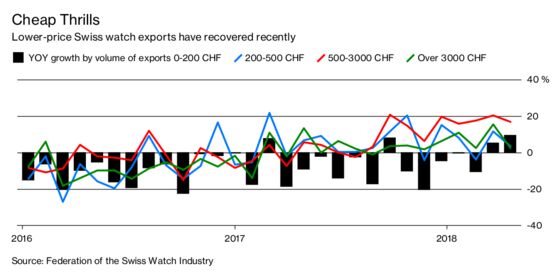 The shares have almost doubled from their low in August 2016. They trade on a forward price earnings ratio of about 22 times, a slight premium to Richemont's 21 times.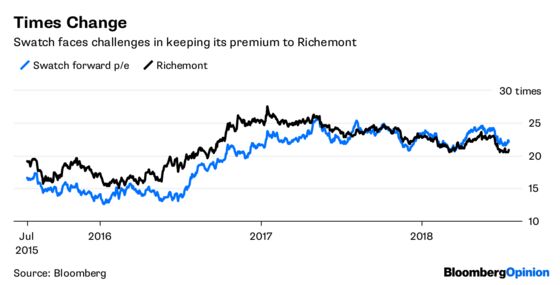 That looks fair: Swatch has delivered a better than expected performance, and there is the potential for the operating margin to recover further from historically depressed levels. In contrast, Richemont's efforts to buy back unsold watches have continued to weigh on its earnings.
But there are several factors that could prevent the premium widening too much further.
Firstly, Chinese consumers have regained confidence over the past two years, and are happy to splash out once more on luxury goods, including watches. But if trade tensions with the U.S. depress economic growth, then that could drag down consumer sentiment.
Swatch said the second half of the year has started well, with July continuing the strong sales trend. Nevertheless, the possibility of a cooler China is a concern.
Meanwhile, the threat from smartwatches remains, more so for Swatch as it still generates about a third of sales from models priced below 1,000 euros ($1,163) according to Luca Solca, analyst at Exane BNP Paribas. In contrast, Richemont's exposure to this price point is minimal. Continuing to expand at the top end will be crucial.
But this comes at a price. Inventory levels remained stubbornly high in the first half, at 6.7 billion francs ($6.7 billion), compared with 6.3 billion francs at Dec. 31.
The company said about 300 million francs of the increase was from stocks of gold and diamonds. It has taken the view that given trade tensions, it is strategically important to increase its stores of essential raw materials. That is sensible, but it kept cashflow from operations flat, at 423 million francs. This weighed on the shares, which fell 2.2 percent despite the better-than-expected sales and earnings performance.
Finally, digital is becoming increasingly important to luxury goods, and Richemont has the edge here, with its full ownership of Yoox Net-A-Porter Group SpA, and the recent acquisition of upmarket dealer Watchfinder, which operates largely online. 
Given its rival's clear intent on digital sales, it's important that Swatch doesn't get left behind. One way to ensure this would be to make its own acquisition in the online pre-owned watch market. It won't say whether it is considering this, but it pointed out that pre-owned and vintage products was an opportunity. The clock is ticking. 
Andrea Felsted is a Bloomberg Opinion columnist covering the consumer and retail industries. She previously worked at the Financial Times.