A Mega Bank Just Joined the Euro Zone; It's Too Big to Fail
(Bloomberg) -- On Monday, the number of banks deemed too big to fail in the euro zone will grow to eight from seven. The new arrival is Nordea Bank Abp, which is moving its headquarters to Helsinki from Stockholm.
The bank, whose $670 billion in assets are more than twice Finland's gross domestic product, has made clear its move was driven by regulatory considerations and a wish to be inside the European banking union.
"We'll be in the core of Europe," Chief Executive Officer Casper von Koskull told reporters at a recent breakfast meeting in Stockholm. "I think it's important that we also can influence Europe."
Under von Koskull, who held several senior roles at Goldman Sachs before joining Nordea, the bank has sold off assets outside the Nordic region, including in Luxembourg, the Baltics and Russia.
In an interview with Bloomberg Television on Monday, von Koskull said growing through European acquisitions isn't on his agenda.
"If you drive a bank for size itself, that's not a good sign, for me at least," he said. "European consolidation is something of course one follows, but it's not on our agenda for the time being."
Nordea Perpetual Bonds Jump on Buyback Pledge With Finland Move
Nordea is in the middle of a high-stakes transformation in which automated and digitized services are replacing human beings. Nordea says it needs to cut its workforce by about 6,000 people as part of this plan. Von Koskull has made clear he thinks the rest of the global finance industry needs to adopt a similar approach to stay competitive.
Nordea CEO Says Costs of Bank's Digital Gambit Have Now Peaked
The arrival of a global systemically important bank will change Finland's financial industry significantly. Finance industry assets in the northern-most euro member will swell to 400 percent of its gross domestic product after the move, and Nordea will replace Nokia Oyj as the biggest listed company to have its headquarters in Finland.
The financial regulator in Helsinki has had to add 10 percent to its staff to prepare for Nordea's arrival. It will carry out about 75 percent of the work supervising the bank even as the main responsibility for Nordea oversight rests with the European Central Bank in Frankfurt.
Bank of Finland Governor Olli Rehn said Nordea's decision to move to Helsinki "must be seen as a vote of confidence in the euro area banking union,'' in an interview with Finnish broadcaster YLE TV1 on Saturday. "For Finland, the euro-area banking union gives us broader shoulders in case of possible difficulties and that's important,'' given how big the finance industry will be compared with the country's economy once Nordea arrives, he said.
Sweden will be left with a considerably smaller financial industry, and concerns have been raised about Stockholm's standing as a financial center once Nordea's gone. The Social Democrat-led government took a hard line against banks while it was in office. Opposition parties say that's what ultimately drove away the Nordic region's largest bank.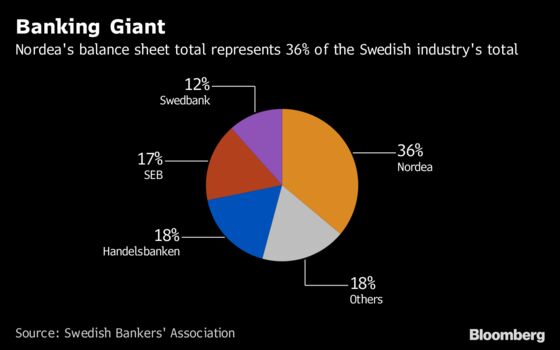 For Nordea, the relocation is mostly administrative. Only two people will move to Helsinki -- CEO von Koskull and Chief Compliance Officer Matthew Elderfield.
But there are significant financial benefits. Nordea said in February it expects to cut costs by as much as 1.2 billion euros once it's in Helsinki. And management has made clear it expects a more predictable regulatory environment inside the euro zone than the framework it operated within in Sweden.
It remains to be seen whether Nordea's decision to move hurts its Swedish business in the longer term. The announcement, which came late last year, sparked anger among many Swedish clients who ended up leaving the bank. A number of Swedish trade unions also cut their ties with Nordea.
Von Koskull says clients won't notice any difference on Monday. "They'll get the same people, the same advice, and we'll develop the bank exactly according to the strategy that we have," he said.
On a more personal note, the CEO has signaled he will miss Stockholm.
"The longest I've ever lived in one place is London, at 20 plus years," he said. "The second longest I've ever lived in one place is Stockholm. I felt at home here, this is a home to me."