A Luxury Developer's Stumble Shows Rising Default Risks in China
Paying top dollar for land when money's cheap and then selling apartments at a premium seems like a viable business model. Until a global pandemic brings both housing and capital markets to a standstill. China's developers are learning this the hard way.
Tahoe Group Co. is a case in point. The Fuzhou-based home builder, known for its luxury villas, last week became the first large residential developer in China to default on a bond in five years. Market watchers say there may be more to come.
"Tahoe's default isn't isolated," said Leonard Law, a Singapore-based credit analyst at Lucror Analytics Pte. "More defaults among weak players could emerge. Investors will be more cautious toward developers with high leverage."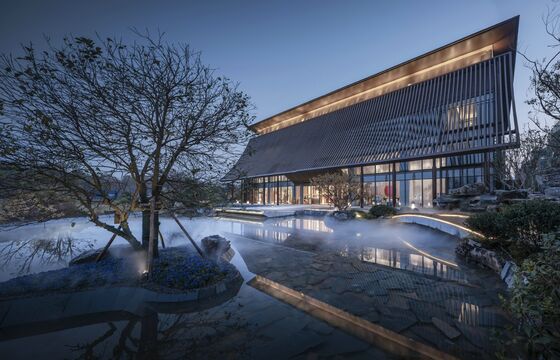 Tahoe certainly fits that bill. Its overdue payments now total 27 billion yuan ($3.9 billion), which includes loans, and it has another 55 billion yuan of borrowings that fall due before the end of the year. Its cash reserves as of March 31 were just 4 billion yuan.
Read more: Bond Default by China Luxury Developer Spooks Debt Market: Chart
Tahoe began snapping up expensive land plots across China in 2013. In 2015, it outbid about 20 rivals to pay what at the time was a record for a prized residential parcel in Shenzhen, its first foray into the emerging tech hub. All told, between 2014 and 2016, and with the nation's property market on a tear, Tahoe spent around 50 billion yuan, equal to almost 70% of its contacted home sales over the period.
One of Tahoe's developments on the outskirts of Beijing is a neat illustration of the problem. Cathay Mansion, about 30 minutes by car from the Forbidden City, had planned to advertise upscale villas at around $2,400 per square foot. That compares with an average price of about $628 per square foot elsewhere in China's capital. Tahoe bought the land in 2014 for around $728 per square foot.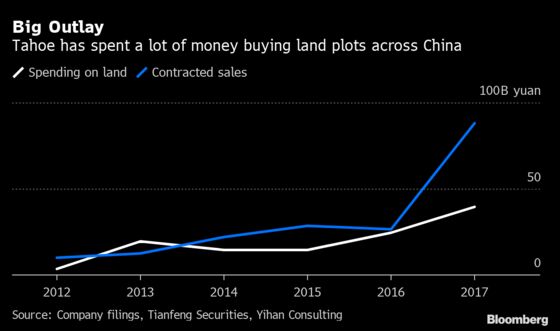 But in China, municipal governments approve maximum selling prices based on how housing is performing, and for the area around where Cathay Mansion is located, authorities set a cap some 30% lower than what Huang Qisen, Tahoe's founding chairman, had hoped for. Executives put sales at Cathay Mansion on hold, only to have approved selling prices lowered by another 10% as the market softened.
Companies facing a similar predicament include Yida China Holdings Ltd., which develops business parks, and Guorui Properties Ltd., which had its outlook lowered to negative from stable by Fitch Ratings Ltd. earlier this year. In April, Yida defaulted on a $300 million dollar bond.
Guangzhou G&F Properties Co. and Sunshine 100 China Holdings Ltd. are another two vulnerable firms because their unrestricted cash as of Dec. 31 isn't enough to cover short-term debt, according to Luther Chai, a research analyst at CreditSights Singapore LLC.
Tahoe's signature Courtyard business is one of its hardest hit. Tahoe faces the choice of selling the premium villas, each with its own garden and concierge service, at a potential loss or holding onto them as interest costs snowball. Some of the homes at Cathay Mansion sold early last year for around $1,480 per square foot.
Meanwhile, Tahoe's debt problem isn't going away. Its net debt-to-equity ratio touched 548% in 2014, when expansion began in earnest, and has held above 200% ever since. Tahoe this week reported a preliminary first-half loss of 1.5 billion yuan to 1.9 billion yuan. That compares with net income of 1.6 billion a year ago.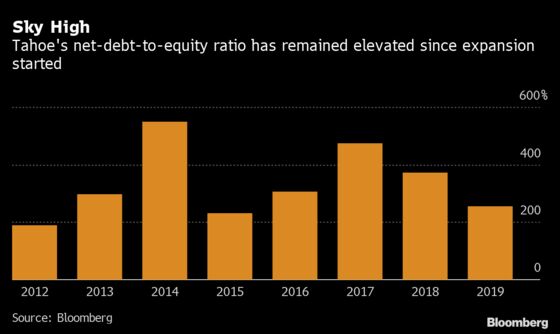 Last week, Tahoe said debt repayments will hinge upon project sales, which are expected to pick up as China's economy recovers from the coronavirus-induced slump. Its major shareholder, Tahoe Investment Group Co., is also weighing a sale of its life insurance unit that could fetch about $1 billion, and Tahoe itself has been seeking a strategic investor.
In Shenzhen, where Tahoe set a land-purchase record in 2015, its Cathay Courtyard apartments have just opened for viewing, three years later than planned. Prospective buyers must put down 20 million yuan just to take a tour and photographs are banned. When the villas will actually be launched for sale is still uncertain.
With the stringent local government controls over apartment-selling prices on land plots, it's "hard for developers to manage their sales pace," said Yan Yuejin, an analyst at E-House China Enterprise Holdings Ltd.'s research institute.