A Lot of People Are Betting That the CA-Broadcom Deal Collapses
(Bloomberg) -- Are there traders out there who want shares of CA Inc. to decline? Yes. More than in other takeover stocks. Does that prove short sellers are targeting the company with deceptive practices? No.
About 25 million shares of the New York-based software maker have been borrowed and sold short, according to research firm S3 Partners, a little over 8 percent of the company's float.
That's a higher degree of bearishness than exists in other companies targeted for takeovers, even transactions where skepticism runs high, such as the merger of Scana Corp. and Dominion Energy Inc. and Avista Corp.'s takeover by Hydro One Ltd.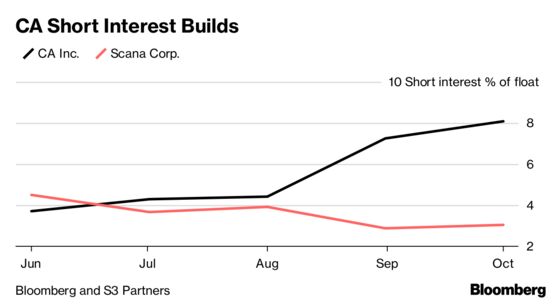 Broadcom, in the midst of buying CA Technologies Inc., said yesterday that it's the victim of a "fraudulent" effort to raise national security concerns about the deal. The company said a memo was circulating among lawmakers that purports to be a Defense Department assessment, prepared for a U.S. national security panel, outlining the need for a review of the deal. The company said it was told by Defense Department officials that it's a forgery.
There could be many reasons to attempt to get a purportedly official attack on the tie-up into the public sphere, including a desire to raise security flags or a fraudulent effort to suppress shares prices for profit. What's clear is that the memo's writer isn't the only skeptic of the deal.
The value of CA's short interest increased to $1.1 billion from $300 million to $500 million when the Broadcom deal was announced in July, according to Ihor Dusaniwsky, head of research at S3 Partners.
Short interest "has increased gradually in CA with increases due to normal risk arb trading as well as trading the probability of deal termination, much like when poker players increase their bets when pot odds are in their favor," Dusaniwsky said in phone interview.
Investors may be betting against CA/Broadcom deal after the Trump administration earlier this year blocked Broadcom's attempt to buy Qualcomm Inc. on national security risk, acting on recommendation from the Committee on Foreign Investment in the U.S.
"We've seen consistent shorting based on 1) outside chance of a CFIUS filing being required (or just political noise to that effect) and 2) attractive risk/reward on the short, with as little as $0.40 spread in the deal prior to the sell-off, and material downside to our $36.50 standalone," wrote Andrew Rosen, co-head of U.S. equities at United First Partners, in an email.
According to S3, short interest in Scana stands at 3.05 percent of the float, is 7.23 percent for Avista, and is 8.77 percent for Akorn, where a judge last week ruled that Fresenius doesn't have to purchase the generics maker. Akorn's short interest was as high as 36 percent in December before deal Fresenius terminated deal in April.
While CA's short interest is above average, it's below levels seen in more famous bear targets like Tesla Inc. and Under Armour Inc. Still, going by percentage of float in a different dataset, one provided by the New York Stock Exchange, CA is the 38th most-shorted stock in the S&P 500 -- four steps below a previous Broadcom merger partner, Qualcomm.