Little Known Drug Stock Hits Japan $50 Billion Startup Index
(Bloomberg) -- A somewhat obscure biotech company in Japan tanked, bringing down an entire index with it.
Shares of SanBio Co. plunged 26 percent Wednesday, the most since it went public in 2015, after the company said it failed to reach target for a traumatic brain injury medicine in its latest trial as post-stroke treatment. The 5.5 trillion yen ($50 billion) Tokyo Stock Exchange Mothers Index, on which SanBio has a weighting of almost 14 percent, tumbled 8 percent.
The Tokyo-based company and its partner Sumitomo Dainippon Pharma Co. said in a statement they will "consider future development plans" for SB623, based on additional analyses of the study results. Sumitomo Dainippon's shares fell 19 percent, the most since 2014. Both companies' stocks had more than doubled in the past year, fueled by expectations for the drug candidate.
"There could be serious ramifications for the share prices of SanBio and Sumitomo Dainippon Pharma," Yasuhiro Nakazawa, an analyst at SMBC Nikko Securities, wrote in a note to clients, calling the announcement a "negative surprise."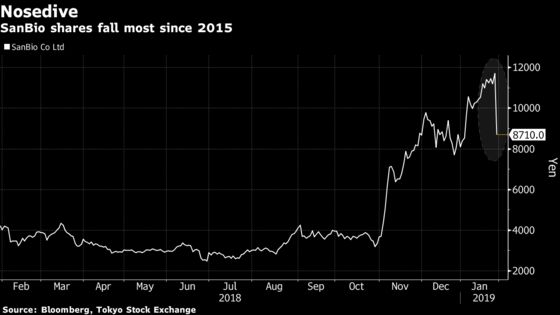 Sumitomo Chemical Company, the largest shareholder of Sumitomo Dainippon Pharma, slid 2.4 percent. SBI Holdings said its 2.38 percent stake in SanBio held by its securities unit is owned on behalf of its customers rather than as its own investment and that its financial results will not be impacted by any fluctuation in SanBio's share price. SBI shares lost 4.3 percent.
The bad news took down some innocent bystanders as well, given SanBio's outsized influence. Mothers, an acronym for "market of the high-growth and emerging stocks," is a capitalization-weighted measure of 263 companies. The top three companies -- SanBio, Mercari Inc. and Mixi Inc. -- account for about 23 percent of the measure, and there's no limit to how large any one can become.
"There is going to be large broad based forced selling by retail investors," said Andrew Jackson, head of Japanese equities at Soochow CSSD Capital Markets. "We would be shorting retail favorites on the open that have recently outperformed," such as JCR Pharma, Peptidream and Sosei, he added.
Mixi dropped 4.9 percent, Mercari 5.6 percent. Sosei Group Corp., a former Mothers darling that has fallen on hard times of late, lost 11 percent.