A Hedge Fund With 29% Return Record Is Shorting Tesla Bonds
(Bloomberg) -- As equity investors who bet against Tesla Inc. lick their wounds, some corners of the debt market are taking a different view.
A hedge fund in Denmark that delivered a 29% return last year has stocked up on credit-default swaps on the world's second-biggest automaker, based on a bet that its bonds are just too expensive.
"It's mispriced," Daniel Pedersen, the chief investment officer at Asgard Credit Fund, said by phone. "Tesla could be upgraded to BB- during 2020, but even in that scenario the credit spread is still too tight."
Tesla has riveted market watchers as its bold predictions tempted short traders to bet against the stock. But with its market value more than doubling so far this year, short sellers focusing on equities have been left in a pretty awkward place.
"We think it's a mispricing in the credit market, but not necessarily in the stock market," Pedersen said in a Bloomberg Television interview on Wednesday.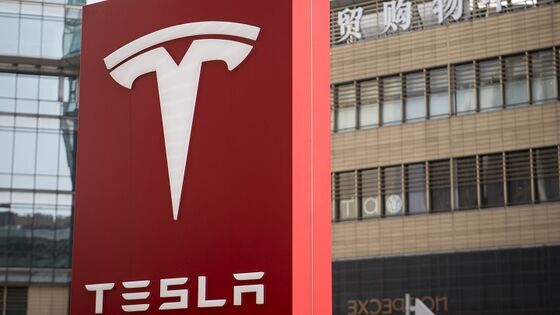 Pedersen says some credit investors are looking at Tesla through a different lens. Asgard bought its Tesla default swaps, which are triggered when a company fails to pay its debt and are used by investors to make negative bets, to balance its long position in the automotive industry.
Last week's strong earnings results from Tesla did trigger a repricing of the company's credit risk, and the cost of insuring its debt against default for five years fell to a record low on Tuesday, according to ICE Data Services. But Pedersen says Tesla's strong results didn't change his skepticism.
"We are credit investors, not equity investors. We need to focus on credit spread levels relative to the underlying risks," he said. "But sometimes the market just falls in love with some credits. And everyone is a buyer."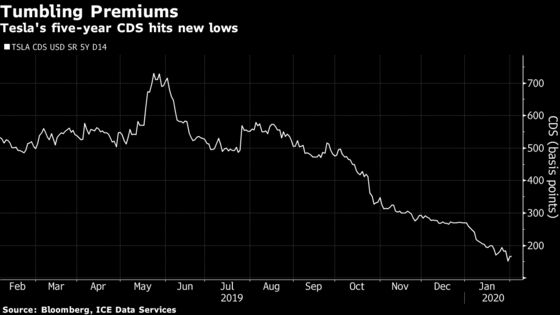 Pedersen says he likes Tesla's focus on electric cars. But he reckons there's a "better risk-reward" in auto-part producers and in other European car companies moving into the market for electric vehicles.
"There is a better credit spread per leverage in these companies," said Pedersen, whose 140 million-euro ($150 million) fund owns bonds in auto-parts manufacturers Faurecia SE and Adler Pelzer Holding GmbH.
Meanwhile, demand for high-yield debt has largely continued to grow. Global high-yield spreads are about 60 basis points tighter than they were in August, according to Bloomberg Barclays index data. Pedersen says that's made certain rating brackets such as the BB- that Tesla might move into "a little bit more stretched relative to investment grade." It's also paved the way for him to "switch into higher quality bonds at similar spread levels."
The Copenhagen-based fund prefers consumer related companies such as Kroger Co. and Bacardi Ltd. but has also invested in Nykredit Realkredit A/S, Cargotec Oyj and Haldor Topsoe AS.
"We're still very much exposed to consumer related sectors," Pedersen said. "We think nominal growth in the U.S. is going to be strong again in 2020 just as in 2017 and 2018."
Read more:
Tesla Bonds Hit All-Time High on Panasonic Battery Profit