A Hard-Won Brexit Stopgap Is Losing Its Value to U.K. Business
It was a key demand from British businesses -- a post-Brexit respite to get ready for new rules of trade with the European Union. They got almost two years, and heaved a sigh of relief.
But less than five months before the U.K. leaves the bloc, negotiators are still haggling over the terms of divorce, and details on the future relationship won't be ironed out until long after the so-called transition period begins. So how do companies use it to prepare?
"People have forgotten what a transition period was originally intended for," said James Greenham, managing director at medical equipment maker EMS Physio Ltd. "It's now morphed into this sort of breathing space for yet more negotiations, and for the U.K. side to work out what the hell it is we're asking for."
Brexit is being done in two parts. There's the divorce deal, the legally binding treaty that sets the terms of separation, which would trigger a 21-month transition period to smooth the impact on businesses. Along with that withdrawal agreement, both sides are negotiating a political declaration setting out what they want to see in a future trade deal.
Britain seeks a common rulebook with the EU on trade in goods, but freedom to diverge on services. How much of that the bloc will accept remains to be seen.
A key issue for companies is how much to expect from the political declaration. Mats Persson, head of Brexit strategy at EY, said it's likely fuller details of the future trade deal will emerge only "well into 2019, and probably 2020."
"In reality, business may only have six months between actually knowing the end destination and getting there," said Persson, previously an adviser to former Prime Minister David Cameron.
For companies like EMS Physio, potential new requirements linked to where components originate from could be complicated to comply with in the supply chain, Greenham said. It could could also face extra customs bureaucracy and holdups on imported components from Greece, France and Germany, as well as on exports to the EU.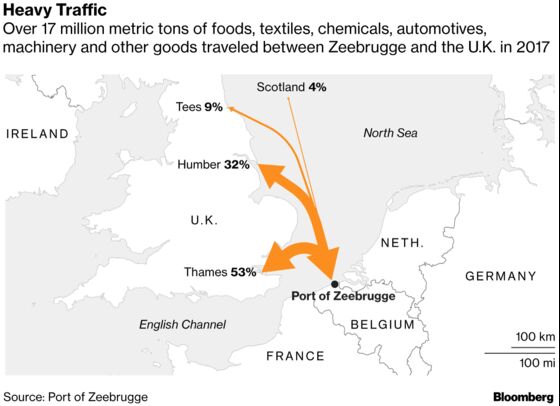 Greenham cites conversations with his steel maker.
"I've asked how his steel imports will be affected, and he doesn't know because he buys steel from his wholesaler," he said. "He's never had to work out where that steel comes from. Sometimes it comes from Europe, sometimes it comes from outside."
Cosmetics manufacturer Lush is also looking closely at potential supply chain issues. The company imports vanilla processed in France, cocoa butter from Germany and lemon oil from Sicily, but can't stockpile ingredients to compensate for any border delays because ingredients must be fresh.
A risk assessment by KPMG showed Brexit may add 2 percent to the closely-held company's global cost base, according to Jason Muller, Lush's global manufacturing director. That's without factoring in extra costs suppliers may pass on, he said.
"Everyone's looking for clarity," said Muller. "We're being told that all these great trade deals will be in place. But there's not been enough information to work on that as a business. "
Though Lush wants to build its business where it was founded in Poole, southwest England, it may have to focus on global operations including plants in Germany and Croatia, he said.
"The longer time passes without a deal, the case for the transition period to be extended increases," said Claire Walker at the British Chambers of Commerce, which has advocated a three-year transition. "It's important that businesses still plan for every eventuality."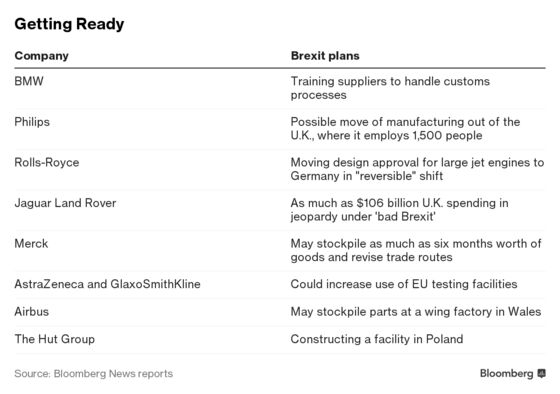 Measures companies could consider during transition include sales tax registration in EU export destinations, replacing EU suppliers with local ones, moving factories abroad and stockpiling inventory, said Stephen Phipson, head of the EEF manufacturing lobby group.
The government must also ensure the future relationship is agreed before the transition expires, he said.
"If it's too short and there's a temporary change and then another change, that's not acceptable," said Phipson. "It needs to be one change for business, not multiple changes. You cannot invest in temporary scenarios."
But for now, everything's up in the air. And the statement EMS Physio gives to customers asking about Brexit preparations is revealing.
"In short, it says our plan is to respond as quickly as possible to events," Greenham said. "And that's all we can say, because we don't know what will happen."