A Buyout Pioneer Hails the Rise of Serial Entrepreneurs in Japan
(Bloomberg) -- Serial entrepreneurs are starting to surface in Japan, and that's good news for the country's private equity industry.
So says Taisuke Sasanuma, who co-founded Japan's first buyout fund more than two decades ago. Sasanuma's Advantage Partners Inc. is increasingly buying companies from younger Japanese people who've been there, done that and want to move on to their next big idea. And that's creating opportunities for private equity, according to Sasanuma. Advantage Partners has already done five such deals in the past five years.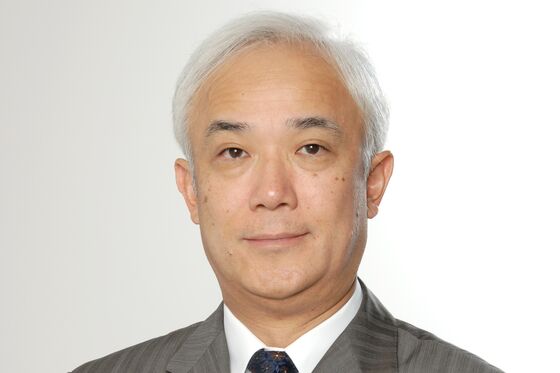 "It's a new trend," Sasanuma, 64, said in an interview in Tokyo. "Serial entrepreneurs are emerging as a new buyout target for the private equity industry."  
The change will be good news for PE funds, who've traditionally found slim pickings in the Japanese market. Company founders have tended to devote their lives to building a company and sought to get it listed, and have traditionally been negative about investment funds.
"Serial entrepreneurs probably think rationally and see private equity funds as a better choice as buyers," Sasanuma said.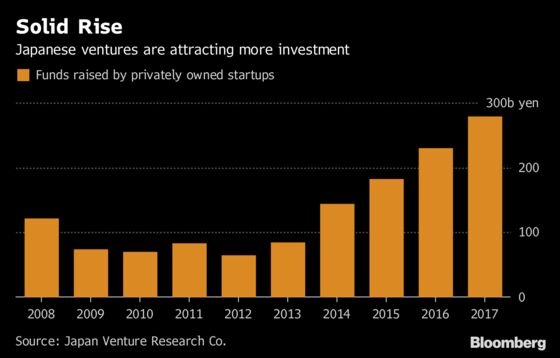 Advantage Partners' investments involving people who have founded -- or plan to found -- multiple businesses include Riraku Co., a massage chain, and Oishii Promotion, a holding company set up by Advantage to run restaurant chains. The private equity firm has about 10 firms in its pipeline for potential buyouts related to serial entrepreneurs, according to Sasanuma.
While nobody's suggesting that the startup scene in Japan rivals that in the U.S., Japanese ventures have been attracting more investment lately. The country's privately owned startups raised 279 billion yen ($2.5 billion) last year, the most in data going back to 2008, according to Japan Venture Research Co. The number of such startups stood at 882 in 2017, up 20 percent from 2008.
"Japan's venture scene is changing dramatically," Sasanuma said. "High-quality businesses are emerging, with advanced technology and very strong expertise. And there are highly educated entrepreneurs who have excellent track records in research."
Advantage acquired Riraku from founders including Yukihiro Takenouchi in 2013. Takenouchi went on to establish T's Investment, an operator of cafes and other businesses. In September 2017, he was involved in buying Riraku back from Advantage after the private equity firm had helped the company double its number of outlets. Later that year, CVC Capital Partners acquired a majority stake in Riraku.
Similarly, the creators of two restaurant businesses that are now part of Oishii Promotion are planning to invest in a company in Taiwan after selling their firms to Advantage.
Serial entrepreneurs "don't feel resistance to offloading their businesses," said Kensuke Furukawa, 37, who co-founded nanapi Inc., a how-to website, and sold it to KDDI Corp., Japan's second-largest mobile carrier.
Since launching Japan's first buyout fund in 1997, Advantage Partners has raised about 406 billion yen and invested in 71 companies, making 51 exits, according to Sasanuma. It has more than 150 companies in its pipeline for potential buyouts, with about 70 to 80 percent of them relating to business succession, including from serial entrepreneurs.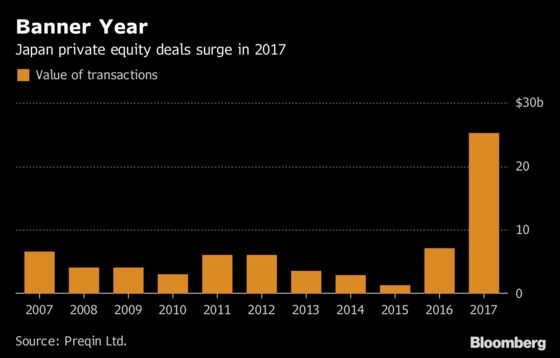 On the surface, Japanese private equity had a banner year in 2017, with announced buyouts surging to $25.2 billion, the largest amount in data going back to 2007, according to London-based research firm Preqin Ltd. But that was largely thanks to a Bain Capital-led acquisition of Toshiba Corp.'s memory-chip business for about $18 billion.
But the market is still small. The U.S. had $170 billion in private equity-backed deals in 2017, almost seven times the amount in Japan, according to Preqin.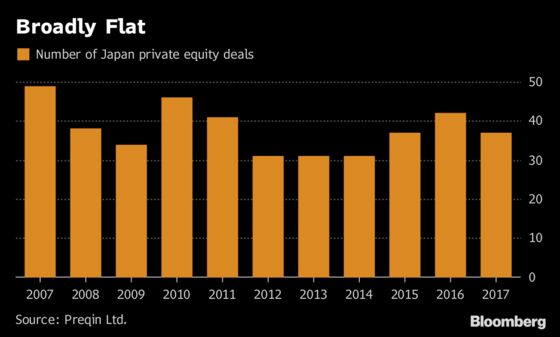 Sasanuma, who previously worked at Bain & Co., said the number of private equity transactions in Japan will probably increase to a record toward 2019. And the emergence of serial entrepreneurs may also help.
"Even though it has taken time, private equity is finally becoming accepted" in Japan, Sasanuma said. Buyouts from serial entrepreneurs "will probably increase."