A Bull's Case for Homebuilders as Their Record Losing Streak Continues
(Bloomberg) -- Looking for a dip to buy? Check out homebuilders.
The $737 million SPDR S&P Homebuilders ETF, ticker XHB, is down for 11 straight days, its longest losing streak since its 2006 inception. The exchange-traded fund has declined 14 percent this year, while the S&P Supercomposite Homebuilding Index has lost 24 percent. Investors can blame the slowing housing market and the highest mortgage rates in more than seven years. Yields on 10-year Treasuries surged past 3.12 Wednesday, the highest since July 2011.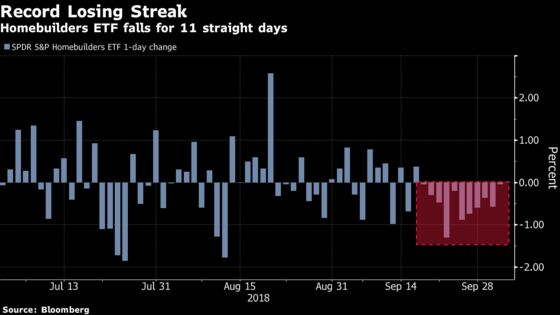 Still, amid the tumult, Frances Donald, head of macroeconomic strategy at Manulife Asset Management, sees opportunity. Higher interest rates are here to stay, she says, but as the cost of building tempers and the economic backdrop proves sound, homebuilders should become increasingly attractive.
"This to me is housing on sale and an interesting time to recognize this is a mid-cycle slowdown, not the signal of the end of housing in this cycle," Donald said in an interview at Bloomberg's New York headquarters.
On Friday, the monthly jobs report is expected to show U.S. unemployment at 3.8 percent, matching the lowest rate since the 1960s. Analysts also estimate that wages rose 2.8 percent from last year. These factors -- along with a record high quit rate, which shows that people are increasingly comfortable leaving their jobs and finding new ones -- should indicate confidence among potential home buyers, according to Jonathan Golub, chief U.S. equity strategist at Credit Suisse.
"I'd be buying the homebuilders," he said on Bloomberg Television.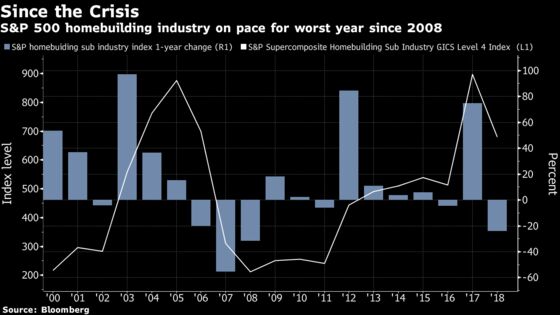 Lennar Corp. reported earnings Wednesday that beat on both the top and bottom line. Still, the Miami-based company's shares reversed their pre-market gain as order growth fell short. KB Home saw a similar retreat last week after reporting earnings that topped the highest estimate on Wall Street.
Evercore ISI's Stephen Kim thinks it may be worth waiting a month or two before moving into housing-related stocks since there's no clear upturn in trends yet. But a broader view of the market would show that consumers aren't incapable of buying houses, rather they're hesitant and should "return to the ring before too long," he wrote in a report Monday.
But as calls for a recession by 2020 increase, Donald sees potential for the housing market to play a different role than it did in 2008. Instead of causing a crisis, it could prolong the bull market.
"Strength in housing may be one of the supports that pushes out the broader cycle a little bit longer than many may potentially be expecting," she said. "I still see 2020 as a very difficult year for U.S. growth and therefore U.S. markets, but if we were to see the housing market re-accelerate and if we see a fiscal package, those are two potential game changers."