A Bluff Was Called But the Major Risk Still Lurks: Taking Stock
(Bloomberg) -- It's obviously dangerous to call someone's bluff, especially if that person tends to be a bit on the unpredictable side.
And in this case, Wall Street definitely deduced that an escalation of trade tensions with a target for tariffs Friday was a negotiating tactic and that alone. The S&P 500 almost immediately began to recover their losses on Monday's open. Small cap names did even better, ending the session with gains on the day, with the Russell 2000 ETF (IWM) closing above 160 for the second consecutive a day -- a level that Baird analysts have targeted, writing last week that until it moves through 159.50, "we churn."
But that's not to say Trump's threats were toothless. If tariffs are imposed, which he has shown a willingness to impose before, there will be real tangible impacts -- a risk that cannot be ignored, as evidenced by the confirmation after the close that a tariff plan is now in place. Trade negotiator Lighthizer confirmed most of what was suspected for much of the day, and should the Chinese try to renegotiate much of the previous commitments, it appears those tariffs will move forward.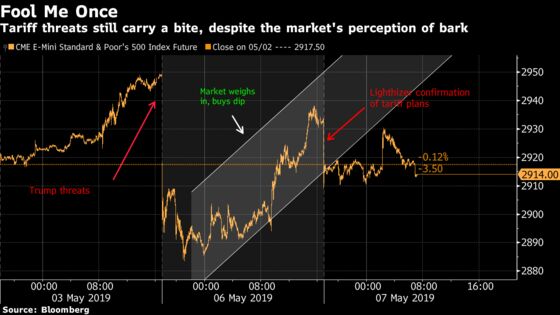 Despite the more entrenched risks overnight, confirmation that the China Vice Premier Liu He was in fact going to make an appearance in Washington for talks Thursday single-handedly lifted futures more than 10 handles (we've since drifted lower, however). Overhang obviously remains, and there doesn't appear to be another billionaire to bail out the market today, like there was Monday.
The Sohn conference this year one could arguably say carried fewer large names than we've seen in recent history, but this year it needed just one to make an impact -- Glenview's Larry Robbins. Like the mythological character, Atlas, he lifted an entire sector (ok, so not exactly the celestial heavens, and not for eternity), and energized a recovery after a rebuttal of the much-feared medicare-for-all plans which have weighed on the health care sector for much of the past few weeks. The already defensively postured sector, which was due to benefit from the risk-off day as it was, added ~$50 billion to its market cap from the time Robbins began his defense. Among the beneficiaries was THC, which was down 27% over the month leading into the conference, for which Robbins has a price target of $66, which was more than 200% from where the stock was trading ahead of the remarks.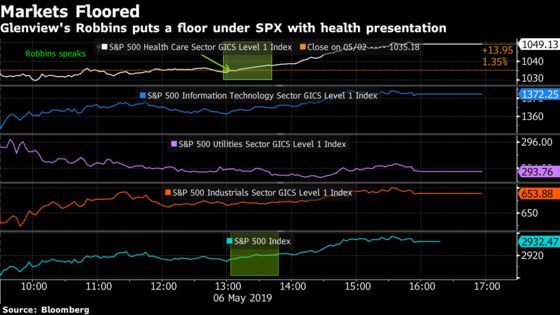 Until the trade issue is resolved, you may want to consult our "Five Things to Know," courtesy of my colleague Catherine Larkin, who neatly provided a one-stop shop of sorts for stocks that may be most exposed to the ongoing trade issues. And given today is shaping up a lot like yesterday, much will be fairly similar (the same kinds of tech names and industrials are again lower, like NVDA, MU, QCOM, CSCO, BA, INTC)
Believe it or not however, there will be other events to watch today, like the milk and milk-based product producer Dean Foods, which has struggled recently, hitting record lows last month and down 80% over the past 12 months. The options implied move around earnings is 29%, with yesterday exhibiting some of its best intraday gains in a year. Earnings missed on the top and bottom line, and shares were briefly indicated to open higher before reversing, now down 10% in the pre-market. Management said in a statement that their "transformative actions implemented over the past 12 months through our enterprise-wide cost productivity plan are taking hold."
Lyft too should be under the microscope with its earnings after struggling since its IPO. Many are already looking through to how those results post-market will impact the Uber pricing later this week, but before that can be done, the health of the business will be under the microscope, including the take-rate figures and market share. A preview can be found here.
Electronic Arts also reports after the close, down 24% from last year's levels, after the need to produce hit after hit has weighed on sentiment. One of its latest undertakings, "Apex Legends," has come under some scrutiny from analysts as failing to steal enough share from "Fortnite," despite resonating with users. It wasn't that long ago that investors were discussing Battlefield V and the need for that game to sustain EA's fortunes. Peer Activision's results earlier this month disappointed, with poor forecasts surrounding in-game purchases in some of their key titles.
Recent IPOs remain in focus (LYFT, ZM, PINS, SILK, SWAV, BYND) as the macro picture stays fluid. Most reversed their losses yesterday, and some, like BYND and PINS are indicated higher in the pre-market today
Solar and rooftop names (FSLR, TERP, ENPH, SUNW) as SEDG's results sent shares soaring 18%
Insurers (HIG, TRV, CB) after AIG's results sent shares to levels that would be the highest since October
Food and equipment suppliers (MIDD, WBT, JBT) after SYY beat yesterday and ARMK's results came in slightly worse than expected, shares are indicated to open down 7%
Asia ETFs, FXI, EWJ, EWY after Trade negotiator Lighthizer confirmed the intent to move forward with tariffs against China should the talks fail to move forward
Apple supply chain on newfound China risks given its heavy reliance on Asia (SWKS, AVGO, CRUS, QRVO, QCOM, MXIM, NXPI)
The 737 MAX fallout continues for Boeing, with Barclays downgrading the Dow component to equal-weight from overweight and cutting its price target to $367 from $417. The firm predicted that the recovery of 737 MAX production would take longer than expected, and that there would be a "worse than anticipated" trend of fliers avoiding the aircraft. While the consensus is "minimal apprehension" to the aircraft, "We've thought there's risk that it could be worse this time than following past incidents given social media and fliers' ability to know the aircraft type in advance of booking," analyst David Strauss wrote.
Fluor Corp. was cut to neutral from buy at Goldman Sachs, which also lowered its price target to a Street-low view of $28, citing an "unclear medium-term margin outlook" in the wake of the company's chief executive stepping down earlier this month. "The outlook for FLR's future win rate and margin profile are unclear in the midst of continued project writedowns and newly announced CEO transition," and the transition "calls into question the margin profile of projects in backlog."
On a positive note, Stephens expects one of the biggest momentum plays of recent years to see massive gains from here. It started coverage on Roku with an overweight rating, writing that "the stock could appreciate 3x-5x over the next 3-5 years as consumers continue shifting to smart TVs and content providers (Disney+, Netflix, etc.) compete" for new subscribers. The company is "is well positioned to grow users, engagement" and average revenue per user thanks to its position "at the nexus between smart TVs and an increasingly complicated streaming video landscape," analyst Kyle Evans wrote. Stephens noted that the stock was "likely to remain volatile," but that it would use any weakness as a buying opportunity. Roku reports first-quarter results after the market closes on Wednesday.
Tick-By-Tick to Today's Actionable Events
Senate Banking Committee (SBC) Chair Mike Crapo (R-ID) will hold a hearing titled Privacy Rights and Data Collection in a Digital Economy
Google developer conference (day 1 of 3)
Roche/PTCT present data on SMA drug risdiplam at American Academy of Neurology meeting, could disrupt sales of BIIB's Spinraza
7:00am - Fed's Kaplan speaks on a panel in Beijing
7:30am -- MYL earnings
8:00am -- MRNA investor day
8:30am -- HTZ, REGN, MNK, AGN earnings call
9:30am --RDN investor meeting
10:00am -- March JOLTS Job Openings
10:00am -- MYL earnings call
3:00pm -- March Consumer Credit
4:01pm -- QRVO, EA, LYFT earnings
4:03pm -- TRIP earnings
4:20pm -- PZZA earnings
4:30pm -- MTCH earnings
5:00pm -- LYFT, EA, QRVO, PZZA earnings call