A Better Class of Risk Arrives in Europe's Leveraged Loan Market
Europe's leveraged loan market will see two borrowers with double-B ratings get deals underway this week and their scarcity value could draw deep demand despite the tight yields at this end of the ratings scale.
Berry Global Group Inc. and Masmovil Ibercom SA will each meet investors this week. Berry is rated Ba3 by Moody's Investors Service and is raising about 1.34 billion euros ($1.5 billion) as part of a larger M&A financing. Masmovil, rated BB- by S&P Global Ratings, has said it will raise 1.45 billion euros to refinance existing debt.
Unlike the U.S. market, European leveraged lending is dominated by LBO debt that is usually in single-B territory, while speculative grade corporate borrowers with double-B ratings are a rare breed. Only two other companies in the double-B ratings bracket have priced loans in Europe so far in 2019, namely Avast Software BV and Univar Inc.
Loan funds, including managed accounts that prefer better-rated borrowers, have the firepower to put up very large tickets on favored credits even at low spreads. This could include money coming from big Japanese firms that have tended to lean toward stronger ratings. Investor demand could also come from bond funds and banks.
CLOs usually account for about half of the appetite for LBO financing. Double-B risk appeals to CLO managers who need to book better-rated deals to balance out weak names in B3/B- territory that are weighing on their average ratings tests. But tight pricing makes them tougher for CLOs to swallow.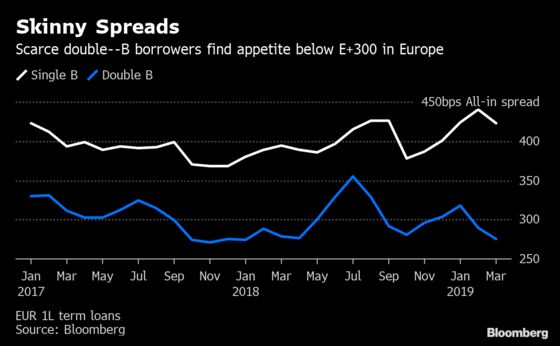 Avast and Univar both paid a margin of just 275 basis points over Euribor when they priced their transactions in the first quarter of 2019, while single-B deals paid more than 400 basis points on average during that period.
One aspect of the upcoming deal for Berry is that the European portion of the deal was originally going to be much bigger. The outline of the financing given in a company statement in March included 2.5 billion euros and 400 million pounds of loans, as well as euro and sterling bonds.
Investors in Europe will now see just 1.34 billion euros of loans come their way from this borrower: the scarce turned out to be even scarcer than expected.
Read More
Berry Plans $5.7B USD TL/Notes, $1.5b EUR TL for RPC: Moody's 
LAUNCH: Berry Global $1.5b EUR Equiv, $2.7b TLBs; Mtgs May 8/9 
MasMovil Is Said to Plan May 9 London Meeting for New Loan 
NEW DEAL: MasMovil Picks Two to Lead EU1.45b TLB for Refinancing
(Ruth McGavin is a leveraged finance strategist who writes for Bloomberg. The observations she makes are her own and not intended as investment advice.)