A Bellwether That Must Avoid Getting Its Bell Rung: Taking Stock
(Bloomberg) -- As described in Friday's Taking Stock, this week has the power to set the direction in the markets for weeks to come, and it appears as though the S&P 500 has been hinting at this for days, consolidating near the 50-DMA -- never wavering much more than 1-2% from the short term technical level over the past week.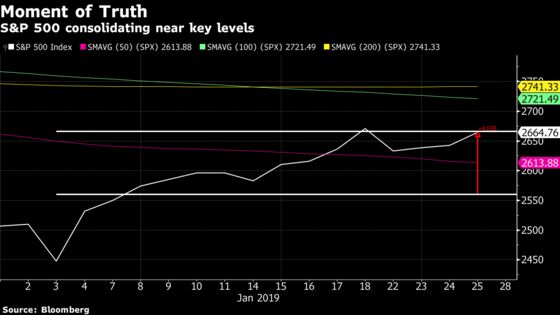 The shutdown resolution Friday didn't do too much for the direction (appears as though it was mostly priced in Friday morning, as the announcement was met with a "sell the news" style reception), and sights were then clearly set on this week, which no doubt had investors reluctant to take on new risk ahead of the innumerable catalysts before us.
Lots of talk, any action?
By the end of this week we may be desensitized to all the "trade talk" that has dominated the market landscape in recent months after high level talks between the U.S. and China take place. But we get the first taste on the state of play with Caterpillar results ahead of the open today.
The Bloomberg Intelligence US Machinery Competitive Peer Group Index with components that include Caterpillar and other industrials stocks linked to the heartbeat of the world economy suffered in the last quarter of last year, but JPMorgan analysts last week were steadfast in their views of construction equipment demand in 2018. Demand "remained strong" in North America and China, they wrote. Concerns raised however included the state of the residential construction segment and rising interest rates.
Last quarter, the mining and construction equipment maker called out rising costs due to steel prices and tariffs among their warnings that sent shares down 8%. For what its worth, Caterpillar CEO Jim Umpleby in October said they "feel good about China for next year." Caterpillar is trading up 1.1 percent in pre-market trade. See our preview.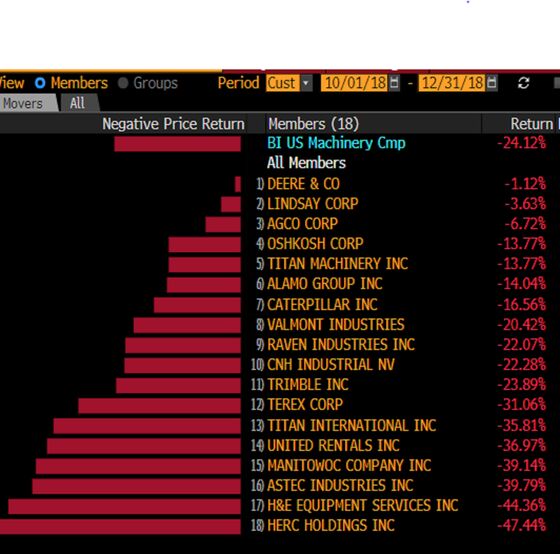 Keep in mind many industrials stocks suffered in early January as well after Apple's sales warning called out particular China weakness. Bernstein's commentary ahead of Apple's results later this week discussed how they are going to be evaluating China for whether weakness is cyclical, structural, or related to "nationalist" factors. Credit Suisse also identified Emerson, 3M and Honeywell as some multi-industrials with some of the greatest exposure to China.
It sounds like a broken record, and despite the fact that many companies (including Caterpillar) have a minority of their revenue sourced from the Asian economic powerhouse, it was the growth engine for many. Thus far in the fourth quarter earnings season, Wells Fargo strategist Chris Harvey has found that executive commentary has reinforced the concept that Europe and China are slowing while the U.S. is stable.
Payments companies (WU, GDOT, GPN) after a Reuters report that Moneygram was exploring options including a sale of the company
Telecom infrastructure and fiber network service providers (CCI, UNIT, CTL) after Zayo Group was said to have drawn preliminary interest from Alphabet and EQT. This follows interest from other private equity firms in recent weeks
Semiconductor manufacturer names (like MKSI, KLAC etc.) after Versum Materials and Entegris agree to combine in a $9 billion dollar deal
Natural gas, heating oil companies as a Polar vortex descends upon the U.S. this week (though the Northeast will be spared)
Naomi Osaka won her second grand slam tournament in a row at the Australian Open, while Novak Djokovic held off Nadal to clinch the men's single title (a record 7th time); Venezuela's Maduro reverses course in allowing U.S. Diplomats to stay in country, while also having his request to pull $1.2 billion in gold from the Bank of England denied; the price of Forever Stamps from the USPS rose by 10% (the largest boost since 1991; we're looking at you, Amazon) to 55 cents; former Starbucks CEO Schultz is evaluating a run for the White House in 2020 as an independent, according to his 60 minutes interview; President Trump's team is fearing a primary challenge in 2020, according to the NY Times; Steve Martin made a surprise cameo in SNL as the recently indicted Roger Stone; another Polar Vortex is set to send wind chills in parts of the country below minus 50; President Trump has a new slogan on building a wall and crime; oddsmakers whiffed in setting the over/under on the Pro Bowl as the rain-soaked matchup came in 20 points below; FedEx Cup champion Justin Rose clinched the Farmer's Insurance Open (next stop for PGA is the 'stadium course' Waste Management Phoenix Open); Barron's featured Dell and Intel as two undervalued companies for investors; Black Panther cleaned up at the Screen Actors Guild Awards
Sonos got an upgrade ahead of its IPO lockup expiry Tuesday, as Morgan Stanley analysts expect new products to drive growth and margin expansion. They write that they see limited downside to the bear case despite the lock-up expiration. Rating goes to overweight from equalweight, citing, among other things, strong feedback on Beam during Black Friday.
Docusign is indicated higher pre-market after Keybanc analysts led by Rob Owens initiated coverage on the electronic signature software provider with an overweight rating. They cited accelerating adoption of e-signatures, with DOCU as the "dominant" leader in a market valued at $25 billion.
Tick-by-Tick Guide to Today's Actionable Events
7:30am -- CAT earnings
8:30am -- Dec. Chicago Fed Nat Activity Index
10:30am -- Jan. Dallas Fed Mfg Activity
11:00am -- CAT earnings call