A $75 Billion Wipeout Should Scare Momentum Bulls: Taking Stock
(Bloomberg) -- It's no surprise that tech stocks haven't recovered as much as others ever since the market recovered in late October.
The S&P 500 has bounced nearly 4 percent since its low point on Oct. 29, but both the Information Technology and Communication Services sectors have lagged behind (up 1.7% and up 2.6% in that time span, respectively). Apple is the weakest in the Dow since that day with a near 9% slide and a concerning break below its 200-day moving average, while Facebook closed on Friday at 52-week lows as new scandals have moved Cambridge Analytica further into the rear view.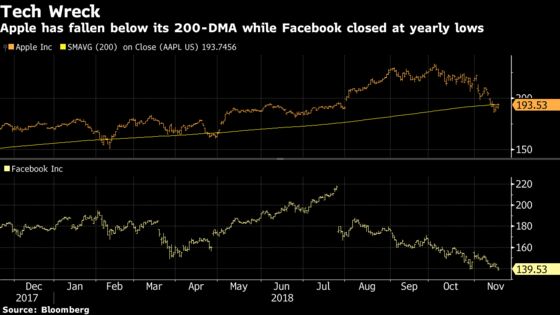 Clearly, the aftershocks of the October meltdown are still being felt. Not to mention that we now know that many hedge fund managers, who previously piled into the space during the bull market rally, took the opportunity to sell buckets of tech holdings during the third quarter in what now appears to be a very prescient heads-up move.
Tech Tape Bombs
It also doesn't appear as though the onslaught of tape bombs in the space is letting up. Two reports out this morning are already weighing on shares of Apple (-1.8% pre-market) and Micron (-2.2%), starting with the WSJ reporting that Apple slashed production orders for all three iPhone models unveiled in September, which follows multiple iPhone supplier warnings last week. Separately, the FT said authorities in China have alleged "massive evidence" of antitrust violations by Samsung, SK Hynix, and Micron (which collectively account for >95% of world's DRAM supply). Meanwhile, the ADRs of Chinese e-commerce giant JD.com are slipping more than 5% in pre-market trading after a top line miss.
Add in concerns about new regulations for the industry, which Apple CEO Tim Cook told Axios are "inevitable," to the exponentially deepening reputational crisis that Mark Zuckerberg and Sheryl Sandberg face -- the NY Times said the Democrats' longtime alliance with Silicon Valley has been ruptured, the NY Post called on Facebook to start charging users "to save itself," and the Washington Post profiled one of the 13 original employees of Instagram that recently deleted their account, which makes three who have done so of the baker's dozen.
Scaring the Momentum Bulls
And you can survey the technical landscape to see a lot of precarious looking chart setups for one-time momentum darlings like Nvidia, which plunged 20% last week on a nightmarish earnings report, and Spotify, which keeps dipping below its reference price from April's direct listing.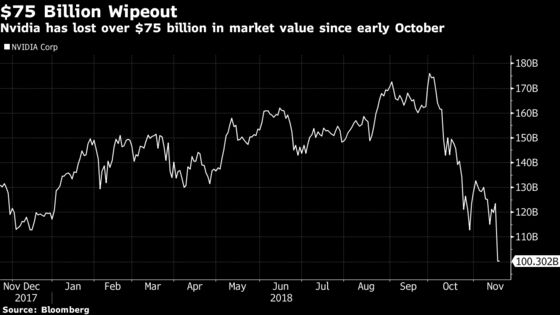 This sentiment is echoed by Morgan Stanley's chief U.S. strategist Mike Wilson, who was ahead of the curve with his cautious call on stocks from months ago. Here's where his head is at today:
"With the forward 12-month P/E for the S&P 500 having fallen 18 percent from its peak in December last year to its low at the end of October, we think 90 percent of the valuation damage from the Rolling Bear market is complete. We think the risk from here is much more at the stock level and will likely be concentrated in the higher multiple stocks that do not deserve a valuation premium but have simply benefited from a crowding effect. Nvidia's price action last week is a good example of that remaining risk."
And as such, we'll be keeping an eye on all momentum-related tech stocks going forward. Catalysts are few and far between until conference season picks up again in a couple weeks, though it's not like the last one was helpful for tech multiples given all of the hints of weak iPhone demand trickling out. The regulations drumbeat may get louder from now until then too, which could further sour sentiment and carry over into added pressure on the group.
Apple, its suppliers, and semiconductors tied to the FT story about chipmaker violations, all of which was mentioned above
Exploration and production companies after Cimarex said it would buy Delaware pure-play Resolute Energy for $1.6 billion
Retail remains in focus with the SPDR ETF falling for six straight days (XRT -6.4% in that time span vs S&P 500 -2.5%) and ahead of earnings tonight from L Brands and Urban Outfitters while tomorrow morning brings Target, Lowe's, Kohl's, TJX, Ross Stores, and Best Buy
Here's some stuff you might have missed since Friday's close:
Trump called out the New York Times for their "phony" story about his relationship with VP Pence ("Just more FAKE NEWS, the Enemy of the People!"); Bloomberg Markets magazine cover story is a rare interview with Fidelity CEO Abigail Johnson, who opens up about cryptocurrencies, M&A, and why her firm cut index fees to zero; Barron's cover story is all about 40 years of the 401(k), with a side feature about the inventor of the plan who "thinks it has gone awry"; NY Post says Wall Street bankers are throwing "excessive parties to dodge taxes"; Denver International Airport, which may have been the most hated airport in the country when it opened in 1995, topped the WSJ's first ever U.S. Airport Rankings; the Thrillist article "I Found the Best Burger Place in America. And Then I Killed It." (about the now-closed Stanich's in Portland, Oregon) got some interesting reactions on Twitter from FiveThirtyEight's Nate Silver and NYT restaurant critic Pete Wells; a school in northwest England is reportedly banning Canada Goose jackets in an attempt at "poverty-proofing," or removing added pressure for students to flaunt high-end brands; the Fox News vaping segment, with the "Vape God" from Barstool Sports, was spoofed on Saturday Night Live; the Internet lit up when a report came out saying the Cleveland Browns reached out to Condoleezza Rice for their vacant head coaching position, but she later said she's not ready for the job; and Tiger Woods is favored -220 over Phil Mickelson in the $19.99 pay-per-view "The Match" on Friday, where the winner will take home $9 million cash.
Notes From the Sell Side
Barclays strategist Maneesh Deshpande says he remains "cautiously bullish" with a 2019 year-end target of 3,000 on the S&P 500 ("P/E multiple is unlikely to bounce after re-rating down this year as both the 'Fed Put' and the 'Trump Call' are substantially weaker"). He downgrades the financials sector to a market weight and industrials to an underweight; he also initiates communication services at market weight and upgrades materials to an overweight.
The flood of YETI initiations hit this morning, and the consensus is overwhelmingly positive: of the 10 analysts who started coverage, every single one rates the stock an equivalent buy. This after a lackluster showing for the cooler-maker's public listing debut, with shares tumbling as low as $14.62 vs its October IPO price of $18.
Tick-by-Tick Guide to Today's Actionable Events
Today -- IPO lockup expiry: EVOP
8:30am -- QIWI investor day
9:30am -- BKI investor day
10:00am -- NAHB Housing Market Index
10:45am -- Fed's Williams speaks in moderated Q&A
11:30am -- AXGN analyst day
4:00pm -- INTU, NUAN earnings
4:01pm -- BRKS earnings
4:05pm -- A, PSTG, BECN (roughly), URBN, JACK earnings
4:30pm -- LB earnings (roughly)
4:30pm -- Green Growth Brands (GGB CN) CEO Peter Horvath on Bloomberg TV
5:00pm -- KLIC earnings