Rally Fades for Brazilian Gunmaker 
(Bloomberg) -- All the euphoria surrounding Brazil's hottest stock seems to be fading -- and fast.
Over the past few months, Brazilian gun-maker Forjas Taurus saw a surge in its shares as former Army captain Jair Bolsonaro rose in the polls ahead of Brazil's general elections. The far-right politician's pledge to loosen the country's gun laws fueled investor optimism with the Sao Leopoldo-based firm. Forjas Taurus's market cap more than quadrupled and the stock accumulated a 412 percent year-to-date rise through Oct. 22, while its trading volume soared.
Now, that rally is facing a reality check. Since Bolsonaro sealed his victory at the ballot box, Forjas Taurus shares have slid 55 percent.
"There was an exaggeration," said Glauco Legat, chief analyst at Spinellli's, a brokerage in Sao Paulo. "When you look at Forjas Taurus' financial status, you can't do a too optimistic analysis. The company's situation is critical, even considering the outlook of a change in the 'disarmament statute'," Legat said.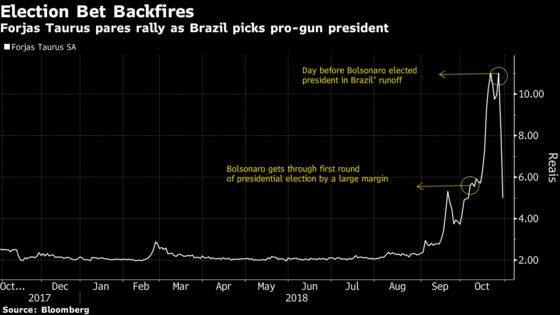 Since 2013, Forjas Taurus has posted net losses, which hit a record 286 million reais last year. According to Bloomberg Default Risk Model, the risk of owning Forjas Taurus' debt has risen.
"Even when a potential improvement in fundamentals is considered, due to a possible impact from the election outcome, there's nothing sufficient to justify what has happened", said Wagner Salaverry, a managing partner at Quantitas Gestao de Recursos. "The company is highly indebted, a lot of relevant shareholders have reduced their stakes. These are signals that the price went up too fast, decoupled with Forjas Taurus' financial reality," said Salaverry. The company has 799 million reais in total debt.
Over the past month, controller shareholder Tauruspar Participacoes SA and other shareholders reduced or ended their stake in the company. In early October, the company also announced in a regulatory filing the issue of 74 million subscription bonds.
"The subscription bonds' move was intelligent in terms of trying to improve the company's outlook, but that still can't sustain such a move," Quantitas' Salaverry said. "It looks like a speculative bubble," he said.