A $33 Billion Opportunity Just Presented Itself: Taking Stock
(Bloomberg) -- IBM buying Red Hat for $33.4 billion (confirming our scoop!) isn't just a big deal for these two companies and their respective "old tech" and "new tech" sectors. It also speaks volumes about the growth vs value debate and how some major players may be looking to pounce on opportunities presented by the recent selloff.
I've called out Red Hat several times in this column over the past year for being one of the premier and most important momentum stocks in this market. Red Hat, which sells software based on the open source Linux OS, surged more than 150 percent from the end of 2016 to its recent peak in June; that move is more than six times the gain in the S&P 500 in the same time frame and more than double the surge in the First Trust Cloud Computing ETF (ticker SKYY -- see performance breakdown below, which shows RHT No. 2 and IBM dead last), which is even more impressive considering Red Hat isn't some new flashy IPO, but rather a 25-year old company that's been public since the dot-com days.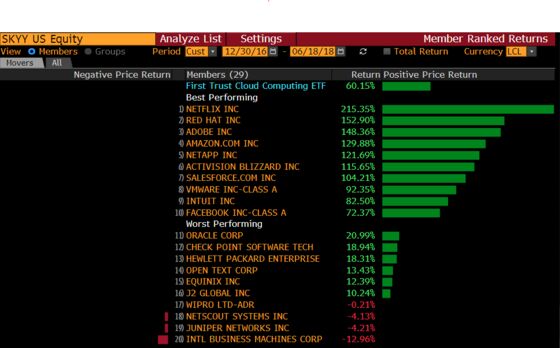 Shares of Red Hat sank 34 percent since hitting their summer high of $176.27 (not far off from IBM's cash offer of $190) and the P/E fell to 30.5x versus its 2-year historical average of almost 37x -- you can thank a couple of earnings-related disappointments and the ensuing meltdown in tech for the plunge, which is well beyond the decline seen in most other high-fliers with similar market caps, which to me establishes Red Hat as a poster child (in a group with names like Square, Micron and Twitter) for the momentum-driven bloodbath.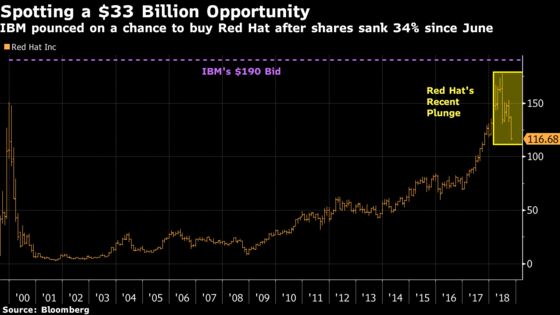 Here's a look at the widespread impact of this deal and the views of traders and investors that are long-term holders of either company's shares or are now looking to get involved:
The momentum view -- Will this end the selling in momentum? I doubt that, as some may view this as more of an "IBM had to do this"-type move to fix their own situation instead of a cash-rich machine scouring the land for battered and ripe opportunities. That said, I'd expect bottom pickers to get more interested than before and elevating M&A premiums in some of their targets that may provide a floor for shares in the near term
The cloud view -- A deal "completely changing the cloud landscape" (as IBM put it in the press release) with a 63% premium to boot in what has been a red-hot sector until recently should move the needle off the open for cloud peers like ServiceNow, Salesforce, Splunk, VMware, and Pivotal Software
The risk arbitrage view -- It's not entirely clear if the deal will require approval from the Chinese regulators, but if it turns it that it does, then that might deter a lot of risk arbs who got burned in the NXP Semi/Qualcomm deal from getting involved or making any outsized bets. Consensus is that this deal will remain with IBM as the suitor, but there are several sell-siders throwing around Google, Amazon, Microsoft, and Cisco as potential competing bidders for Red Hat.
The IBM holders -- Long-term holders, who've seen IBM's revenue slip by almost a quarter since Ginni Rometty took the helm in 2012 (with much of this due to declines in existing offerings due to competition from newer tech companies), may be applauding yet another attempt at modernizing this 107-year old blue chip that will allow it to compete with cloud giants like Amazon, Microsoft and Google. Others may view the price as too rich, like Jefferies who says they're surprised by the multiple (12.3x EV/LTM subscription revenue) given how IBM is historically extremely disciplined with its acquisitions
The Red Hat holders -- Some may be breathing a sigh of relief after watching the value of their shares sink by more than a third in the past five months, while longer-term bulls may be holding out for a higher bid as their models most likely had the stock soaring well above IBM's bid, especially when the stock was hovering ~$175 this summer
The Red Hat short sellers -- The shorts will obviously get burned, though there has been a decent amount of covering over the past few months (short interest topped at ~6% of float in late July vs under 3% last week, according to Markit - see snapshot below) that'll make the surprise takeout sting a bit less for those that were lucky enough to get out in time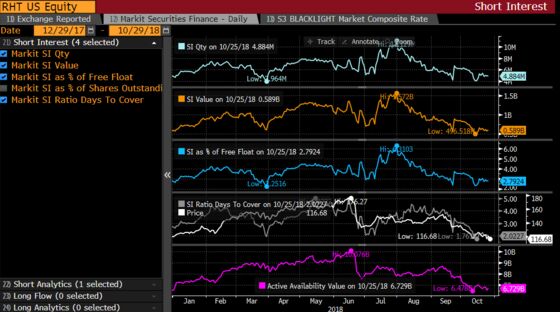 Cloud-related stocks after the Red Hat takeout, as mentioned in the above section
Autos ripping (Europe's Stoxx 600 Automobiles & Parts index and GM are both up ~3.5%) after our report that China's regulator will propose a 50% car purchase tax cut; also auto parts smidcap Dana Inc. and tire name Cooper Tire just reported numbers - recall Autoliv and Goodyear Tire both sank on Friday after disappointing results where both blamed the slowdown in China and Europe
Semiconductors with Tower Semi sinking 15% in the pre-market after EPS missed the lowest estimate on the Street while ON Semi guided 4Q revenue above the consensus range
Brazil ADRs, like Petrobras and Embraer, should outperform today after Jair Bolsonaro's commanding win in the country's presidential election; the EWZ ETF is already up close to 5.5%
Sectors that may move on earnings ahead of earning over the next ~24 hours include semicap equipment (KLA-Tencor), industrials (GE), packaged food (Mondelez), apparel (Tapestry and Under Armour), ag machinery (AGCO), truck machinery (Cummins and Allison Transmission), cement (Vulcan and Eagle Materials), credit cards (Mastercard), reinsurance (Everest Re), office REITs (Vornado), waste (Waste Connections), chemicals (LyondellBasell and Huntsman), and offshore drillers (Transocean)
Here's some stuff you might have missed since Friday's close:
Trump mocked liberal billionaire Tom Steyer, calling him a "crazed & stumbling lunatic" (see our profile of Steyer from earlier this year); "You Can't Out-Lloyd Lloyd," Vanity Fair says in their profile of new Goldman Sachs CEO David Solomon; Hayman Capital CIO Kyle Bass interviewed a Chinese insider who predicted that Jack Ma "will be in jail or even worse within the next year"; Barron's cover story asks whether it's time to invest more in the Chinese stock market, and the answer is a "resounding maybe"; LeBron James wore a Beto O'Rourke hat ahead of the Lakers game against the San Antonio Spurs; Kanye West designed "Blexit" shirts that call for African Americans to leave the Democratic party; 50 Cent punk'd Ja Rule by snatching up 200 front-row tickets to his concert "so they can be empty"; the Ivy League has become the "future of football," according to the New York Times; Todd Gurley crushed Vegas bettors who took the Rams' point spread after deciding not to go in for a touchdown, allowing more time on the clock to burn off and making sure the ball was kept out of Aaron Rodgers' hands.
Notes From the Sell Side
Jefferies initiated Apple with a buy and price target $265 (well above the average target of ~$238), calling for the stable iPhone business to serve as the foundation upon which the company can build a massive, recurring and high margin Services business.
Goldman upgrades Ford to a buy with one of the higher targets out there at $12, expecting next year to represent trough earnings and calling for the automaker to put itself on a pathway to earnings that are above normalized EPS by 2021.
Baird says to buy Tesla on Friday's WSJ report of the company facing a criminal investigation regarding Model 3 production targets, as the article "largely recycled previously reported information, in our opinion, and we find certain aspects of the report to be somewhat suspect."
JPMorgan downgraded Colgate-Palmolive to an underweight (second downgrade from the Street since Friday's earnings) as challenges to the top line and margins will likely linger and lead to low single digit EPS growth next year.
Tick-by-Tick Guide to Today's Actionable Events
Today -- Sohn San Francisco with speakers such as Marcato's Mick McGuire, Highland's Michael McLochlin, Praesidium's Kevin Oram, Pantera's Dan Morehead, and SoMa Equity's Gil Simon
Today -- IPO lockup expiry: PRT
7:00am -- CTB, DAN, BLMN earnings
8:00am -- FDC, YNDX earnings call
8:30am -- Personal Income, PCE
8:30am -- IBM to host call on RHT deal
8:30am -- WFT earnings call
8:30am -- BP CFO Brian Gilvary, AutoNation CEO Mike Jackson on Bloomberg TV
9:05am -- Glenview Capital's Larry Robbins at Robin Hood Investors Conference
9:45am -- Fed's Evans speaks at conference on regional competitiveness
9:50am -- Bridgewater's Ray Dalio and Tudor's Paul Tudor Jones II at Robin Hood
10:00am -- CTB earnings call
10:20am -- Margate Capital's Samantha Greenberg at Robin Hood
10:30am -- Dallas Fed
11:05am -- Gotham Asset's Joel Greenblatt at Robin Hood
11:55am -- Whale Rock's Alex Sacerdote at Robin Hood
12:15pm -- Glenview's Larry Robbins moderates "Lightning Round" with Honeycomb Asset's David Fiszel, Impactive's Lauren Taylor Wolfe, and Carbonado's Gregory Thomas
2:30pm -- Citadel's Ken Griffin at Robin Hood
2:40pm -- T-Mobile US COO Mike Sievert on Bloomberg TV
3:00pm -- Digital Asset's Blythe Masters and XAPO's Wences Casares at Robin Hood crypto panel
3:30pm -- Dymon Asia Capital's Danny Yong at Robin Hood
4:01pm -- AKAM, SANM earnings
4:03pm -- TXRH earnings
4:05pm -- MDLZ, WING, RMBS, AMKR, APPF (roughly), EGHT, ALSN, WCN earnings
4:06pm -- CGNX earnings
4:10pm -- AEIS earnings
4:15pm -- KLAC, PI (roughly), BLKB, AVB, RE, CLR, CYH earnings
4:16pm -- RIG earnings
4:20pm -- VNO earnings (roughly)
4:30pm -- AKAM earnings call
4:50pm -- AQR's Cliff Asness at Robin Hood
5:00pm -- KLAC, MDLZ earnings call
5:20pm -- Duquesne's Stanley Druckenmiller at Robin Hood
8:15pm -- Patriots (-14) at Bills
Tonight -- IPOs to price: Eton Pharmaceuticals (ETON)