$30 Billion Bet Has Orsted Creditors Reading the Fine Print
(Bloomberg) -- The woman in charge of finances at Orsted A/S says bondholders should prepare for some changes after having benefited from what she describes as a period of "under-leveraging."
In future, there'll be a "better balance" between shareholders and debt investors because the Danish energy company will borrow more to help finance $30 billion in planned investments, CFO Marianne Wiinholt said.
"Recently, we've had more happy debt investors than equity investors, considering our leverage, because apparently we've been under-leveraged," the CFO said in a phone interview. "We're trying to shift that with this plan because we're eyeing so much growth in new markets."
Orsted will use the "headroom" it has on its current credit ratings to finance the planned investments, which will run into 2025 with most of the money earmarked for offshore wind farms. The Danish company has a BBB+ at S&P Global Ratings and a similar Baa1 at Moody's Investors Service.
"Now we see a situation where we can get a better balance, and equity investors will get a gearing which makes sense for them regarding returns on equity," Wiinholt said. "It's going to bump them up -- but it's clear that our BBB+ rating is where it's going to be."
Orsted unveiled the new targets during a presentation in Copenhagen on Wednesday. It also pledged to gradually raise dividends over the coming years.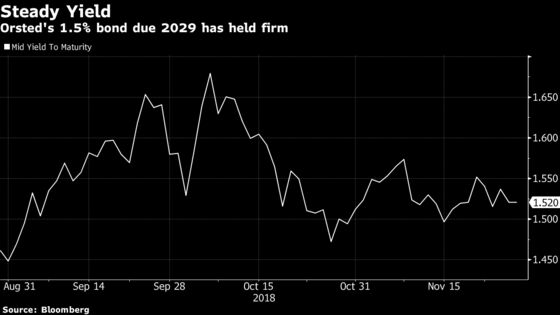 Jakob Magnussen, a senior credit analyst at Danske Bank, said bondholders should be relieved that Orsted isn't spending its excess cash on extraordinary dividends or share buybacks, and that the company has committed to its current credit rating.
"The fact that they're speeding up investments would, on its own, be slightly credit negative. But because the alternative was shipping cash off to shareholders, the outcome is certainly the lesser of two evils," the analyst said by phone. "The credit market has been nervous about what would happen with all the cash they have."
In a note to clients published on Thursday, Danske said Orsted's decision is even "slightly credit positive in the sense that extra shareholder remuneration now seems off the table."
The Danish company's funds from operations jumped to 41.7 percent of adjusted net debt at the end of September, from 26.5 percent a year earlier. Orsted's strong cash position means the company probably won't need to increase debt until around 2021, the CFO said. But by then, Orsted will have to make "a substantial increase in debts," she said.
"For a large part we'll do bonds," Wiinholt said. "Among other places, we plan to issue bonds in Taiwan, because it's important for us to match the currency" where the company invests, she said.
Read more: Orsted Wins Contract to Build 920 Megawatt Wind Farm in Taiwan
Orsted shares declined about 4 percent on Wednesday, after having opened higher. The stock is still up about 30 percent in 2018. Yields on Orsted's bonds were largely unchanged.
"When looking at equity versus debt investors, it is extremely important for us to find the right balance," Wiinholt said.