A $120 Billion Valuation Would Give Uber a Shot at IPO Record
(Bloomberg) -- Uber Technologies' long awaited initial public offering could be a record setter.
The ride sharing service received proposals valuing it at as much as $120 billion, according to the Wall Street Journal, which cited people familiar with the matter. That's nearly twice as high as the valuation from a fundraising round just two months ago.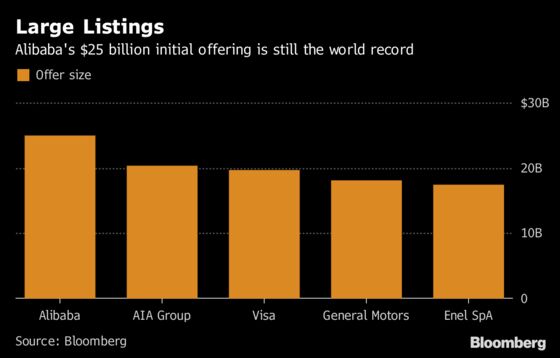 At a $120 billion valuation, Uber would only have to offer about 21 percent of its shares to become the largest IPO of all-time. The record is currently held by Alibaba Group Holding Ltd. The Chinese conglomerate listed $25 billion worth of shares representing about 15 percent of shares outstanding on the New York Stock Exchange in September 2014.