A $10 Billion Rebalance Is the Talk of Wall Street: Taking Stock
(Bloomberg) -- Momentum took a breather, and that's ok.
As measured by the $9.4 billion iShares Edge MSCI USA Momentum ETF, or MTUM, the group saw a modest pullback yesterday, which is an acceptable outcome given that it just had its best day in over three years; the bulls can thank Salesforce and Jay Powell for that.
MTUM will clearly remain a focus for the foreseeable future as many of its 123 members were at the forefront of the selling during the meltdown in the stock market that began in early October (MTUM is still down ~10% since the beginning of the selloff).
But today is a special day, not only because a trio of big name cloud software stocks jumped overnight on well-received earnings (VMware +9.2%, Workday +9.5%, Splunk +4.3%), but also due to a major rebalance that could affect trading in a whole host of hedge fund hotels.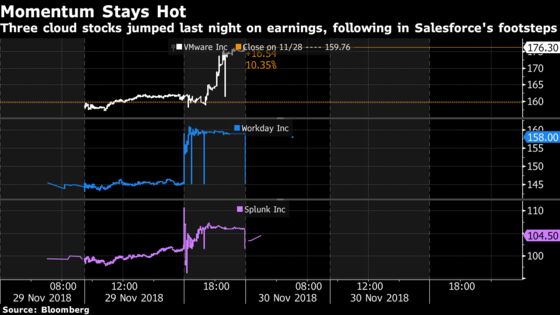 I'm enlisting my colleague Carolina Wilson, who writes about ETFs extensively here, to help explain why.
So MTUM will rebalance its holdings today in one of the six largest index rebalancing weeks of the year. ETF market makers are estimating $9.6 billion two-way turnover for this particular fund, making up close to a third of the $30 billion two-way turnover estimated for all U.S.-listed ETFs.
The majority of the actual buying and selling of the underlying stocks will take place during the trading session, and the updated list for the fund's makeup should be made public on Monday.
What we're watching for is whether the fund will chuck some of the strategy's recent winners. We can try to anticipate some of the changes based on the fund's methodology and a string of technical indicators for its underlying holdings.
For example, when looking at recent underperformance and breakdowns through major technical levels for MTUM members, names that drop straight to the bottom are apparel retailers like Michael Kors and PVH Corp. (the latter crumbled further last night on weak earnings), biotech Nektar Therapeutics, dental major Align Tech and even chip darling Nvidia, making them all possible candidates for removal -- I'd note the latter is in the upper echelon for weighting in the fund at #14 on the list, as the graphic below shows.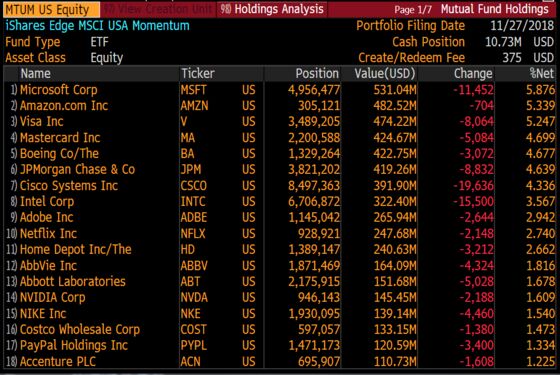 MTUM's chunkiest holding right now is Microsoft, at almost 5.9% contribution. The tech giant is currently trading above all its moving averages and briefly surpassed Apple earlier in the week to become the most valuable company in the U.S. -- and as such, we'd think "Mister Softee" looks quite safe to remain in the fund.
Market makers we spoke to anticipate the likes of Pfizer, Comcast, Verizon, Merck and Apple to be new additions to the party. Though one thing to be wary about is game theory: Josh Lukeman, head of ETF market making for the Americas at Credit Suisse, told us that some of the well-projected adds and deletes can go wrong way into the bell as shorter-term traders could be jockeying for the exit.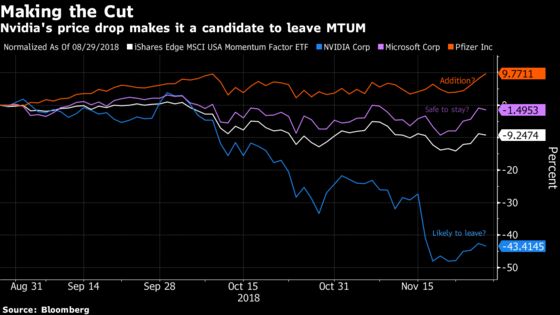 We may come into work on Monday with some form of a truce struck between Trump and Xi (positive for the market, though some of this may be baked in) or we could also get word that the negotiations broke down (decidedly negative for the tape, especially considering some of the recent tariff threats that Trump has lobbed).
Either way, it's likely that any clarity over this one highly anticipated catalyst will overshadow every other event over the next five days, even Powell's testimony before Congress, the jobs report, and the OPEC meeting.
As for company-specific events, we still have some earnings to go through (homebuilders Toll Brothers and Hovnanian, semiconductors Broadcom and Marvell, athleisure name Lululemon, grocer Kroger and more momentum/software companies like Cloudera, MongoDB, Coupa, and Okta) in addition to analyst and outlook meetings from Western Digital, Yum Brands, Newmont Mining, and the newly transformed FMC Corp.
Google CEO Sundar Pichai will sit before a house committee and take a grilling over the company's data collection and filtering practices. We'll also get monthly auto sales as well as a bevy of conferences, including three in tech (Raymond James, Barclays and Wells Fargo), one for media & communications (UBS), and one where a whole host of banks will present (Goldman Sachs).
There is also a short sellers conference hosted by former hedge fund manager Whitney Tilson on Monday that'll feature the likes of Muddy Waters' Carson Block, Spruce Point's Ben Axler, Kerrisdale's Sahm Adrangi, Viceroy Research's Fraser Perring, and Quintessential Capital's Gabriel Grego.
Software sector may catch a bid after mostly positive reactions to results in the space, especially for VMware, Workday, and Splunk
Video game stocks could be under pressure after Gamestop tumbles >12% on weak guidance
Apparel stocks may underperform after PVH Corp. plunged ~7% following a cut to its forecast on Calvin Klein sales
Fintech tied to Latin America is on watch after PagSeguro cratered almost 20% post-earnings
E&Cs such as Dycom and MasTec may benefit from AT&T's capital spend commentary on Thursday; Thompson Davis had a note out last night tying the two together, noting AT&T is a top customer for DY (21% of YTD revenue) and MTZ (17% of YTD revenue, excluding DirecTV)
Lab names could be under pressure after a sector downgrade from Goldman Sachs, which also included Quest Diagnostics being cut to neutral and buy-rated Lab Corp. removed from the conviction list (and LH cut their guidance this morning too)
Banks downgrading banks! Bank of America is downgrading Goldman Sachs to a neutral, citing uncertainty over the 1MDB situation that "could linger for a while and limit the upside potential if markets stabilize."
Deutsche Bank is coming around to the GE bashing in a note today titled "Laying Out a Realistic Bear Case," where analyst Nicole DeBlase is cutting her price target to $7 (only a buck above the Street low from uber-bear Steve Tusa at JPMorgan), but maintaining the hold rating. She says the key debate can be boiled down to the trajectory of GE Industrial free cash flow and whether the company is heading toward a liquidity crisis. Here's the best quote from the top of the note: "We ignore the bull case for now since it probably wouldn't be viewed as credible."
JPMorgan is upgrading World Wrestling Entertainment to an overweight after the recent selloff, with the stock now trading at a discount to live entertainment peers like Liberty Media and Live Nation: "Relative to those firms and its own history, WWE has greater visibility into multi-year OIBDA growth and capital returns, driven by step-ups and escalators on U.S. TV contracts, with upside from international agreements, mainly in India."
Tick-by-Tick Guide to Today's Actionable Events
Today -- G-20 Leaders Summit in Buenos Aires (through Dec. 1)
7:00am -- DXLG earnings
9:00am -- Fed's Williams speaks on global economy
9:00am -- Mohamed El-Erian on Bloomberg TV
9:45am -- Chicago PMI