A $1 Billion Money Manager Bought Danske After It Fell 30%
(Bloomberg) -- An asset manager in Norway started buying shares in Danske Bank A/S at the end of the summer after investor fears fanned by a money laundering scandal led to panic selling.
Alexander Stensrud, who helps manage almost $1 billion at Skagen Vekst, said shares in Denmark's biggest bank now make up about 1.2 percent of the total since the fund bought the stock a few months ago, after it sank 30 percent from a 2017 high. Those purchases came after Skagen had dumped its entire Danske holding at the end of last year, he said.
Danske's declining share price has made it Europe's worst financial stock this year. Investors have abandoned the Danish bank in droves amid fears it will be crippled by a growing money laundering scandal. Danske admitted last month that much of about $235 billion that flowed through a tiny Estonian unit may need to be treated as suspicious.
The U.S. Department of Justice is now investigating the case, as are authorities in Denmark, Estonia, Switzerland and the U.K.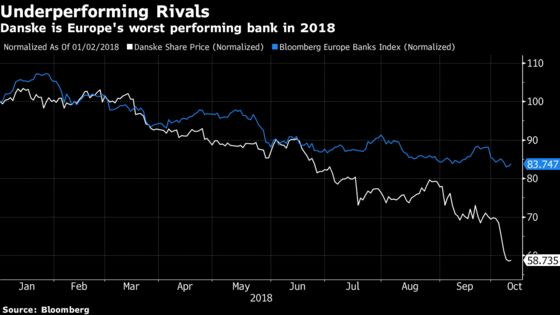 Shares in the Danish bank fell about 2.3 percent on Thursday morning, roughly in line with the benchmark index in Copenhagen, which was down amid a global market rout.
Stensrud said the scale of this year's selloff made Danske "an interesting investment case for us to look at and revisit."
"The company is fundamentally different than it was when it came out of the financial crisis, and back in 2007 to 2015 when these serious breaches occurred. These operations we know are now closed down," he said.
Danske faces a fine as high as $630 million in Denmark alone, the government has said. The bank has also been forced by the Danish financial regulator to add about $1.5 billion in extra capital in response to the laundering allegations. Meanwhile, many analysts estimate that the bank may need to pay total penalties well in excess of $1 billion, though forecasts run as high as $7.7 billion. By contrast, Danske's market value has fallen by about $15 billion this year.
Danske has removed Chief Executive Officer Thomas Borgen and reported several employees to the police. The Estonian operations at the heart of the scandal have been closed down and the bank says it's cooperating fully with all the relevant authorities.
"Our feeling is that much of the risk has been taken out," Stensrud said. "But how long will this added risk premium persist? This can take time and all the details don't seem to be out there for all the investors. So we're cautious to the current situation."
"The valuation and the value loss in the stock are disproportionate to the possible fine or earnings that they made on this," he said. "The profitability in this division was not as big as the loss in the stock as we understand. At the moment there is a relatively big amount of emotions in a nervous market."
But Stensrud says Skagen is holding off with further purchases of Danske shares, after the bank's own report into the laundering allegations left a number of questions unanswered.
"It can be the bottom. But it looks a bit uncertain at the moment. There isn't clarity yet. We have to wait and see, but for us as contrarian investors this situation can be a good opportunity," Stensrud said.