Glimmers of Hope Appear for Brazil's Toxic Water
(Bloomberg) -- Just 20 miles from Latin America's largest financial hub in Brazil's wealthiest city, lies the country's most polluted river.
The Tiete encircles part of Sao Paulo like a toxic moat, choking in waste from factories and domestic sewage. The water is gray. Fish don't survive. The smell is unbearable.
Yet, it's the water Adriana Santos, 29, her husband and three children use to drink, bathe in and cook with every day. They are among hundreds of families living in the Chacara Tres Meninas, an area of poorly kept single-storey homes packed along dirt roads, of constantly sick children and of infestations of everything from snakes to insects and rats -- and almost no basic sanitation available.
The Tiete and the under-served slums on its banks are just one window into Brazil's sanitation system, deemed among the worst in the world. The state-run infrastructure serves only half of the nation's 200 million population. Some 33 million don't have access to drinkable water. The years of under investment are harming the country's health and impeding economic development.
But the situation may be about to change. The nation's politicians are weighing legislation to privatize the sector, a move that could open it up to $200 billion of investments. Firms like Brookfield Asset Management Inc., China Communications Construction Co. and Alberta Investment Management Corp. are ready for it.
"There are 6,000 Olympic-sized swimming pools of raw sewerage being put in the rivers a day," said Teresa Vernaglia, the chief executive officer of BRK Ambiental, a sanitation company majority-owned by Brookfield's private equity group. "Every real invested in sanitation represents 4 reais in savings in health. It's a win-win agenda."
Currently, sanitation is overseen by about two dozen state companies, which are responsible for the collection and treatment of sewage from 2,245 of the country's 5,570 cities. Many are dogged with their own complex fiscal challenges, which translates into scarce resources for investments. The private sector, in comparison, covers just 325 cities.
In addition, Brazil's sanitation is handled by the municipalities and regulated by scores of different agencies, rather than at a national centralized level. That's deterred private investors who need stable legal frameworks to make the kind of long-term investments that infrastructure requires. As a result, private investment accounted for just $500 million of the $2.75 billion ploughed into sanitation in 2018, with the remainder coming from the state-run firms.
"We invest too little and too poorly," Diogo Mac Cord, the national secretary of infrastructure development at the Economy Ministry, said in an interview. "It's impossible for the state-owned model to universalize the sewage and water treatment in Brazil."
The legislation being weighed by Congress has ample backing from high-ranking government officials, who have been working to shrink the size of the state after years of deteriorating accounts cost Brazil its investment grade stamp. With Latin America's largest economy still slowly emerging from the worst recession in its history, private investments are key to get growth back on track.
"Passing this law will be very important because it will boost economic activity and will create thousand of jobs," Henrique Meirelles, Sao Paulo's State Secretary of Finance and the country's former Finance Minister, said in an interview.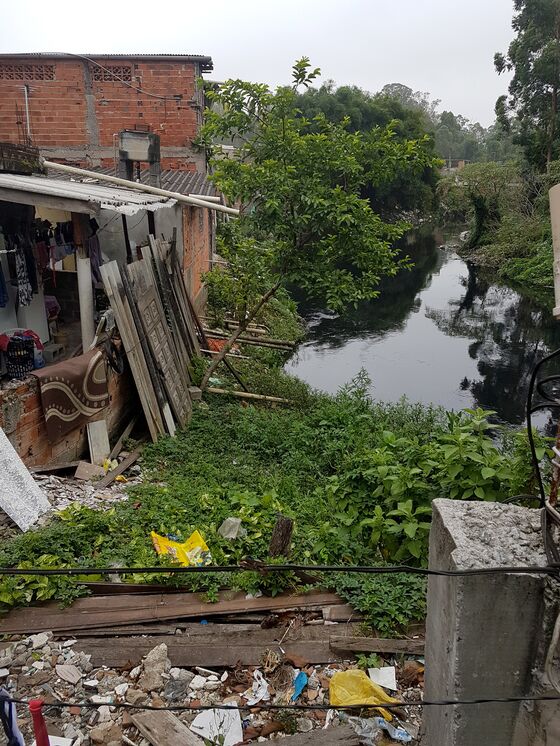 One of the law's key advances would be to free up the industry to more competition. State-owned companies currently have an effective monopoly on contracts offered by municipalities for water and sewage treatment. It would also establish equal conditions for public and private companies, and a strong, centralized regulatory body to prevent tax-related abuses and help equalize prices, preventing high costs on the poorest neighborhoods.
A number of investors are eyeing the opportunity. They favor infrastructure projects that offer steady revenue streams from bill paying customers -- exactly like Adriana and her family. The two-dozen state firms that handle sanitation now could be worth about $35 billion if placed in private hands, according to government estimates.
Brookfield's private equity group completed an acquisition of 70% of BRK Ambiental in 2017 and has plans to expand its investments, including through acquisitions or striking partnerships to obtain concessions, according to David Aiken, a managing partner in the group. Even without the legislation, BRK will invest about 1 billion reais ($239 million) a year for the next 10 years, he said.
"Nowhere in the developed world could you buy a water utility and have anywhere near the growth potential that you have in Brazil," he said. "If people are looking for very long-term, inflation protected exposure to Brazil, this is a phenomenal way."
Others are doing likewise. Alberta Investment Management invested in FIP Iguá, the controlling shareholder of Brazilian water and sewage firm Iguá Saneamento, last year.
China Communications Construction Co. is also interested, the firm's Chairman Liu Qitao said during a trip to Brazil for a summit last month. Singapore's sovereign wealth fund GIC has made investments in Aegea Saneamento, one of the few private companies that invests in sanitation in Brazil.
The key lure for private capital is to have targets and the new rules, according to Flavio Crivellari, Aegea's chief financial officer. "Sanitation improvements are fast, cheap, profitable and stable investment," he said in an interview.
After years of back and forth, the bill investors have been waiting for could still be approved in 2019. The deadline is short, though: lawmakers go into recess in about 10 days, and have delayed the vote several times in the past few weeks amid still ongoing discussions about potential job losses and a potential hike in prices for the nation's poorest.
Back in Chacara Tres Meninas, dwellers find ways around their sanitation predicaments. Ademir de Oliveira, the owner of a local grocery store, got help from generous neighbors who raised money to help the 65-year old build his own plumbing because water didn't arrive at his shop. Joana dos Santos, a 74-year-old retiree, said she showers as early as possible every day because scarce water runs out.
Adriana's own sewage system feeds directly into the river. There are three pipes in her house: one connects the kitchen sink to the Tiete; another, the shower; the third throws all the bathroom waste back into the river without any treatment.
The hope is that private investments will fix situations like hers, and have a far-reaching positive impact on some of Brazil's poorest. Research has linked the Zika virus epidemic of 2018, which will have ripple effects on health-care spending for decades, to poor sanitation. The World Health Organization estimates improved sanitation could avoid the deaths of some 6,000 children in Brazil each year.
"The size of the opportunity we have in front of us is amazing," BRK CEO Vernaglia said. "State-owned companies are having financial difficulties in reaching the level of investment needed in a country as sizable as Brazil."