3M, Paccar Results Revive Industrials After Caterpillar Crunch
(Bloomberg) -- Industrial stocks may be able to shrug off some of the pall cast by Caterpillar Inc.'s weak showing thanks to a string of strong earnings on Tuesday.
The diversified manufacturer 3M Co., which trimmed its outlook for 2018 three times last year on high raw material costs and adverse foreign exchange rates, reported fourth-quarter revenue and profit above analysts' estimates. Its organic sales rose in all geographic regions at the end of 2018. The results sent the company's shares up as much as 3.4 percent in early trading, as it soothed heightened investor concerns after a gloomy outlook from Caterpillar on Monday.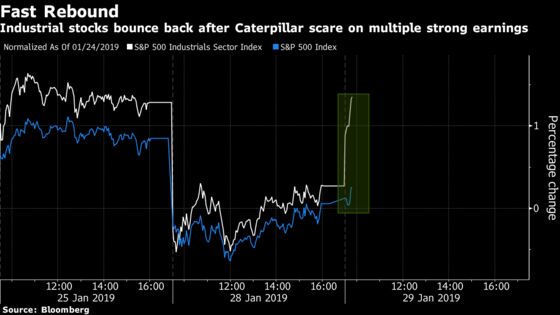 "Expectations for 3M were extremely low heading into the print, driven by analyst(s) continuously telegraphing the quarter to miss due to the weak 'short cycle' economy," Gordon Haskett analyst John Inch wrote in a note. "Overall, we believe the 3M print and guidance significantly exceeded market expectations that were geared up for a miss."
Machinery makers Dover Corp., Paccar Inc., Pentair Plc., Meritor Inc. and Rockwell Automation Inc. also reported results that topped expectations. Meritor shares jumped as much as 16 percent in early trading, while Rockwell Automation rose as much as 10 percent and Paccar gained 5 percent.
"Given Paccar's healthy outlook for its major markets, we believe continued extension of the cycle can lead to improving incrementals and refocus investors on the value in Paccar as supplier/tariff issues fade," Jefferies analyst Stephen Volkmann wrote, noting that the company's industry outlook suggests positive momentum for 2019, and is also a positive for peer Navistar International Corp. "Investors continue to call for a peak in the Nafta cycle, though we believe underlying fundamental drivers for demand (tight capacity, driver shortage, higher trucking ROIC) all are supportive of our stronger for longer thesis."
Not all the reports were rosy. Defense contractors, which analysts have been expecting to be the bright spot among industrials this quarter, had some disappointments. Lockheed Martin Corp.'s quarterly earnings and full-year profit both missed. Shares began the day lower before turning positive. Peers Raytheon Co. and Northrop Grumman Corp. shares rose at least 1 percent in early trading.
Construction materials company Eagle Materials Inc. also reported weak numbers, and may weigh on peers today, especially after Caterpillar results highlighted an approaching peak in construction market.
The S&P 500 Industrials Sector Index closed down 1 percent on Monday, dragged down by Caterpillar and other machinery companies, including Deere & Co. and Eaton Corp.