3M Slides After Cutting Profit Forecast Again on Sales Slump
(Bloomberg) -- 3M Co. sank the most in six months as adverse exchange-rate moves and high material prices compounded sales declines in most of its businesses.
The company cut its 2018 profit forecast Tuesday to no more than $10 a share, short of even the lowest analyst estimate in a Bloomberg survey. That was the third time this year that the maker of Post-it notes and touch screens has trimmed its outlook.
The diminished outlook underscored the weakness in many of the markets served by 3M, which had already been struggling this year with poor sales of automotive and dental products. Revenue fell for the first time in two years, with declines in three of the company's five main businesses during the third quarter: electronics and energy, health care and consumer products.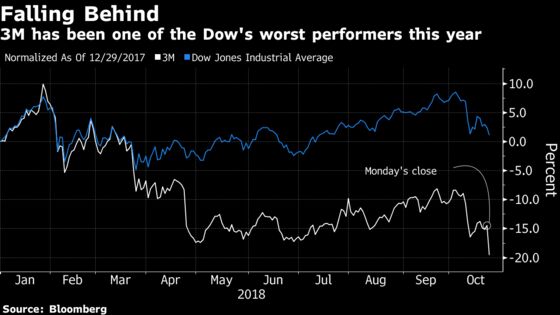 "Results were weaker than expected, with each segment missing our forecast,'' John Walsh, an analyst at Credit Suisse Group AG, said in a note to clients. "The reduction to guidance was larger than expected.''
The shares dropped 7.1 percent to $187.12 at 11:10 a.m. in New York after sliding as much as 8.4 percent for the biggest intraday decline since April 24. 3M fell 14 percent this year through Monday, compared with the 3.9 percent decrease of a Standard & Poor's index of industrial companies.
Adjusted earnings rose to $2.58 a share, trailing the $2.70 average of analyst estimates compiled by Bloomberg. Sales slipped 0.2 percent to $8.15 billion, 3M said in a statement. Analysts had predicted $8.4 billion.
Chief Executive Officer Mike Roman, who took over July 1 for Inge Thulin, acknowledged that "slower growth" was weighing on the business. Speaking in a conference call with analysts, he also blamed the earnings revision on currency shifts and raw-materials costs.
In electronics and energy, which includes the touch-screen business, sales fell 4.8 percent. The drop in consumer products was 3.4 percent, with a 2.8 percent decrease in health care. Revenue was little changed in the industrial segment, and rose 7 percent in safety and graphics.
Tariffs from the U.S.-China trade war amount to a $100 million headwind for the company, but the company will seek to offset that by raising prices, Chief Financial Officer Nick Gangestad said on the call.
"We think tariffs will be having a negative impact on our total sourcing cost" in 2019, he said. "There's a number of things we're doing around that: sourcing changes, supply chain changes but also pricing changes."