With FAA Humbled by Boeing Crashes, China Gets Closer to Europe
(Bloomberg) -- Chinese and European aviation regulators are nearing a landmark deal that could make it easier for planes to be certified and sold in each other's markets, according to people familiar with the matter.
The Civil Aviation Administration of China and the European Aviation Safety Agency are planning to sign the agreement as soon as May 20, the people said, asking not to be identified because the information hasn't been made public. The timing would follow a two-day conference CAAC is hosting in Beijing this week with global regulators, manufacturers and carriers. CAAC's administrator confirmed there are plans for an agreement soon.
The accord would come after years of talks and represent a major milestone for China at a time the Federal Aviation Administration is reeling from criticism it certified Boeing Co.'s 737 Max despite design flaws linked to two deadly crashes that killed 346 people in total. China has gained clout as an aviation regulator after it became the first major nation to ground the Max in the wake of the March 10 Ethiopian Airlines disaster. In October, a Max flown by Indonesia's Lion Air plunged into the Java Sea.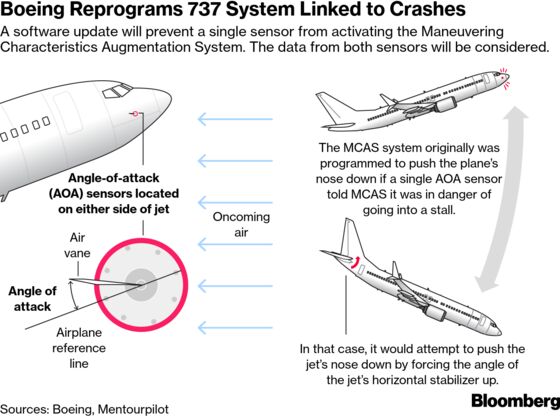 By agreeing to recognize each other's aircraft certifications, the deal could help China-made jets face less scrutiny cracking into the European market. It's also a long-awaited boon for the likes of Airbus SE, which has previously faced certification delays from Chinese authorities.
That said, the agreement with Europe would follow a similar deal agreed between CAAC and FAA in 2017 to recognize each other's regulatory systems.
Feng Zhenglin, CAAC's administrator, acknowledged at a forum on Thursday there are plans for an agreement soon but didn't specify details such as the date. CAAC's media department didn't immediately respond to a request for comment. EASA referred queries to the European Commission, which reiterated an April statement that both sides are working to sign the agreement as soon as possible.
State-owned Commercial Aircraft Corp. of China Ltd., better known as Comac, is spearheading the country's push to build an aerospace industry. So far, its orders have mostly been limited to domestic buyers such as state-owned carriers and the likes of HNA Group Co.
The European regulator has already begun the process of certifying the C919 plane, Comac's answer to the 737 Max and Airbus's A320neo. Still, the C919, which completed its first test flight in 2017, isn't expected to be in commercial service for years.
Separately, China's biggest airlines are considering banding together to seek compensation from Boeing for the disruption caused by the grounding of the 737 Max, people with knowledge of the matter have said.