Premier Oil Soars as Strong Output Drives Bump to 2019 Forecast
Premier Oil Plc rose the most in four months in London trading after increasing full-year forecasts for output and debt reduction.
Premier's optimism is largely a result of its flagship U.K. project, Catcher, which came on stream at the end of 2017. Production at the North Sea field has outstripped expectations, helping to drive a 48% jump in the shares since the start of this year.
"We continue to deliver ahead of plan," Chief Executive Officer Tony Durrant said Thursday. "Production and free cash flow are ahead of forecast for 2019 and, consequently, we are reducing our debt faster than anticipated."
Total production has averaged 85,100 barrels of oil equivalent a day in 2019, up 14% from a year earlier, Premier said in a statement, increasing its full-year outlook to as much as 80,000 barrels a day from about 75,000 previously. That could help boost efforts to cut debt, according to the CEO.
"The stronger our balance sheet becomes, the more insulated we are from oil-price fluctuations," Durrant said by phone. "That's why we're very focused on using cash flow to pay down debt."
At $70 oil, Premier expects to chop as much as $350 million from its $2.25 billion debt pile this year, more than it previously anticipated. The company's borrowings amount to more than two times its current market capitalization.
Despite the lingering debt, Durrant is eyeing opportunities to acquire more production. The company bid for a package of North Sea assets offered by ConocoPhillips, which ultimately went to Chrysaor Holdings Ltd. for $2.68 billion, people familiar with the matter said earlier this year.
There are still acquisition options in the U.K. for Premier, according to Durrant, who said the company doesn't have to pay taxes in the foreseeable future due to rules on offsetting past losses.
"We could take on -- at the right price -- more U.K. assets," he said. But "we're going to continue to be disciplined in our pricing."
Premier shares jumped as much as 9%, the biggest gain since Jan. 4, and traded up 8.5% at 98.02 pence as of 9:40 a.m. London time.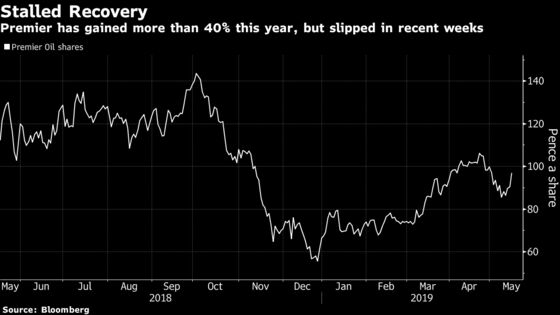 Premier is also focused on boosting production within its existing portfolio. It plans to install a platform at its Tolmount gas project in the North Sea next spring, Durrant said. It will also drill in another area of the basin, at Tolmount East, in July.