Firing 'On All Pistons,' Israel Booms at Fastest Pace Since 2016
(Bloomberg) -- Israel's economy expanded at its fastest pace in three years, blowing by analyst forecasts and far exceeding the central bank view of the country's potential growth.
Gross domestic product rose 5.2% in the first quarter from the previous three months on an annualized basis, the Central Bureau of Statistics said on Thursday. That was better than every estimate in a Bloomberg survey of six economists, whose median was 3.1%. It's also a jump from an upwardly revised 3.9% gain in October-December.
"The breakdown was very positive, so you're running on all pistons," said Leader Capital Markets Ltd. economist Jonathan Katz. "The Bank of Israel will now have to say that in Israel there are signs of growth above potential."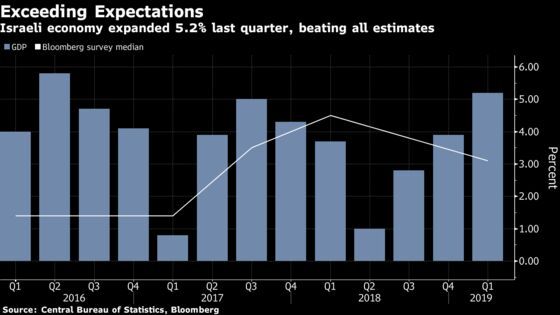 The surprise spurt could lend momentum to the central bank's intention to resume interest-rate increases following its first hike since 2011 last November. The shekel strengthened against the dollar and euro after the data release.
The monetary committee's next policy meeting is on Monday.
In April, the central bank's research department slightly lowered this year's growth forecast to 3.2%, amid a darkening global outlook. In its assessment, the accelerating expansion Israel has experienced in recent years has already been maxed out.
An important contributor to the positive surprise was an increase in car imports in the first quarter, spurred by a tax change, according to Katz. That was largely responsible for the gap between the overall 5.2% jump and the increase of 3.7% in GDP excluding net taxes on imports, he said.
In a release accompanying the data, the statistics bureau also pointed to a sharp rise in fixed-asset investment, as well as strong goods and services exports, as reasons for the growth.