Brussels Edition: Battleground Nation
(Bloomberg) -- Welcome to the Brussels Edition, Bloomberg's daily briefing on what matters most in the heart of the European Union.
It doesn't pay to be ambivalent toward Europe when your country has benefited the most from EU membership. That's the lesson Poland's populists may learn the hard way, as polls ahead of next week's bloc-wide vote place them neck-and-neck with the European Coalition. With Polish Prime Minister Mateusz Morawiecki in Brussels today for two speeches and a press conference on the nation's 15 years in the EU, we take a deep-dive look at this key nation in the battle for the continent's soul.
Tariff Respite | The good news is that President Donald Trump will probably not hit Europe's car industry with punitive car tariffs this week. The bad news is that his draft executive order, seen by Bloomberg, deems car imports a national security threat for the U.S. and gives the EU and Japan just 180 days to strike a deal that would limit or restrict them.
Avoiding Landmines | Most euro-area finance ministers will try hard to avoid talking about  Matteo Salvini's promise to breach the bloc's fiscal rules and Alexis Tsipras's spending spree when they meet in Brussels today. They will attempt instead to focus on a tedious debate about the financing for a planned miniature euro-area budget, refraining from rocking any boats ahead of next week's European elections. Chickens will no doubt come home to roost — eventually.
Pollution Cost | Costs for Europe's heavy industries could rise further next year, as the EU withdraws almost a quarter of the pollution permits in circulation. Utilities and other plants in the bloc need tradable permits to emit harmful gases, the price of which has skyrocketed in the the world's biggest carbon market. Saving the planet won't come cheap.
Cyber-Crime Bust | European and U.S. law enforcement officials are today due to reveal details of a successful international operation that took down a transnational cybercrime network responsible for malware attacks. The announcement, which will include statements from the FBI, Europol and authorities in Ukraine, Georgia, Moldova and Bulgaria, comes as cyber attacks are an increasingly costly problem for businesses.
Productive Confrontation | Both Angela Merkel and Emmanuel Macron admitted that they often find themselves singing from different song sheets, with the French president calling their relationship "productive confrontation." Those conflicts may come to a head when the EU's biggest powers lead negotiations about the bloc's top jobs. Merkel said that Manfred Weber, running for European Commission president, is not the only "excellent" German candidate in the race.
Swiss Vote | Before the European elections, there's another interesting vote worth watching. In yet another referendum, Swiss voters will decide on Sunday whether to scale back preferential tax rates that the country currently gives to thousands of multinationals. Scrapping the regime is a condition set by the EU to remove Switzerland from its list of tax havens.
Mocking Brexit | A Brexit pun has become a campaign slogan for Finland's biggest political party.  The Finnish Social Democrats have plastered English-language placards across the country that riff off the notion that the EU exit sought by Britain is something to be avoided at all costs. "We don't Brexit. We fix it," the slogan reads. Meanwhile, U.K lawmakers are busy discussing kittens and circus animals and how to get rid of Theresa May.
Weekly Quiz | There are things we know about the EU, and things we surely don't — for example, what exactly does a mysterious working group in Brussels called "Headline Goal Task Force" really do? We're introducing a quiz to test your knowledge. For this week: Which two EU Commission press people also have cool lifestyle blogs?  Find the answer in tomorrow's Brussels Edition.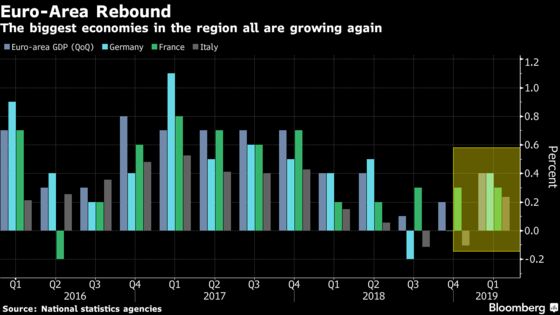 Germany's economy emerged from stagnation at the beginning of 2019, returning to growth despite a slump in manufacturing that could worsen because of escalating trade tensions. The 0.4% expansion signals some strength across the euro area, but the region is still at risk of being sucked into an increasingly tense U.S.-China trade spat.
9:15 a.m. European Commission/ECB annual financial integration conference on the international role of the euro with ECB's Praet, De Guindos, EU Commissioner Dombrovskis, France's Le Maire, Austria's Loeger

9:15 a.m. EU Competition Commissioner Vestager debates the future of EU competition policy with a focus on the digital economy and sustainable development at the plenary of the European Economic and Social Committee

9:30 a.m. EU top court gives non-binding opinion in a challenge by Guardian Europe seeking complete compensation over excessive EU delays in having its appeals of a cartel fine decided

10 a.m. Polish Prime Minister Morawiecki speaks at Bruegel event on the future of taxation in the EU

3 p.m. Euro-area finance ministers meet in Brussels

5 p.m. German Economy Minister Altmaier speaks at chamber of commerce in Brussels

6 p.m. Bundesbank President Weidmann and Belgian Central Bank Governor Wunsch open art exhibition in Brussels organized by the two institutions

U.K. Brexit Secretary Barclay takes questions in House of Commons