Boeing Completes Max Software Update, Works Toward FAA Clearance
(Bloomberg) -- Boeing Co. has finished an update for software linked to two fatal 737 Max crashes and is addressing questions from regulators before submitting the fix for final approval.
The Max has flown 360 hours on 207 flights with the updated software, Boeing said in a statement Thursday.
The announcement is a sign of progress for Boeing's efforts to get its best-selling jetliner back in the sky after a grounding that has already lasted more than two months. Test flights are permitted during the grounding.
Boeing is providing more information to address questions from the U.S. Federal Aviation Administration about pilot interaction with the Max's controls and displays in different scenarios.
In a separate statement, the FAA said Boeing hasn't submitted the complete package required to consider restoring the plane to service. Once that package is finalized, the FAA will schedule a flight test of the 737 Max's new software by its pilots, the agency said.
Boeing rose to session highs on the news and climbed 2.6% to $354.48 at 3:37 p.m. in New York. Since the March 10 crash of an Ethiopian Airlines jet, the shares slid 18% through Wednesday, the biggest decline on the Dow Jones Industrial Average.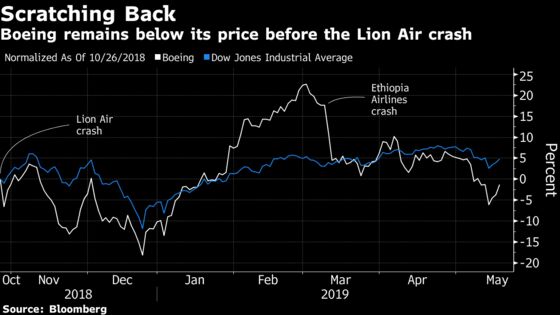 Details on next week's 737 Max meetings: one with regulators from around the world, and a separate gathering of airlines.
The FAA sees an uncertain timeline for its review of the 737 Max software update
Boeing said it had also developed enhanced training and education materials that are under review by the FAA, foreign regulators and airlines.