Europe Giants Look Past Uber, Market Slump to Plan Mega IPOs
(Bloomberg) -- Equity markets globally have been slumping and the year's biggest initial public offering stumbled out of the gate. For Volkswagen AG, Thyssenkrupp AG and Anheuser-Busch InBev NV, those are no obstacles to planning massive IPOs.
All three companies have announced stock offerings in the past week for businesses with valuations in the tens of billions of dollars. Executives are betting that the market turmoil will have calmed down, and investors will have forgotten Uber Technologies Inc.'s disastrous IPO, by the time they're ready to price those sales.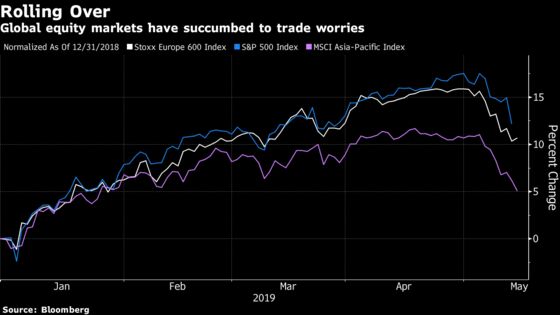 Unlike the mega IPOs from Uber and ride-hailing rival Lyft Inc. -- richly valued, money-losing tech platforms that have been in business a decade or less -- the businesses being sold by VW, Thyssenkrupp and AB InBev are old-school industrial companies. They have long histories of making money, so investors may look on them more favorably.
"It is easier to put a price on established industrials than a company like Uber," said Leif Eriksrod, a senior portfolio manager at Alfred Berg in Oslo.
VW said Monday it's planning an IPO of its Traton SE heavy-trucks division by August that could value the business at 30 billion euros ($34 billion). Thyssenkrupp outlined plans Friday to offer a minority stake in its elevator operation, with Bloomberg Intelligence estimating the business could have an enterprise value of 15 billion euros.
And AB InBev applied May 10 to sell part of its Asian business in an offering in Hong Kong that could value it at $70 billion. The brewer is targeting a July listing for the unit, people with knowledge of the matter have said.
The sales come as stock markets worldwide have hit an inflection point: Benchmark indexes surged to start the year, only to run into the buzz saw of the U.S.-China trade dispute in the past week. Investors are on edge, ready to flee risky assets if they get a sense that the economic expansion is at risk, especially in the U.S., where the bull market has been running for a decade.
Uber has been one of the biggest victims of the market pullback, with the stock plunging 18 percent in its first two days of trading. Lyft has lost a third of its value since its March IPO. Both stocks look like they're due for a rebound on Tuesday, posting gains in U.S. pre-market trading as stock indexes stabilize.
European IPOs have declined this year amid the market jitters, with 43 offerings priced, less than half as many as at this stage of 2018, according to data compiled by Bloomberg.
The region is unlikely to see venture capital-backed unicorns of the size of Uber and Lyft come to the market any time soon, for the simple reason that there are no European companies that big waiting in the wings. Spotify Technology SA, the Swedish music-streaming service, has a market value of $24 billion after going public last year. Uber is valued at $62.4 billion while Lyft is valued at $13.8 billion.