Thyssenkrupp Profit Plunges, Raising Pressure on CEO
Thyssenkrupp AG's earnings tumbled 27% in the first half of 2019 as Germany's economic slowdown took a toll on the engineering company that's been engulfed in turmoil over the past year.
The German industrial icon cited a long list of problems during the past six months -- everything from weak demand from the auto industry, falling steel prices, higher labor costs and even low water levels on the Rhine river. With a steep cash drain in the first half, the results will reinforce criticism from Thyssenkrupp's top investors that the company needs a dramatic action.
Chief Executive Officer Guido Kerkhoff presented a new strategic plan on Friday aimed at halting Thyssenkrupp's downward spiral. The revamp includes plans to abandon a split, list the elevator business and give up on a joint venture with Tata Steel Ltd. The company is still reeling from a chaotic 2018, when top leadership resigned and activist investors mounted a fight to overhaul the business.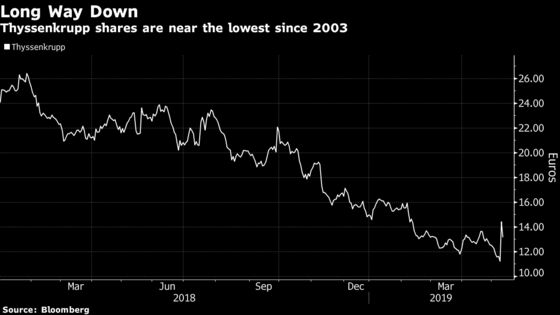 It's time "to hit the reset button," Kerkhoff said on Friday.
The shares, which had surged 28% on the back of the strategy announcement, rose 1.1% to 13.29 euros at 9:37 a.m. in Frankfurt trading. Germany's benchmark DAX index was up 0.5%.
Thyssenkrupp underscored the urgency behind its strategic shift on Tuesday by again lowering its 2019 growth expectations for key sales markets. The company pointed to risks and uncertainties, including further escalation of trade conflicts, Brexit negotiations, and "severe and sustained weakening of growth" in China.
Weighed down by weakness in Europe, the company sees global steel demand growth slowing down to 1% this year from about 2% in 2018, echoing warnings from top producer ArcelorMittal.
First-half adjusted earnings before interest and tax fell to 685 million euros from 943 million euros a year earlier. Even earnings at the elevator division, the crown jewel asset that the company plans to take public, were lower than last year.
Other red flags include figures that show the company is burning through cash and debt levels have jumped 36% to 4.83 billion euros.
For German industry, Thyssenkrupp is another example of how escalating trade tensions are hurting the country's export-led economy. The European Commission last week cut its growth forecasts for Germany, and BMW AG said that the economic backdrop is "increasingly challenging" and business conditions are expected to remain volatile.
Financial Details
First-half net income attributable to shareholders plunged 89% to 36 million euros in first half of year

The operating margin narrowed to 3.4% in the first half from 4.7% a year ago

First-half sales rose to 2% to 20.4 billion euros
Orders in the first half increased 4% to 20.5 billion euros