Meet Your Unlikely Safe Havens: Faux Meat, Bitcoin: Taking Stock
(Bloomberg) -- So "safe" may be pushing it, but it's worth highlighting some unlikely bedfellows in the green that emerged Monday, even amid the worst day on a intraday basis for the SPX this year (exceeding even the nadir of what was seen last Tuesday) and the worst day period in 2019 for the Nasdaq composite.
In times of panic, you wouldn't be surprised to hear utilities outperform high-beta, growth-oriented names like technology, which is exactly what we saw to start the week as the trade war took few prisoners. It's great timing for the typically stable dividend payers, ahead of the Deutsche Bank Utilities and Power conference due to start today, where I wouldn't be surprised to see a few executives tout their companies as ports of calm in signs of distress --similar to Barron's description of the segment over the weekend. Before Friday, utilities had been the second-worst performer on the year, so a case could have also been made that they were ripe to catch up.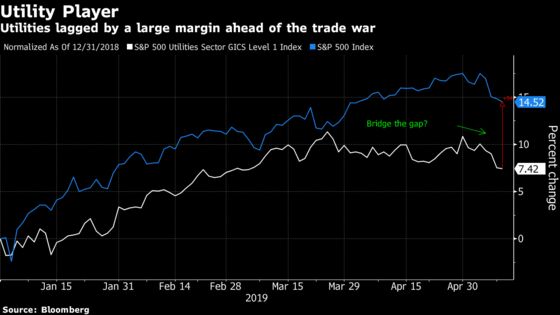 But the trade drama laid bare two other segments -- in faux meat, via Beyond Meat, and Bitcoin, which jumped to almost $8,000 after 11 straight up-days, in its longest winning streak since 2013. Crypto fans pushed the currency up more than 26% on a day of concern for risk assets, which itself just oozes with irony (Bitcoin saw its price plummet by 50% during the equity selloff in 4Q, only to see its price double over the past weeks). Beyond Meat, though technically not a member of the SPX, outperformed every member of the gauge and all but 11 members of the small cap Russell 2000. Some of the strength could likely be attributed to its status as a consumer staple (though is it more tech?) and reports that a rival, Impossible Foods, had successfully raised $300 million in its latest round of fundraising. Both Bitcoin and BYND are higher early, with the former up as much as 6% and the latter adding another 4% in the pre-market.
Other not-so-successful sectors in the latest trade salvo -- whereby the Chinese announced an intent to retaliate -- included autos, with Tesla among the worst impacted, with shares falling to more than two-year lows. Other nouveau sectors, like marijuana, also felt the brunt, with Canopy Growth, Hexo Corp. and Cronos Group accounting for 3 of the 5 worst performers in the S&P/TSX Composite ahead of results from Tilray and Aurora Cannabis due post market Tuesday. Alliance Global's new buy rating on Canopy did little to stem the bleeding, though it's safe to say if you liked it at C$63, you'll love it near C$59. Alliance was also neutral on Tilray Monday, ahead of earnings, calling the shares fairly valued (before shares plummeted 6.8%).
Taking a broader look, stepping back from some of the smaller damaged names, what's in store for the S&P 500 going forward? BofAML analysts last week (before the drama escalated), provided a few possible outcomes, which included the possibility of entering a bear market. A 5-10% pull back appears to be the new base case, as its clear we can no longer achieve a "benign" outcome, as they put it, where a deal is reached by the deadline. Instead, it's the degree to which brinkmanship is pursued which determines whether its just 5% or 10% in the near term. If a recession is spurred as a result, a bear market could be in the offing, they wrote, identifying the usual peak to trough historically at 30%.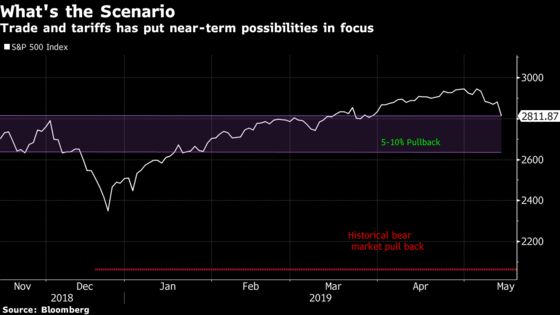 Utilities, telecoms and staples would "outperform," the analysts wrote, while writing that a fully fledged trade war could result in EPS declines of close to 20-30%. Food for thought with the S&P now off 4.5% since Trump's fateful tweets in the weekend before last. 2800 was well-supported late in the session Monday, and so it seems there is a still a ways to go until outright panic ensues. Morgan Stanley strategists wrote Monday that, despite trade rhetoric, they had no reason to adjust their 2400-3000 multi-year consolidation target for the S&P 500.
The support is getting a boost this morning, with a bit of a relief rally ensuing. Futures are up 0.8% in the early going, with some of the gains being attributed to yet another Trump comment predicting trade talks will be "very successful." Crude and Asia markets have disagreed, with both spending time in the red overnight (though the former popped just a few minutes ago on reports some drones are attacking pump stations in Saudi Arabia. Aramco said it suffered 'limited' damage).
Its unclear if any of that weakness is related to the specific item list put out by the Office of the U.S. Trade Representative, which you can find at this link. Given the broad-based bounce in futures, it will be tough to ferret out the immediate losers from the list, but you can find a guide here.
LatAm-exposed payments (PAGS, PYPL) companies after STNE results surprised to the upside
Video games after TTWO's results. ATVI and EA briefly fell after the mixed quarter from the maker of Red Dead Redemption. Revenue was "largely" driven by NBA 2K19, Piper wrote, while Bernstein analysts said the FY20 guide was "a tad light"
IPOs remain in focus as UBER continues to drive the bus. Performance was a certified disaster Monday, closing down 11%. Today is shaping up slightly better with shares up 2% in the pre-market as futures bounce. Others to watch include ZM, PINS, LYFT, SILK, SWAV, BYND
Life Sciences companies (TMO, MTD, PKI, DHR) ahead of Agilent results later today, which is one of just a few notable earnings today. Cowen expects a strong beat and raise, citing most of its peer's results, with the exception of Waters. Analysts expect strong China performance as TMO grew more than 20% there
Ralph Lauren is the other larger earnings name, due out in the next hour or so with a larger than expected move in the retailer, at 9% (watch PVH, VFC, OXM)
Asia-exposed stocks (AMD, NVDA, BA, WYNN, DE, CAT, KLAC, LVS, AVGO, NKE, AAPL) after trade tariffs moved forward and talks appear to be at an impasse
Bitcoin-related names MARA, DPW, RIOT after the cryptocurrency surged above the $8000 mark
Coca-Cola Co. was upgraded to overweight at Morgan Stanley, which wrote that the food and beverage company had a "clearly superior" growth outlook compared with its peers in the consumer packaged goods space. Currently, Coke's valuation doesn't reflect a number of tailwinds, the firm wrote, including "stronger pricing power, favorable strategy tweaks, solid volume growth, and rebounding emerging market trends." That these factors aren't factored into the stock "provides a compelling buying opportunity," analyst Dara Mohsenian wrote, raising KO's target by $3 to $55.
Separately, Morgan Stanley cut its view on Shopify to underweight, saying the company's 80% surge in 2019 was "unwarranted." Analyst Brian Essex described the company as a "best-in-class" e-commerce platform, but noted that less than half of the company's revenue came from subscriptions, which he said made it "not deserving of a full SaaS multiple," referring to software-as-a-subscription. The price target was lifted to $209 from $173, though the higher target still implies downside of nearly 17% from Shopify's Monday close. Investors are "overpaying" for the company's Merchant Solutions business, he wrote.
JPMorgan downgraded Deere & Co. to underweight, citing "the rapidly deteriorating fundamentals in U.S. agriculture." The firm cited a number of headwinds, including tariffs, U.S. dollar strength, and "close to record" crops for soybean and corn in Brazil and Argentina. All of these factors are creating "a perfect storm for U.S. farmers," skewing the fundamentals for Deere to the downside. The downgrade comes one day after Baird lowered its own view on Deere, saying that demand for agriculture equipment was stalling as fundamentals have weakened in 2019.
Tick-By-Tick to Today's Actionable Events
LDOS analyst day, HON investor conference
BofAML health care conference (BLUE, HUM, AGN, ALGN)
JPMorgan TMT conference, Deutsche Bank Utilities and Power conference (ED, DUK, D, EIX, AES, RUN, SPWR)
3:15am -- Fed's Williams speaks at SNB/IMF event in Zurich
6:00am -- April NFIB Small Business Optimism
8:00am -- RL earnings, ATHX investor day
8:30am -- April Import Price Index
8:30am -- LDOS, AIMC investor days
9:00am -- RL earnings call
12:45pm -- Fed's George speaks to Economic Club of Minnesota
3:00pm -- XLNX investor day
4:15pm -- A earnings
4:30pm -- A earnings call