ECB High-Flier Coeure Risks Third Time Unlucky in Presidency Bid
(Bloomberg) -- Go inside the global economy with Stephanie Flanders in her new podcast, Stephanomics. Subscribe via Pocket Cast or iTunes.
Benoit Coeure is possibly the best-qualified candidate to be the next European Central Bank president, but that may not be enough.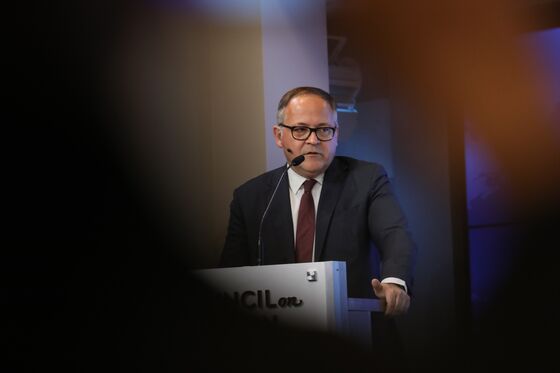 The Frenchman has played a key role implementing the ECB's crisis measures in almost eight years as a board member. With a stellar career and education, officials often cite him as the bank's preferred option and one of its sharpest intellectual minds -- and he's still only 50 years old.
Yet the top job is decided by governments, not central bankers, and that's where he will likely falter when Mario Draghi's succession is settled this year. After missing out on two leadership positions since 2015, this could be third time unlucky.
"Coeure has the vision and could deliver it, but he's not a political animal," said Frederik Ducrozet, global strategist at Banque Pictet & Cie SA in Geneva. "He's an expert that markets would listen to, but beyond markets there is a big musical-chair game with other institutions."
European Union leaders will determine a successor to Draghi as part of a bargaining process on top jobs, including the EU Commission presidency, that is due to begin after the European Parliament elections at the end of this month.
Coeure declined to comment on his candidacy. He has previously said he would accept the presidency if offered and that he wants to be "useful" and to "continue to serve Europe."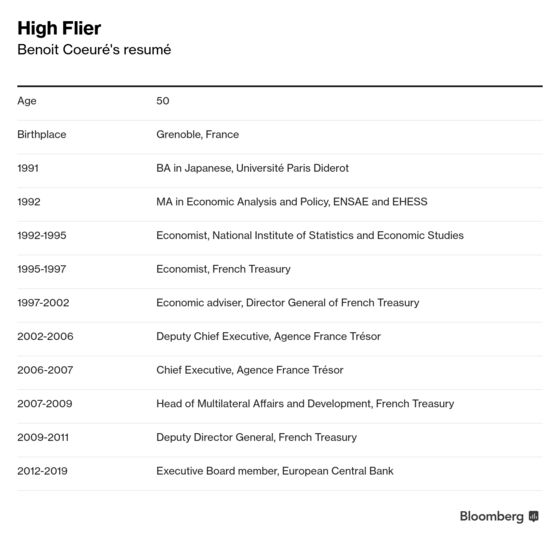 One hurdle to the ECB is his nationality. France has already had a president there in Jean-Claude Trichet, and euro-zone leaders could take some convincing to appoint another one.
Even if they can be swayed, French President Emmanuel Macron might opt to nominate Francois Villeroy de Galhau, the ambitious and politically connected governor of the Bank of France. Or Macron could push to make one of his compatriots the next European Commission president, leaving another nation -- possibly Germany -- to claim the ECB.
Berlin is anyway said to be lukewarm on a Coeure presidency, given his role overseeing the ECB's 2.6 trillion-euro ($2.9 trillion) quantitative-easing program, which attracted widespread German criticism and lawsuits.
Opponents also have an easy technocratic argument to block him. His term on the Executive Board, which ends two months after Draghi's October departure, is supposed to be non-renewable.
"Coeure is very much an economist that markets favor, but it's often overlooked to what degree the role of the president is a political one," said Constantine Fraser, European political research analyst at TS Lombard in London.
Losing out on the ECB role would be the latest in a row of disappointments for Coeure. He was a contender to lead the French central bank in 2015, but then-President Francois Hollande preferred Villeroy instead.
The following year he was a finalist to lead the Basel-based Bank for International Settlements, but lost to Bank of Mexico Governor Agustin Carstens.
Should his misfortune continue, Coeure could leave the ECB on Dec. 31 with no job offer, leaving him scanning for upcoming opportunities.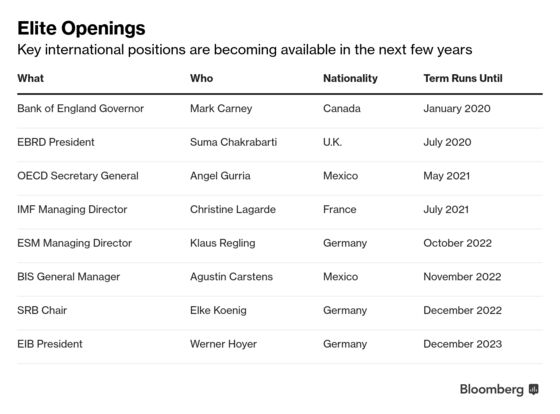 Aside from openings due in coming years at the helms of the European Bank for Reconstruction and Development and the International Monetary Fund, more complicated possibilities include Villeroy becoming ECB chief and relinquishing his Bank of France role for Coeure. However such a selection by Macron might risk criticism for failing to appoint a well-qualified woman, such as Deputy Governor Sylvie Goulard.
Another outlier is the European Stability Mechanism, the euro zone's bailout fund, which Coeure has said should get more powers as a fiscal buffer against large economic shocks. The Luxembourg-based institution has been led by Germany's Klaus Regling since 2010 but should he move on -- perhaps to the ECB -- it could be attractive.
Or there's always the option of a bank, which could require a cooling-off period after leaving the ECB. Even if Coeure sees his future in public service, such a stint may do neither his career nor his wallet any harm, and it could be short. Draghi left the Italian Treasury in 2001 to join Goldman Sachs Group Inc. for three years before becoming Bank of Italy governor.