Jumia Wins Over Wall Street for Its African E-Commerce Strategy
(Bloomberg) -- Wall Street is finally turning more bullish on Jumia Technologies AG as its debut results as a public company quelled some fears after a nearly 50 percent decline in the stock this month and a scathing report from short-seller Citron Research.
Results from the e-commerce firm -- which has been dubbed the Amazon.com Inc. of Africa -- prompted analysts at Raymond James and Berenberg to upgrade shares to a buy-equivalent rating, citing revenue growth. The banks' ratings changes followed Stifel's Scott Devitt, who became the company's first bull on Monday afternoon.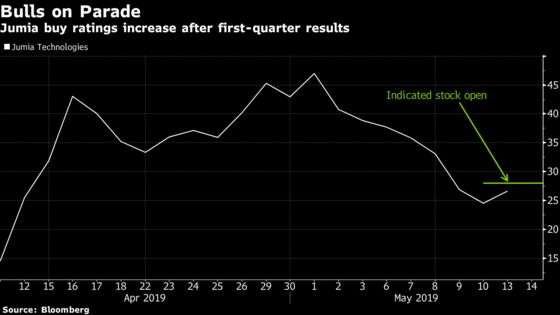 "Strong first-quarter results confirm continued progress," Berenberg analysts wrote. "For the first time ever, Jumia's gross profit covered total fulfillment costs, having previously achieved this only in Nigeria."
However, the firm stressed that "it is obviously not easy to take a firm view on what should be exactly the right price for this company" given the early-stage nature of the business.
The Berlin-based company is higher by 4% in trading prior to the U.S. market open, on track to add to a more than 80% rally since last month's public offering. The stock now has buy ratings from three analysts and is rated as a hold by three others with Morgan Stanley maintaining a sell-equivalent.
Raymond James analyst Aaron Kessler cited expectations for strong merchandise growth, improving margins and the recent sell-off as reasons for his upgrade. He expects robust ecommerce growth in Africa and notes that Jumia has significant potential beyond its core marketplaces including payments and other services.
On May 9, Citron founder Andrew Left attacked the company, saying it was "worst abuse of the IPO system since the Chinese RTO fraud boom almost a decade ago." The cautious mention triggered a share sell-off, however, sell-side analysts remained quiet ahead of Monday's earnings.
The company's co-chief executive officer Sacha Poignonnec shrugged off the comments on an earnings call with analysts saying, "we will not be distracted from executing on our strategy and carrying out our mission by those who seek to create doubts to profit at our expense and that of our long-term stakeholders."